Comics
Published July 28, 2017
Flashback Friday: Robbie Reyes
See how Robbie Reyes became the Spirit of Vengenace as Venom overtakes him in EDGE OF VENOMVERSE #3!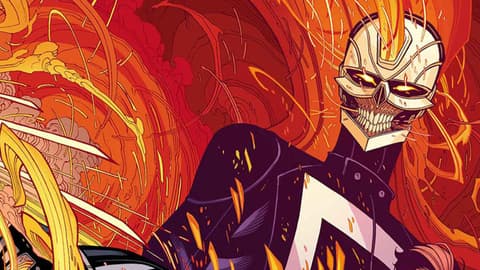 Every Friday we use the powers of Marvel Unlimited to look back at the very first appearance of a major character, place or object that made waves this week.
Back in 2014, the Marvel Universe experienced a new flame-headed traveler for vengeance! ALL-NEW GHOST RIDER #1–by Felipe Smith and Tradd Moore–introduced the world to Robbie Reyes, a character who would go on to appear in both "Marvel's Agents of S.H.I.E.L.D." and this week's EDGE OF VENOMVERSE #3.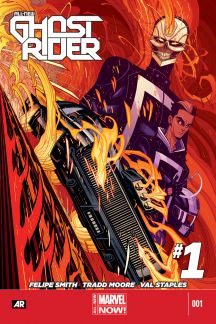 Though symbiote-covered now, Reyes began his comic book career as a high schooler with a mechanic job he used to help raise his wheelchair-assisted brother. One night, he borrowed one of the cars from the shop to do a little fund raising by way of an illegal race and wound up on the wrong end of a mercenary squad.
Riddled with bullets, Robbie fell back expecting to die. Instead, the Spirit of Vengeance–who introduced himself as Eli–saved him as well as the car and returned them both to their homes.
We eventually learned that the car itself belonged to a local gangster named Grumpy whose people stole a bag of pink pills that were created by Calvin Zabo, the alter-ego of one Mr. Hyde! The drugs turn users into rampaging monsters.
After taking care of both Grumpy and Hyde, Reyes' fiery exploits attracted the attention of Johnny Blaze who wanted to know about this new Ghost Rider.
Eventually Robbie learned the truth, that he wasn't actually the next Spirit of Vengeance, but that his dead, Satanist uncle Eli Morrow had possessed him. He still exhibited many of the traditional Ghost Rider abilities, but existed as something else entirely.
Robbie appeared in the Secret Wars series GHOST RACERS and most recently in his second solo GHOST RIDER series!
Flash Forward
As mentioned above, in addition to packing the comic page with action, Robbie Reyes also made the jump to the small screen. Debuting on "Marvel's Agents of S.H.I.E.L.D." in the fourth season, the character played by Gabriel Luna looks very similar to his comic book counterpart. Their origins remain somewhat similar as well, though he and his brother Gabe got gunned down in the TV series, which brought the Ghost Rider into his life. Thinking he sold his soul to a devil, Robbie worked to not only exact revenge on the people who hurt him and his brother, but also do some good in the world. That included making some sacrifices at the end of the season that revolved around the Darkhold, but we don't want to get into too many spoilers here!
The Hype Box
Can't-miss news and updates from across the Marvel Universe!