Comics
Published October 20, 2017
Flashback Friday: Scott Lang
As Scott Lang joins the Guardians as Ant-Man we look back at how he joined the Marvel Universe!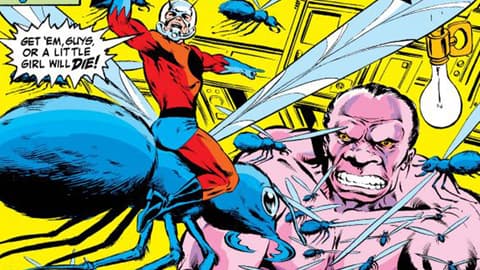 Every Friday we use the powers of Marvel Unlimited to look back at the very first appearance of a major character, place or object that made waves this week.
A first day on the job usually leads to some uncomfortable situations. You're not quite sure where to park or sit for lunch. Maybe the people don't take to you immediately or show even a remote sense of interest in your existence. And then sometimes, Wonder Man tries to punch you in the face because the Avengers Mansion security tried taking him out.
That wasn't just Scott Lang's first day on the job as an employee of Tony Stark's installing the security system at the famous domicile, but also his very first appearance as seen in AVENGERS #181 by David Micheline, John Byrne and Gene Day.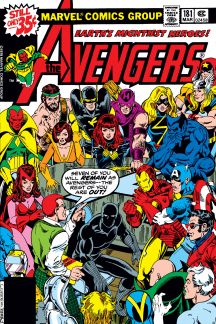 Now that Lang has joined up with the team in ALL-NEW GUARDIANS OF THE GALAXY, it's the perfect time to look back at how he made his less-than-spectacular debut in 1979. In an interesting little twist of fate, Iron Man actually saw the original Guardians off after a shared adventure they had in #177.
Anyway, Lang walked away with his head intact thanks to Stark interceding on his behalf, which allowed him to show up again in MARVEL PREMIERE #47–48 by Micheline, Byrne and Bob Layton.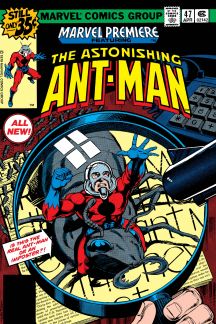 This issue kicked off with Lang already in the Ant-Man duds thinking to himself about saving his daughter while interrupting a surgery. He held his own, but didn't succeed in completing his mission, which gave him time to think back.
In that second appearance, Lang remembered being an inmate in a prison that helped him get a job interview with Stark International. Wanting to put his burglary days behind him and embrace his electronics background, which worked out, but only for a while. Soon, his daughter Cassie exhibited an inoperable aorta condition that seemed to leave them all with little to no hope.
Desperate, Lang broke into a an old mansion belonging to Hank Pym. He wanted cash to help pay for Cassie's treatment, but wound up stumbling upon the Ant-Man costume and helmet, which he made off with. He soon put the duds on and found himself at eye level with the insects.
Only later did the opening scene come into focus more fully as he intended to kidnap Dr. Sondheim who was working on the procedure and force her to help Cassie. Instead, he discovered that a hulk of a man named Darren Cross had actually kidnapped Dr. Sondheim already in search of her services.
After rescuing the good doctor, she helped save Cassie's life and things started looking up for Lang, and then Pym appeared in his Yellow Jacket costume. Instead of chewing the thief out, Hank congratulated him on a job well done and said he could keep the suit if he kept doing good with it.
Lang jumped at the chance and has been striving to stay on the right side ever since. He even did a good enough job parenting to help raise Cassie into a strong young woman who became a hero in her own right known as Stature!
Flash Forward
The MARVEL PREMIERE issues as a test to see if this new Ant-Man could shoulder his own series. The numbers didn't quite work out for that, but he did wind up becoming an Avenger. In #181, he showed up at Yellow Jacket's request to help the team find out what the Wasp might be doing at the Solomon Institute for the Criminally Insane. The two shrunk down to infiltrate the building and free Jan, which succeeded. Unfortunately they ran into a new foe: The Taskmaster! They put up a good enough fight to eventually earn Scott a spot on the team!
The Hype Box
Can't-miss news and updates from across the Marvel Universe!