Comics
Published June 30, 2017
Flashback Friday: The Punisher
We return to Frank Castle's first skirmish with Spider-Man!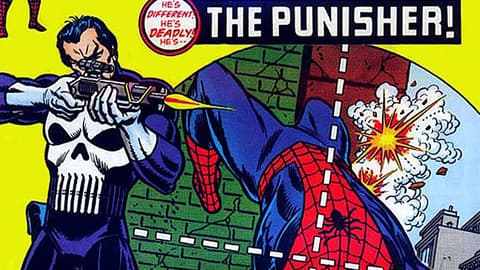 Every Friday we use the powers of Marvel Unlimited to look back at the very first appearance of a major character, place or object that made waves this week.
Frank Castle returned to New York City in this week's PUNISHER #13 by Becky Cloonan and Kris Anka. Homecomings always bring up old memories, so it's the best possible time to take a look at the first appearance of The Punisher in 1974's AMAZING SPIDER-MAN #129.
Writer Gerry Conway dreamt up the gun-toting vigilante and then had resident Bullpen artist John Romita whip up a design that Ross Andru brought to life in the pages of that issue. In fact, the installment began with Punisher blasting a plaster model of Spider-Man as The Jackal watched. Their initial retort ended with Castle claiming that our favorite Wall-Crawler deserved to die for unknown reasons.
Cut to the future target slinging around the city, stopping an armed robbery, and then heading to the Daily Bugle where J. Jonah Jameson chastised him for not getting the first photos of The Punisher.  Peter put his costume back on in an attempt to find JJJ's new quarry, but accidentally swung right into the assassin's sights. Luckily, the old Spider-Sense kicked in and our hero dodged the gunman's first blast.
Spidey immediately gave chase, but Punisher pulled a fast one, grabbing a hidden weapon to wrap the Web-Slinger up, giving him time to spout off about the evils of the world. Just as Spider-Man broke free, Jackal jumped out and swatted him off a roof! The antagonists thought they succeeded in killing their prey and ran off.
Back in their secret lair, Punisher and Jackal argued about methodology, but also explained that the newcomer wanted to kill Spider-Man for supposedly murdering Norman Osborn. "If I'm ever to live with myself, I have to know I'm doing the right thing…and letting a man die by accident doesn't qualify," Castle explained.
Later, as Spidey followed up on a lead to check out weapons-maker The Mechanic, Punisher showed up right after him and attacked. He became even further enraged when he saw the Mechanic's body on the floor, but Spider-Man used his superior strength to knock him down and tie him up. Instead of swinging away, the hero pointed out to Punisher that Jackal actually killed his armorer and the black-clad man swore his vengeance before retreating into the shadows.
Eventually, Punisher's backstory came to light: the former Marine had returned home to his wife, son and daughter. The quartet had gone to the park for a picnic when gunshots rang out, killing all but Frank. That day, he swore to use his particular skills to wipe evil off the face of the Earth, a mission he's continued to this day.
Flash Forward
Thanks to Frank's status as an anti-hero, he became incredibly popular, eventually earning his own limited series and then, basically, at least one ongoing series going from 1987 all the way to today. Though usually a loner, he's taken part in some of the biggest events in the Marvel Universe. He sided with Captain America during the first Civil War, helped investigate the Watcher's death during Original Sin, killed a whole bunch of villains as Secret Wars kicked off, and can currently be seen working for Steve Rogers once again in Secret Empire.
The Hype Box
Can't-miss news and updates from across the Marvel Universe!