Comics
Published January 12, 2017
Follow the History of the Black Panther Pt. 29
A new day dawns for the King of Wakanda as the X-Men and more stop by!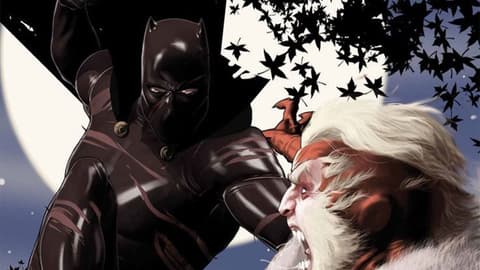 For 50 years, the Black Panther has stood at the forefront on the Marvel Universe. As we count down to a vision of T'Challa on the big screen coming soon, take a look back at five decades' worth of comic book adventures…
The U.S. government weighed options of involving itself in the Black Panther's nation of Wakanda in BLACK PANTHER #1, while elsewhere the hero's old foe Klaw assembled a team of agents for his own invasion. When the National Security Agency decided to make a secret landing in Wakanda in BLACK PANTHER #2, Klaw moved to launch his strikeforce.
With backing by the neighboring nation of Niganda he'd secured in BLACK PANTHER #3, the Master of Sound rained hellfire on Wakanda's capital in BLACK PANTHER #4. The Radioactive Man, operating on orders from Klaw, attacked the small country's storehouse of precious vibranium in BLACK PANTHER #5, while the mastermind took T'Challa's mother hostage.
The Panther rescued Ramonda in BLACK PANTHER #6, and his sister Shuri battled and killed Radioactive Man. T'Challa in turn faced Klaw and killed him in combat, also. When the smoke cleared from the action, The Black Panther demanded that U.S. Deathlok troops return to their home base and not remain in Wakanda.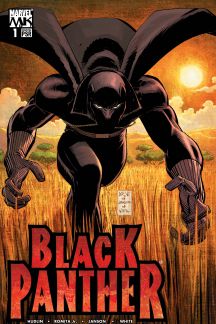 After the strange situation of the reality-bending House of M in BLACK PANTHER #7, the X-Men approached T'Challa in X-MEN #175 about investigating mutant creatures in strife-torn Niganda. The Panther and his mutant allies entered Wakanda's neighboring nation in BLACK PANTHER #8 and found it nearly crippled with chaos.
The Red Ghost captured the X-Men in Niganda in X-MEN #176, while Storm reunited with T'Challa. Together, the heroes won their battle versus Red Ghost in BLACK PANTHER #9, and Storm quit the X-Men to stay in Wakanda with the Panther.
The Hype Box
Can't-miss news and updates from across the Marvel Universe!