Comics
Published November 22, 2017
Generation X: Together Again
Christina Strain reconvenes the original squad for Marvel Legacy!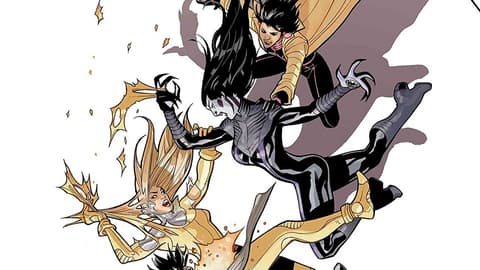 Reunited and it feels so good!
Or not.
When Monet finds herself in danger of becoming a vampire, the original GENERATION X squad reemerges to help save one of their oldest friends from the undead. On December 20, writer Christina Strain and artist Amilar Pinna jump into Marvel Legacy as they unite the past and present in GENERATION X #85!
We caught up with Christina to learn more about the upcoming issue.
Marvel.com: Catch us up with what's been going on in GENERATION X!
Christina Strain: Oh man, where do we start? Jubilee has been doing her best to wrastle her students in line, despite running on no sleep 'cause she's the single parent of a toddler. Quentin Quire is…a mess, so that's not new. Benjamin Deeds still feels too scared to ask out Nathaniel Carver, who's still too scared of his powers to even think of dating Ben. Roxy is dealing with some trauma from her past, Trevor is realizing he's a great babysitter, and Lin's starting to think that humans (particularly Trevor) might not be all bad.
We're nine issues in and it's like they're actually starting to learn things!
Marvel.com: What does it feel like to write for the original team roster? How does the book's dynamic change?
Christina Strain: It's fun! I mean, I grew up with the O.G. GENERATION X cast and, now that I'm older, I've applied a lot of lessons I've learned through the years to them and it seems to work. And it's fun taking a character like Paige (Husk) and everything she's been through and use her as a foil for someone like Roxy, who's younger and been through less. I'm loving it!
Marvel.com: What's the deal with poor Monet?
Christina Strain: Monet learned a bit of a lesson in humility when her brother (Emplate) basically possessed and merged with her the way those St. Croix siblings do. And unfortunately for Monet, her humanity has lost out to Emplate's hunger, so now she has become basically a mutant vampire. So, like Emplate, Monet now hunts mutants so she can suck on their bone marrow to keep herself and Emplate close to our dimension.
Marvel.com: What proved to be the most challenging element of writing this issue for you?
Christina Strain: Page count. Honestly, 20 pages isn't a lot of pages to work with…I'd kill for a few more! And when I look back at old GENERATION X issues, like issue #1—which had 38 pages, by the way—I sob all over my carpet at the thought of how much more I could do if I just had the page real estate!
Marvel.com: What emerged as your favorite part to write?
Christina Strain: Any of the scenes with feelings. Fighting can be cool, sure. But I'm a big fan of feeling like my heart's been punched right in the aorta.
Marvel.com: How does the concept of Legacy come into the story?
Christina Strain: Good question. I just looked at it from the same perspective I've had since the very beginning of GENERATION X with Jubilee: "How does this original character reflect the future of these new characters? What can she teach them about who they'll become?"
Marvel.com: What does the Legacy of Marvel mean to you—as a writer and as a person?
Christina Strain: GENERATION X has always been a very special book to a lot of people, and being able to write this iteration of it has been such a big honor for me. I genuinely love the original GEN X as well as all our "lovable losers," so I just hope we've made something at least one or two kids will love as much as [editor] Daniel Ketchum, Amilcar, [colorist] Felipe Ramos Sobreiro, [letterer] Clayton Cowles, [artist] Terry Dodson, and I all loved the original run of GENERATION X.
Find out the fate of Monet St. Croix in GENERATION X #85, by Christina Strain and artist Amilcar Pinna, on December 20!
The Hype Box
Can't-miss news and updates from across the Marvel Universe!