Comics
Published October 6, 2018
Gerry Duggan and Ron Garney Wield the 'Savage Sword of Conan'
The new series begins in February!
Coming in February, the Cimmerian barbarian begins a new journey in SAVAGE SWORD OF CONAN!
Written by Gerry Duggan with art by Ron Garney and colors by Richard Isanove, Conan cleaves his way across the high seas and into a deadly new adventure.
Savage Sword of Conan #1
Savage Sword of Conan #1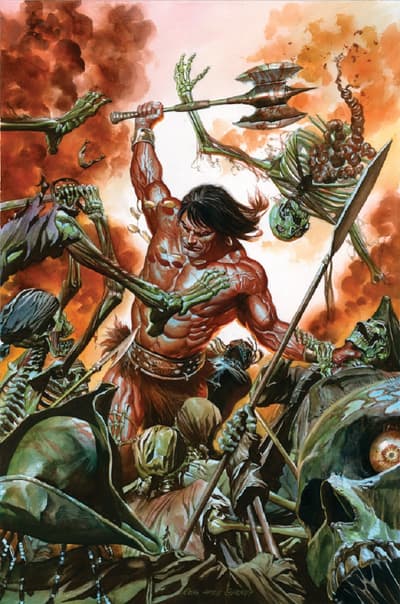 With over 650 issues from 1970 to 2000, Marvel brought fans the adventures of Conan the Barbarian, Conan the Adventurer, Conan the Savage, and Savage Sword of Conan, among other popular titles. And that legacy is more resonant now than ever. "My first job was in 7th grade, working part-time at a comics shop that needed help going through their inventory," recalls Duggan. "I fell in love with the classic Conan material that year. To be able to play in this sandbox now is a dream come true." Currently writing the series, Duggan notes, "I wrote my first 'By Crom!' into a script the other day, and I stopped for a moment to say, 'Oh… That feels as good as a SNIKT or a THWIP!'
"To be able to be paired with Ron Garney on art and Richard Isanove on colors is just outstanding. It would be hard to say that this is Ron's best work, but it's true. I think when people see it they're really gonna freak out. And Richard is gonna paint the hell out of it. We're all Conan fans, and somehow we're being paid to do this. Because I'd pay for this honor! I'm the luckiest guy in the world with assignments and collaborators."
Duggan teases what fans should expect from his take on the character: "I hope it has all the hallmarks of a great Conan tale. It starts on the high seas, there's treasure, there's fighting, there's a potential romance, there's a little bit of comedy, and there's Conan swinging all kinds of weapons at death cultist's heads."
Prepare to be reintroduced to the righteous blade of the supreme Cimmerian in February 2019!
SAVAGE SWORD OF CONAN cover by Alex Ross.
The Hype Box
Can't-miss news and updates from across the Marvel Universe!