Comics
Published September 18, 2017
Get Ready to Run: Dead Wrong
Terry Moore and Humberto Ramos launch an all-new volume of RUNAWAYS!
Before Rainbow Rowell and Kris Anka's RUNAWAYS launches in September, take a look at all of their major adventures as seen on Marvel Unlimited!
For a group of kids who haven't been around for all that long, the Runaways boast an impressive line-up of legendary talent chronicling their adventures. That roster grew in 2008 when a new RUNAWAYS volume launched from writer Terry Moore and artist Humberto Ramos.
In those first six issues, the group – Chase, Molly, Nico, Karolina, Xavin, Victor, Klara and Old Lace –  returned to L.A. in Leapfrog, taking up residence in Chase's parents' Malibu house. They didn't have much time to relax and enjoy the view, though, as a crew from Majesdane blew off one of the walls in their quest for vengeance.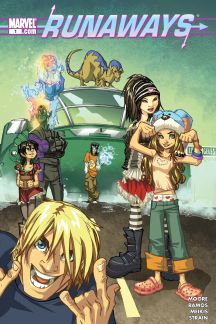 See, back when Karolina and Xavin returned to Earth, they mentioned that a conflict stemming from their impending nuptials lead to Skrulls firing anti-matter missiles at Majesdane which killed 8 billion inhabitants. This group of Majesdanians considered Karolina's dad primarily responsible because he provided the Skrulls with Majesdane's location.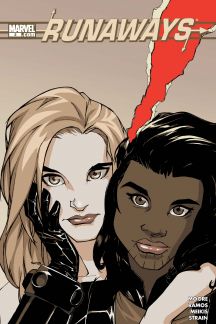 To get rid of most of the invaders, Nico used a "scatter" spell that not only dropped the aliens in various locales around the globe, but also mentally did the same to everyone on the team aside from herself and Victor. While they argued with each other about what to do to fend off the returning Majesdanians, and then about the spell itself, their adversaries did, in fact return, pretty ticked off and ready to attack.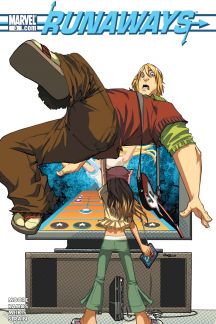 An epic battle ensued between the Majesdanians in their ship, most of the Runaways in Leapfrog, and Chase in a newly discovered VW bus-turned flying battle wagon! Eventually a foolishly close news chopper caused hostilities to cease so they could save the occupants.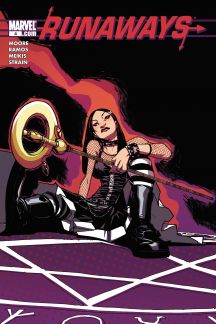 Down on a nearby pier, the two sides decided to call a truce and Karolina even announced that she would go back with her people to answer for her father's crimes. Immediately after the ship took off, however, Nico revealed to the others that Karolina would be found nearby!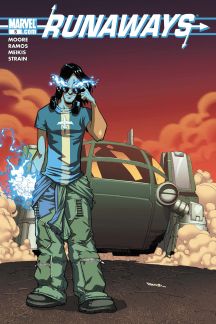 Instead of allowing her love to go off into the stars with the Majesdanians, Xavin took Karolina's place and planned to eventually reveal her true identity in hopes that she could help create peace between the two ravaged societies.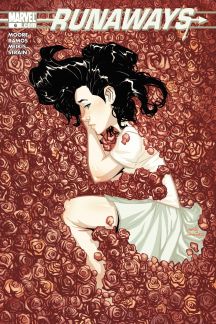 LOST & FOUND
With everything already mentioned in this story, it might seem like the gang would have had time for anything else, but we skipped over a major part that will come into play in the next installment. After getting into the Malibu house the gang realized Chase needed to get a job because he's the only 18 year old. He took it upon himself to visit his favorite shock jock at the radio station, that also happened to be located in the same building as a mall. Val Rhymin hired Chase, but more importantly exhibited an ability that allowed him to control people. At the end of the battle with the Majesdanians, he told his listeners to pick up weapons and fight the heroes causing all the ruckus, in other words, the Runaways. He also spoke with someone called Mother about zombies, which will see fruition in the next volume, titled Rock Zombies!
Terry Moore returns to RUNAWAYS with the aforementioned Rock Zombies accompanied by artist Takeshi Miyazawa.
The Hype Box
Can't-miss news and updates from across the Marvel Universe!