Comics
Published July 12, 2017
Get Ready to Run: Pride & Joy
Meet Gert, Karolina, Molly, Alex, Chase and Nico as they change from bored party-goers to Runaways!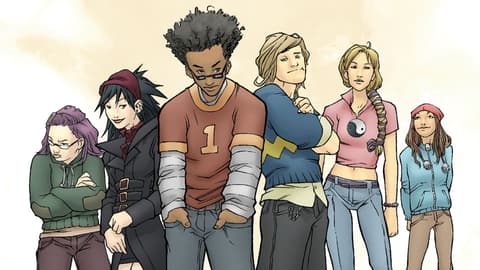 Take off with the Runaways from the beginning as we ramp up for Rainbow Rowell and Kris Anka's new series launching in September!
At one time or another, everyone becomes fully convinced their parents must be evil. Some might just be overly concerned with their children, while others sacrifice teenagers to inter-dimensional giants for world domination and a ticket to a better world.
That's a very basic explanation for the story Brian K. Vaughan and Adrian Alphona established in the pages of RUNAWAYS #1-6 which launched as part of the Tsunami imprint back in 2003. As the first issue moved along, we met the cast of young characters: Alex, Gert, Chase, Karolina, Nico and Molly. They found themselves dragged to a party by their folks and eventually stumbled upon a sacrifice chamber run by their folks!
Understandably freaked out by the whole situation, they played it cool when their parents checked up on them, but soon met up and decided to go on the run together (sans Molly, the youngest). First they needed the proof of their parents' evil deed, so they headed to Gert's house where a genetically engineered future-dinosaur — soon to be known as Old Lace — surprised them.
While there they also swiped a book called the Abstract which held The Pride's secrets. The surprises kept coming as they traveled to Karolina's place where they discovered she had powers — thanks to her being an alien, unbeknownst to her — and took part in their first of many parental throw downs.
Though we wouldn't find out more about The Pride until the next arc, we did discover that this group of time-travelers, aliens, mutants, magic-wielders, super-scientists and criminal master minds had their claws in just about everyone and used their unique skills to control much of the crime on the west coast.
In the process of uncovering their folks' true lives, the kids also learned about themselves and proved to readers that we all go through the same problems when we're teens, whether we have a blood-revealing magic staff or not.
This first arc set the stage for one of the most beloved comic runs this century and also set up plenty of intrigue and mysteries to be paid off in the ensuing volumes, including the identity of the mole feeding information to the parents!
LOST & FOUND
Here's a brief rundown of the Runways and their abilities/talents/tech. Alex is something of a tactical genius and the kind of born leader people easily listen to. Molly's mutant genes give her super strength and a level of invulnerability that often leaves her very sleepy. Chase can figure out technology on some level and utilize stolen devices from his parents like the Fistigons. Nico can summon The Staff Of One which allows her to use a spell only once. Karolina's alien physiology grants her flight and the power to redistribute solar energy. Finally, Gert shares a mental connection with Old Lace and also exhibits a great intelligence and inquisitive nature that wants to find out answers for herself instead of taking everything at face value. Together, they're not exactly the Avengers, but they'll do what they can to help stop their parents. All except for the one who will ultimately betray them, that is!
While trying to establish themselves as heroes, the kids run into trouble with a false friend and two heroes who fail to help out in RUNAWAYS #7-12.
The Hype Box
Can't-miss news and updates from across the Marvel Universe!