Comics
Published May 14, 2018
Get Your First Look at DEADPOOL #1
Skottie Young reveals what's in store for the Merc with a Mouth!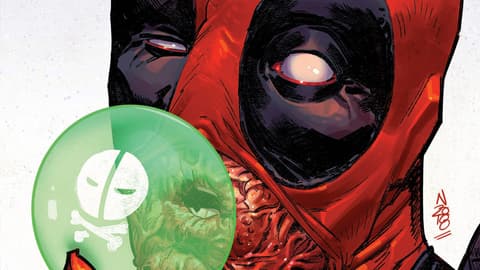 We may have bid farewell to DESPICABLE DEADPOOL, but with one end comes a fresh start — and DEADPOOL #1, written by Skottie Young with artists Nic Klein and Scott Hepburn. The issue hits stands on June 6 but we have a first look at the book with art from Scott Hepburn and some insight from Skottie Young himself.
Upon our return to Wade Wilson's World, we find Deadpool trying to get his merc work back in gear. After working with super groups like the Avengers, X-Force, and S.H.I.E.L.D., he's back to working alone, and just in time — there's a huge threat to deal with, and Deadpool just happens to be available! Lucky us! But first — doesn't every hero deserve an origin story in Issue #1? Deadpool certainly thinks so, and that's just what we get in these preview pages, whether we like it or not.
We asked Skottie what else we can expect from Issue #1 and how he'll be denying Deadpool a peaceful existence as he starts merc'ing all over again: "Deadpool is trying to go back to his roots of merc for hire. Like any new business, things are off to a slow start. Basically, he's a freelancer, and for the last 17 years, I've learned that there's rarely peace and harmony in freelancing. It's always a grind to find a balance. Deadpool is going take a ride on that roller coaster in issue #1 and beyond."
But if you think we're going to see high drama from this new Deadpool run, you can check your tears at the door. Skottie assures us that this will be full of the humor you love:  "There's a reason I've been wanting to write this character for years. I get him. Like in my real life, I can use Wade's humor to entertain, mask pain, distract or just flat out annoy you, intentionally or unintentionally. Listen to the stories of almost any comedian and you quickly realize where the 'sad clown' cliche came from. Deadpool is a Sad Clown with guns and swords and a mutant healing factor. So let's change the label to 'SAD VIOLENT KILLER FOR HIRE CLOWN.'"
DEADPOOL #1 will hit stands and be available digitally on June 6, 2018 with the amazing pages below by Scott Hepburn! Pre-order with your local comic book store!
The Hype Box
Can't-miss news and updates from across the Marvel Universe!