Comics
Published February 9, 2017
Go Nuts with Ryan North, Shannon Hale and Dean Hale
Who runs the world? Squirrels do in upcoming all-original novel!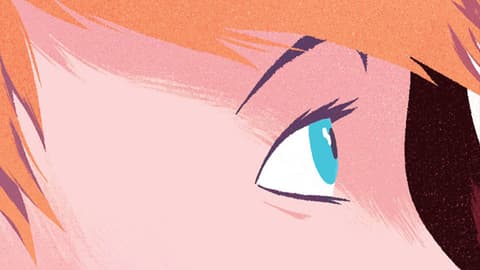 Marvel.com is thrilled to give its readers an *exclusive* interview with three notable and bestselling authors Ryan North, Shannon Hale and Dean Hale, who all have something in common—SQUIRREL GIRL! With new and exciting Squirrel Girl adventures coming your way monthly by Ryan North, from Marvel Comics, and the Hales penning an all-original novel from Marvel Press called THE UNBEATABLE SQUIRREL GIRL: SQUIRREL MEETS WORLD (on sale now), now would be the perfect time to crack into what makes Doreen Green so unbeatably awesome!
Marvel.com: Who is Doreen Green to you, and why do you enjoy writing her?
Shannon Hale: She is a girl with a squirrel tail and squirrel powers, and she thinks that's pretty awesome. You can't help but agree with her. In our book, she's in middle school, which is a time when I could really have used squirrel powers.
Dean Hale: She is humanity's last best hope against nihilistic apocalypse. Also she is Tippy-Toe's best friend, which means I get to write squirrel dialogue. I love squirrel dialogue.
Ryan North: In the Marvel comic she's also a computer science student at university, so she's got powers of both squirrel AND girl, and also computer scientist. Pretty unbeatable if you ask me, which is why it was such a relief when we put "unbeatable" on the cover. That way everyone was going into this with their eyes open!!
Shannon Hale: Truth in advertising is our number one goal.
Marvel.com: Because Squirrel Girl appeals to readers of all ages and genders, did you all listen to reader feedback while you wrote her storylines or does her voice just speak to you?
Shannon Hale: Personally my best prep for writing her was to read and reread Ryan's comics. His voice is so good.
Dean Hale: ABSOLUTELY. Ryan and Erica's book dials it right in. Because of course I don't hear Squirrel Girl's voice in my head talking to me always talking that would be crazy
Ryan North: AW YOU GUYS. To come up with how Doreen talked, I kept Erica Henderson's art (she's the artist on the book) up on a screen while I wrote. She'd just done different character sketches at that point – she didn't even know what tone the book would have! – but even those had such character and personality to them that I just had to look at them and think "what would this person do in this situation?" and it really helped. We ended up putting those sketches on as a special variant cover for our 25th anniversary issue in January (25th anniversary of the character, I mean, we haven't been writing these comics and novels for 25 years) (YET??)
Marvel.com: Ryan, have there been any story arcs that resonated with you, personally, or that you were adamant about tackling within the Squirrel girl comics?
Ryan North: The first arc was really special to me because (SPOILER ALERT FOR A 2 YEAR OLD COMIC) it's the one where we meet Nancy, meet Doreen, and she goes up against Galactus. That was right there in my first pitch: that she'd defeat Galactus. She's unbeatable, right? Let's come out of the gate with the most unbeatable Marvel bad guy there is! It was also special for me because Nancy finding out Doreen's secret identity wasn't part of the story originally, it just happened organically when I realized that Nancy's smart, she'd notice if there were two squirrels in a pink ribbon in her life all of a sudden. And that realization made Nancy and Doreen much closer (and helped me realize that Nancy's superpower, if she has one, is seeing through people's baloney), and now their relationship is one of my favourite parts of the book.
Marvel.com: Shannon and Dean, given that you had a nice volume of SG work to read through, did you find any challenges when it came to writing a character who was already "formed" in readers' minds, and what will readers discover about her after reading your novel?
Shannon Hale: We got to write Doreen at age fourteen, just as she's claiming her superhero identity. Basically we thought, who would Ryan's and Erica's Doreenl have been in middle school? They'd done so much great discovery into her character. It was a joy to play in that sandbox.
Dean Hale: It was perfect to have that target in mind and imagine up the kind of girl that could one day become the one we see in the comics now.
Marvel.com: Shannon and Dean, you also were able to add some meaningful characters into Doreen's world. Can you talk a little about her parents and best friend Ana Sofia?
Shannon Hale: Doreen loves people, and so moving to a new town the first thing she does is hunt out both squirrel and human friends. She's such an optimistic, outgoing, indomitable personality, we thought it'd be fun to pair her with someone who is introverted and somewhat prickly. Ana Sofía is a computer whiz, Mexican American, deaf, and completely unprepared for the storm that is Doreen Green. She's also an openly huge fan of socks and a secretly huge fan of Thor. I loved writing Ana Sofía.
Dean Hale: Doreen's parents are a huge part of the person she is, especially in a story that deals with her at a time when she's still living at home. It was great fun reverse-engineering Doreen's personality DNA to come up with people that would have created a home environment where a Being such as Squirrel Girl could form.
Ryan North: Can I jump in here? I LOVE ANA SOFÍA. Ever since I first read what Shannon and Dean wrote here I've wanted to at least give a shout out to Ana Sofía in the book, but I had to hold back because I couldn't put her in the comic before she showed up in the book! It'd be like I was stealing her. But now the book is coming out REAL SOON and the world will know how great Ana Sofía is.
Shannon Hale: Wow that is so cool. It's already amazing to get to write in the Marvel Universe, how much more amazing to get to add a character to the canon!
Marvel.com: Besides being unbeatable, what are some other attributes about Squirrel Girl that make her so special to write about and that you want young readers to resonate with?
Shannon Hale: She's got powerful, thick thighs, and round cheeks, and big front teeth, and a big booty to boot (especially with her tail hidden in her pants)—and in middle school these are things that kids will mock. But Doreen is really okay with herself. I love that.
Dean Hale: There's a creeping undercurrent of hope in everything she does and says that has a kind of therapeutic effect. After spending any length of time in her head, I find myself much more willing to believe that stuff IRL is going to be okay. Being a kid (and a non-kid) is hard, and I would love it if young (and old) readers could leave the book with a little of that hope in their lives.
Ryan North: She's very empathic – good at seeing the world from the point of view of other characters – which I think is PROBABLY a good thing to have when you've got literal superpowers? She's also great at kicking butts too, which is also great. So kicking butts and empathy are a fun combination that I think Doreen / Squirrel Girl show really well.
Marvel.com: For casual readers of comics or for parents who want to get their daughters and sons into them, do you have any comics recommendations or favorites within your household?
Shannon Hale: Well obviously start with Ryan's Squirrel Girl comics. They really are All Ages—for kids, teens, and adults. Ms Marvel is fantastic for middle schoolers and teens. I also have a graphic novel I'm constantly recommending for younger readers: EL DEAFO by Cece Bell. Love!
Dean Hale: For older kids I often recommend the first trade of Runaways. Also Ultimate Spider-Man, both the old-school Bendis one and the new show tie-in comic. Moon Girl and Devil Dinosaur, too. Love that one.
Ryan North: I'd echo all those recommendations, and add on Hellcat from Marvel, Adventure Time comics from Boom! (I wrote those too, so uh, if you like Squirrel Girl you'll probably like that – as well?), Calvin and Hobbes collections remain timeless and brilliant, and my friend Kean Soo did a book a few years ago called "Jellaby" about a girl who finds a monster in her back yard, feeds him a tuna fish sandwich, and they become friends. SUPER GREAt.
Marvel.com: What's on your comic book TBR (To Be Read) pile right now?
Dean Hale: Mark Waid's Champions, Margaret Stohl's Captain Marvel, several issues of Ta-Nehisi Coates' Black Panther, and the second trade of Tom King's Vision.
Shannon Hale: That's my TBR too since we share the same TBR. I'm dying to read Margaret's Captain Marvel. I love her. The character and the writer. I love both hers.
Ryan North: Hahaha I've got so much. I literally just came back from the library to pick up books I'd put on hold, and the holds pickup section is right next to the comics section, so every time I go I'm just pouring comic books into my hands almost at random. But I'm very excited for the (every award winning) book March by John Lewis, Andrew Aydin, and Nate Powell, about the US Civil Rights movement – it's been on my to-read pile for far too long and I can't wait to dig in.
Readers can also check out these three authors on tour, which kicks off on February 7!
Tuesday, February 7, 2017 – 7:00pm
(Shannon and Dean Hale only The King's English)
1511 South 1500 East
Salt Lake City, UT 84105
Wednesday, February 8, 2017 – 7:00 PM
B&N store #2984
Mira Mesa Market Center
10775 Westview Pkwy
San Diego, CA 92126
Thursday, February 9, 2017 – 7:00 PM
B&N store #2262
Clackamas Town Center
12000 SE 82nd Ave
Portland, OR 97086
Friday, February 10, 2017 – 7:00 PM
B&N store #2280
Northgate Mall
301 NE Northgate Way
Seattle, WA 98125
The Hype Box
Can't-miss news and updates from across the Marvel Universe!