Comics
Published April 18, 2017
Guardians of the Galaxy: The Telltale Series Comes to Comics
Before you play the new game, read up on its comic book prequel!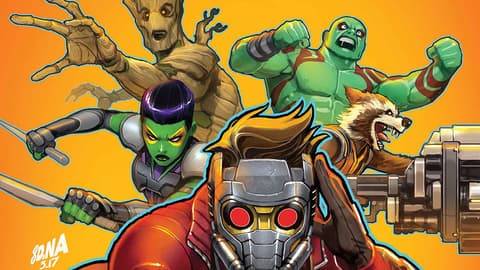 The Guardians of the Galaxy have defied expectations, as the ragtag team of space adventurers jumped from comics to movies to cartoons and now video games with "Marvel's Guardians of the Galaxy: The Telltale Series," an interactive episodic game series launching today.
But wait—it doesn't end there.
The team has now come full circle, as writer Fred Van Lente and artist Salva Espin get set to tell the story of what happened before the story that will unfold in the game with GUARDIANS OF THE GALAXY: THE TELLTALE SERIES, a five-issue comic book prequel to Telltale's game beginning in July.
We caught up with Van Lente and Marvel Games Creative Director Bill Rosemann to find out more about the new series.
Marvel.com: Fred, you're working on a comic based on the Guardians of the Galaxy video game…which in turn was based on the comic. What's it been like working on this particular version of the characters?
Fred Van Lente: Though the Telltale Series takes place in its own universe separate from either [the Marvel Universe] or the [Marvel Cinematic Universe], the Guardians should be pretty familiar with everyone who's seen the movie. Star-Lord is brash and cocky, Gamora is a badass, Drax doesn't get metaphors, Rocket is driven by money and gadgetry, and Groot is…you know. He's Groot.
Marvel.com: What details can you share on the story? I hear there's a heist. Any hints on what the Guardians are looking for?
Fred Van Lente: Let's see here…how to answer this without getting too spoilery…they have to perform a rescue mission from the gladiatorial pits of Sakaar—which I wrote way before the "Thor: Ragnarok" trailer came out; I swear—that leads them to an even bigger score. I won't give away what it is they're after, but it sets [up] the plot of the Telltale Series nicely. Suffice it to say it is found [on] Titan, the homeworld of the Death-obsessed Thanos, currently taken over by wall-to-wall scum and villainy who worship him as a god! This is a science fiction heist like no other, where one misstep is death.
Marvel.com: Which characters have you really enjoyed writing for this project? Who stands out or surprised you with how much you enjoyed writing them?
Fred Van Lente: You know, I've long been a big Guardians fan, dating back to the original team with Martinex and Vance Astro and the like, but this is the first time I've ever actually written them. I am pleasantly surprised at how much I enjoy Quill. I always like lovable rogue characters, but he's vulnerable enough—and just unsure enough of himself—to make his arc really interesting.
Marvel.com: What sort of "research" has gone into this book? And by that I mean, how many hours have you logged playing the game?
Fred Van Lente: [Laughs] Telltale was kind enough to send the first chapter of the series over for me, and I must say it is pretty rad. I think both Telltale fans and Guardians fans are going to be super-pleased.
Marvel.com: Telltale has a reputation for telling great stories with their games. What's it been like working with them on the comic?
Fred Van Lente: Very cool. I have actually written for them before on the games side, and it is great to work with a gaming company that places such an importance on story; and this comics adventure will reflect that as well.
Marvel.com: Bill, you have a long history with the Guardians of the Galaxy. Did you ever expect to see this ragtag group you helped put together find such success both in comics and in other media?
Bill Rosemann: Yes, I absolutely believed in the Guardians' potential. Our underdogs were a diamond in the rough. They are as relatable and complex and inspirational as all of Marvel's best characters; they just needed the platform and spotlight. And as a real-life father, this feels—in an odd and smaller way—like a proud papa watching his kids up on stage showing the world what you've always loved and believed about them. You're happy, you're proud, you're humbled, and you know you're lucky to have been given the opportunity to have—along with many, many others who equally love them—a [role] in their well-earned and deserved success.
Marvel.com: Do you have any hints or teases as to what folks can expect from the comic as well as the game it's based on?
Bill Rosemann: As with all of Telltale's award-winning games, our experience is chock full of the drama, humor, spectacle, emotion and stakes that are shaped by every decision that the player makes. You are Star-Lord, and the choices you make—both your words to your actions—influence in positive and negative ways the health and very survival of not only entire civilizations, but in a very personal way, your [makeshift]—and no less loved—family. Accordingly, the editorial team of Jordan White, Darren Shan and Kathleen Wisneski, were so smart in their casting of writer Fred Van Lente and artist Salva Espin, who are perfect picks to not only deliver all of these elements, but expand the story to look at the crazy events that led to the start of our game!
Marvel.com: With Guardians and other games like "Marvel Avengers Academy," it seems that your team is creating worlds that are similar to, yet also somewhat distinct from, what we're seeing in the comic book Marvel Universe. Are there other video game projects you'd like to see become comics as well?
Bill Rosemann: Our team views each of our games as standalone experiences that—while being inspired by our awesome comics, TV shows and films—unite the greatest characters with the best partners to deliver the most accessible, epic and all-new stories to Marvel fans. We are obsessed with delivering the best games, period. That said, if editors and creators are inspired to join the fun, we'd love to see additional games like "Marvel Future Fight," "Marvel Heroes Omega," "Avengers Academy," "Marvel vs. Capcom: Infinite," "Spider-Man" and [our upcoming] Avengers project leap into comic book form. So as Stan Lee himself says, "Stay tuned, True Believers!"
Play "Marvel's Guardians of the Galaxy: The Telltale Series" right now, and read GUARDIANS OF THE GALAXY: THE TELLTALE SERIES from Fred Van Lente and Salva Espin starting in July!
The Hype Box
Can't-miss news and updates from across the Marvel Universe!