Comics
Published April 17, 2017
Legendary Star-Lord
Revisit when Peter Quill found trouble with Thanos in his own series.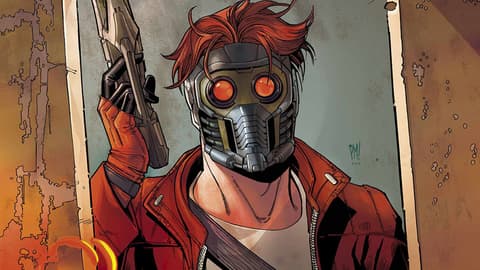 In 2014, Peter Quill broke out on his own in a series called LEGENDARY STAR-LORD that ran for 12 issues, leading into and ending with a story tied to the Black Vortex event. Sam Humphries wrote the book for its full run with artwork by Paco Medina, Joshua Williams II, and Freddie Williams.
To kick things off, Star-Lord got caught trying to steal the Mandalay Gem from an orphanage not only by the people living there, but by a bunch of barbaric Badoon. Even though he got captured, Peter used rocket boots, his space phone, a call to Kitty Pryde, and a bit of cunning to get out with gem in hand.
He then ran into Captain Victoria of Spartax, who happened to be his half-sister. Though they didn't hit it off right off the bat, the two did agree to steal huge amounts of cash from Fortress Viderdoom. This marked one of many acts on Quill's part that garnered the attention of the nefarious Mister Knife.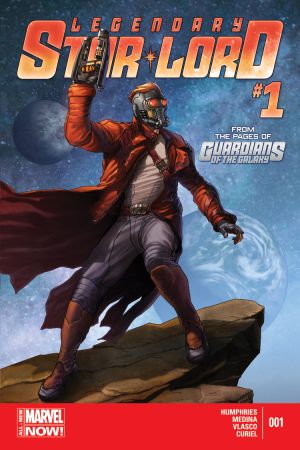 Not long after, another prison escape introduced Peter to Lydia, the operating system driving a hot-rodded ship called Bad Boy. He flew in that vessel to confront Thanos with the Mandalay Gem, but the brawl didn't result in much as a killing blow would have also destroyed the Moon, throwing Earth out of whack in the process.
From there, the rest of the story focused on Star-Lord taking on Mister Knife's Slaughter Squad. First they stole the Black Vortex and then they continually tried to kill Peter while on a holo-date with Kitty. When that ended with Peter's capture, Kitty stole one of Tony Stark's spaceships and took off to save her super-long-distance boyfriend.
Kitty used her powers to fly through the prison, grab Peter, and then phase them both through the planet itself in order to save him. While the love birds enjoyed being in physical proximity to one another again, Mister Knife continued his plans for the Black Vortex by scheming to recruit Thanos' son Thane.
Oh, by the way, did we mention that Mister Knife is actually Peter's dad, J'Son, the deposed emperor of Spartax? Talk about taking the whole adversarial parent thing too far! We'll see how all of this shakes out when we get to the Black Vortex crossover after examining how the Guardians made it through Original Sin!
Transmissions from Knowhere
We've gotten pretty far into the Guardians' history without actually talking about Star-Lord's origins, so let's take care of that now. The character debuted in the black and white magazine MARVEL PREVIEW #4 in a story by Steve Englehart and Steve Gan. In that issue, his dad flipped out immediately after Peter's birth and attempted to cut the baby up with an ax because the new addition didn't look enough like the supposed father. Luckily for the baby, the old man had a heart attack and died, leaving him to sit under the stars until his mom could recover enough to find him. Later, aliens murdered his mother, which drove his fascination with the stars even further, leading him down a path that would head to NASA and eventually space. Once there, a being called the Master of the Sun made him a Starlord. As you can tell, these stories don't exactly jive with the ones told in current comics. That's because they've been retconned to an alternate reality dubbed Earth-791.
The Hype Box
Can't-miss news and updates from across the Marvel Universe!