Comics
Published January 4, 2017
Guarding the Galaxy: The Return of Star-Lord
Peter Quill goes back to his heroic roots and assembles a familiar team of oddballs!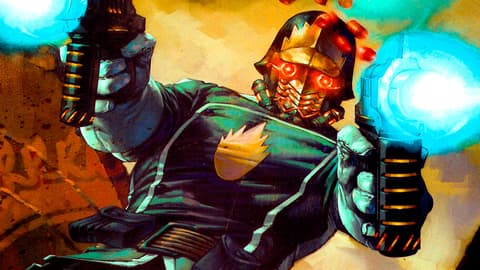 Celebrate this incarnation of the Guardians of the Galaxy's tenth anniversary while also prepping for the May 5 release of their new film with these gems from Marvel Unlimited!
The Guardians of the Galaxy as we know them actually began as part of an epic space opera in 2007. A decade ago Dan Abnett, Andy Lanning and Mike Perkins joined forces on ANNIHILATION CONQUEST PROLOGUE. In that issue, Peter Quill—the once and future Star-Lord—working with the Kree, inadvertently allowed Phalanx-infested Space Knights to invade Hala and infect the empire's War-Net.
Quill barely survived the initial attack, but limped off to join up with the Kree resistance in the pages of ANNIHILATION CONQUEST: STAR-LORD written by Keith Giffen and drawn by Timothy Green II. After recapping the hero's history, the first issue set up a premise that saw Quill's cybernetics removed before introducing him to a new team consisting of Kree prisoners Rocket Raccoon, Groot, Bug, Deathcry, Mantis, and Gabriel "Captain Universe" Vargas. Their mission? Use their no-to-low tech abilities and equipment to infiltrate Hala and destroy the Phalanx's seed bombs, intended to spread their infection across the galaxy.
Given the difficulty of the mission, the lack of team unity and the presence of murderous machines, it should come as no surprise that the crew had more than a little difficulty in following the plan. Before actually succeeding though, one member killed another, one found himself diminished, one lost his power, and many were captured by enemy forces. Still, the squad managed to infiltrate the enemy, do their job, and find a cure for the Phalanx contagion.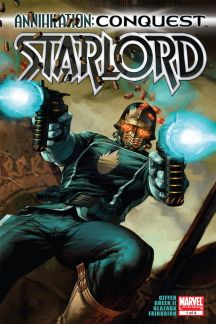 In fact, the as yet unnamed group proved so successful that the Kree kept the remaining members together for another mission—but we'll get into that next time!
Transmissions from Knowhere
Right before leading the proto-Guardians in the pages of ANNIHILATION CONQUEST: STAR-LORD, Peter Quill appeared in THANOS #8–12. Instead of running around playing hero, he served as an inmate in the space prison known as the Kyln. After he aided Gladiator in the search for The Fallen One, the Imperial Guardsman conscripted Peter into his group. Not long after, Quill joined up with Nova and served alongside Richard Rider in the ANNIHILATION series where he acted as the resistance's key tactician. The Kree honored his bravery by making him a combat advisor, a job he took seriously, making the Phalanx incursion all the more personal!
Next time we witness the role that Peter Quill and his new group of warriors played in stopping the Phalanx invasion in ANNIHILATION CONQUEST.

The Hype Box
Can't-miss news and updates from across the Marvel Universe!