Comics
Published January 26, 2021
A Complete Guide to 'Marvel's Voices: Legacy' #1
Prepare for all-new stories featuring Miles Morales, Storm, Monica Rambeau, Blade, and more!
Black Panther. Storm. Blade. Falcon. Ironheart. Luke Cage. Spectrum. And so many more. Marvel's incredible legacy of Black heroes gets the star treatment in the action-packed special, February 24's MARVEL'S VOICES: LEGACY #1!
Featuring a dazzling array of stories by both new and established creators, MARVEL'S VOICES: LEGACY #1 will consist of seven thrilling tales. Eisner Award-winning writer Nnedi Okorafor (Shuri) pens a Venom story highlighting the importance of heroes in fights for justice and reform. Explore Blade's legacy—vampiric and heroic—in a story by writer Danny Lore (2020 Ironheart). And in their exciting Marvel Comics debuts, Ho Che Anderson (King) brings Luke Cage fans an old-school story about the choices that make a hero, author Tochi Onyebuchi (Beasts Made of Night, War Girls) tells an action-packed tale of a wild night in Madripoor with Domino, writer Stephanie Williams highlights family in a light-hearted Monica Rambeau story, and Marvel's most promising young heroes—Ironheart, Ms. Marvel, and Shuri— team up for an adventure by award-winning novelist Mohale Mashigo (The Yearning)! Finally, Academy Award winning screenwriter John Ridley closes out this epic issue with a poignant look at the impact of Miles Morales.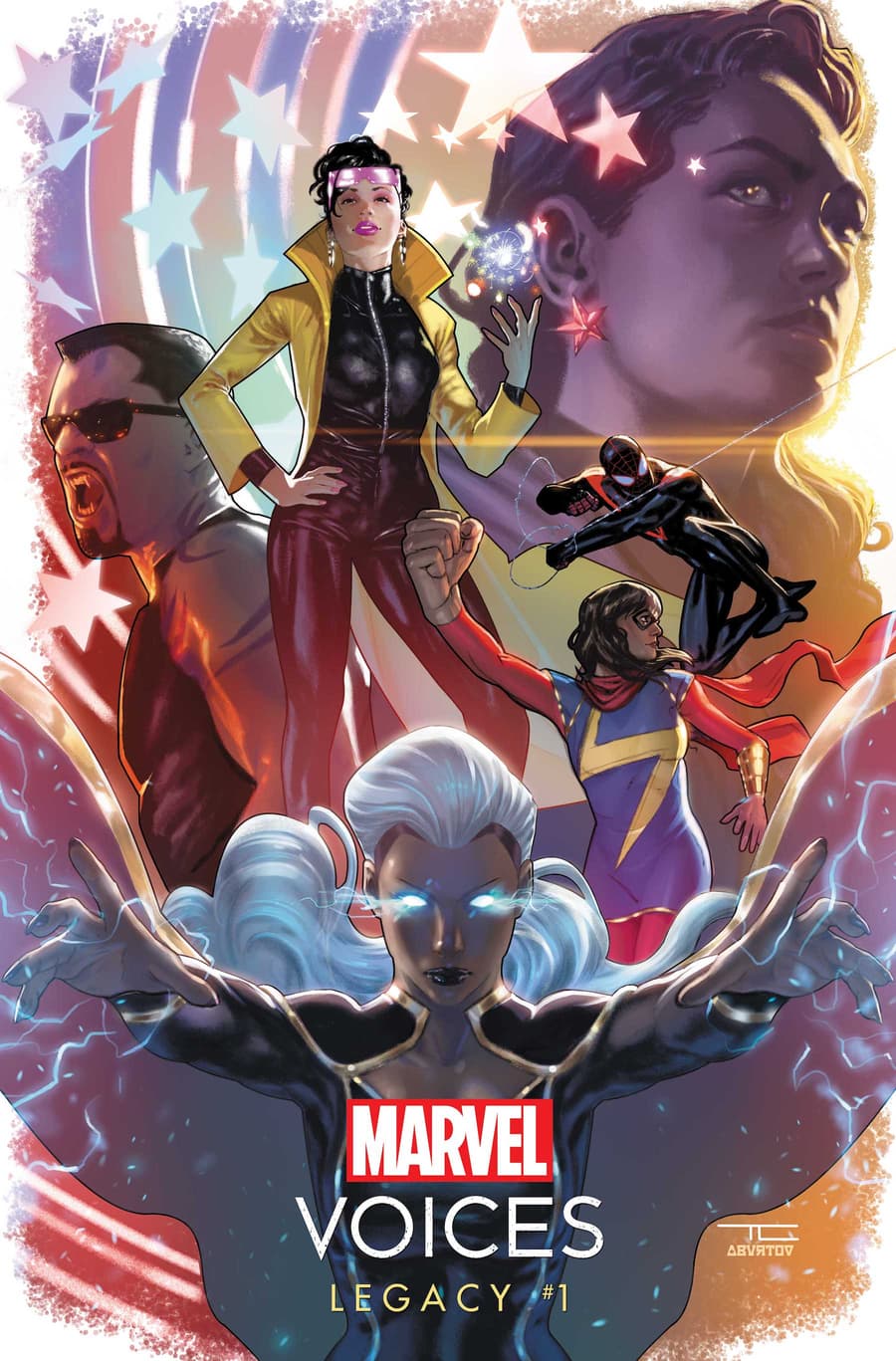 See these outstanding writers take on their favorite heroes in tales designed to inspire and uplift, featuring interior art by ChrisCross, Valentine De Landro, Sean Damien Hill, Ken Lashley, Marvel's Stormbreaker Natacha Bustos, Chris Allen, and Olivier Coipel. 
Here's the full rundown of the stories on the way in MARVEL'S VOICES: LEGACY #1, complete with first looks inside the issue...
Starring Monica Rambeau...
Written by Stephanie Williams
Art by Natacha Bustos
Colors by Rachelle Rosenberg
"Monica Rambeau has been one of the many Marvel characters I've connected with over the years as an avid comic reader," says Williams. "It was an automatic pick to pick her for my story, because I believe the world is simply made better with more Monica Rambeau. I'm incredibly grateful to make my Marvel debut in such a special issue that is comprised of so many amazingly talented people I've admired for so long."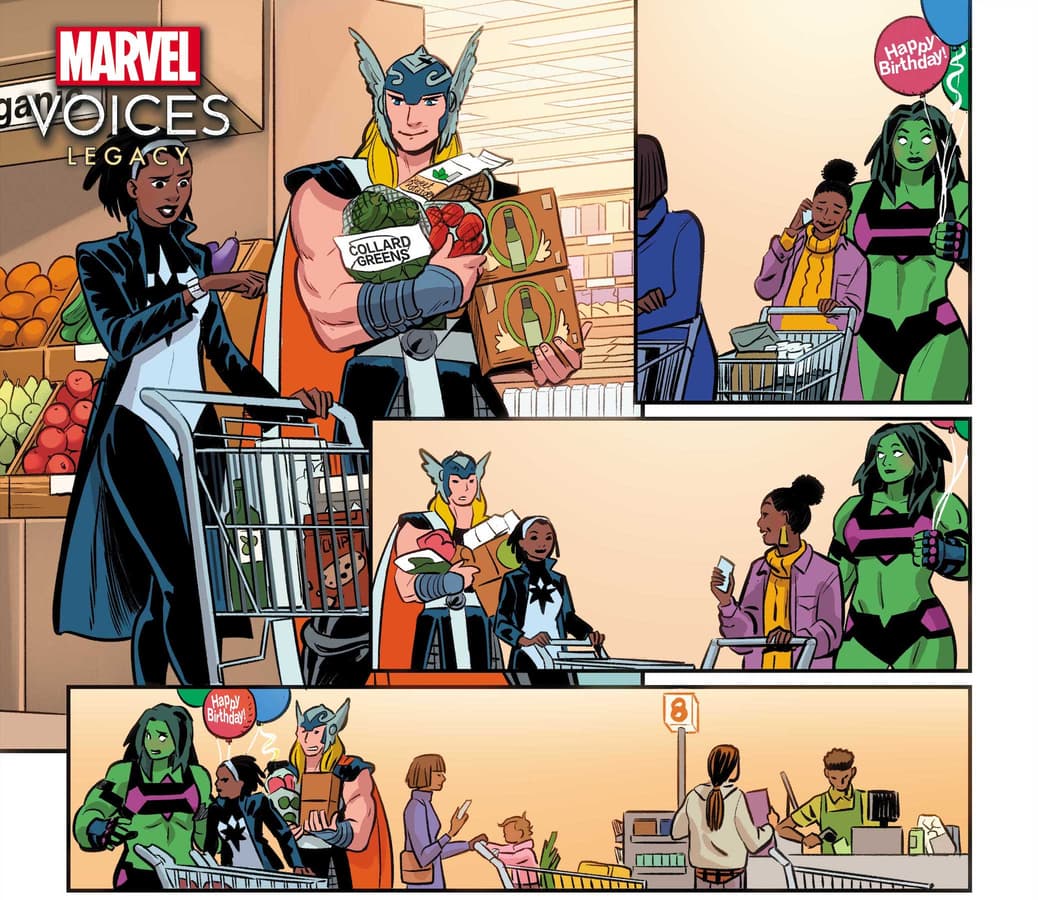 Starring Luke Cage...
Written by Ho Che Anderson
Art by Sean Damien Hill
Inks by Le Beau Underwood
Colors by Rachelle Rosenberg
"Reprints of the comics Stan, Jack, and Steve created in the '60s were among the first comics I read as a child and they were the ones that moved me by far the deepest," says Anderson. "As such, I'd assumed I'd develop an association with the mighty House of Ideas fairly early into my career as a professional comics creator. I was wrong, but in some ways it's fortunate that didn't happen, as it allowed me to get all my bad writing out of the way first so that by the time I finally made it onto Marvel's radar I could provide them only with the good stuff.
"I'm absolutely thrilled to have forged a relationship with Marvel at long last, and in writing Luke Cage, to have gotten the opportunity to illuminate a short chapter in such a storied character's history, and I'm hoping this is the beginning of a long and creative partnership. However, even if they never want to hear my name again, I'll be forever grateful Marvel gave me the opportunity to write about such a sensitive subject, and one I feel so passionate about."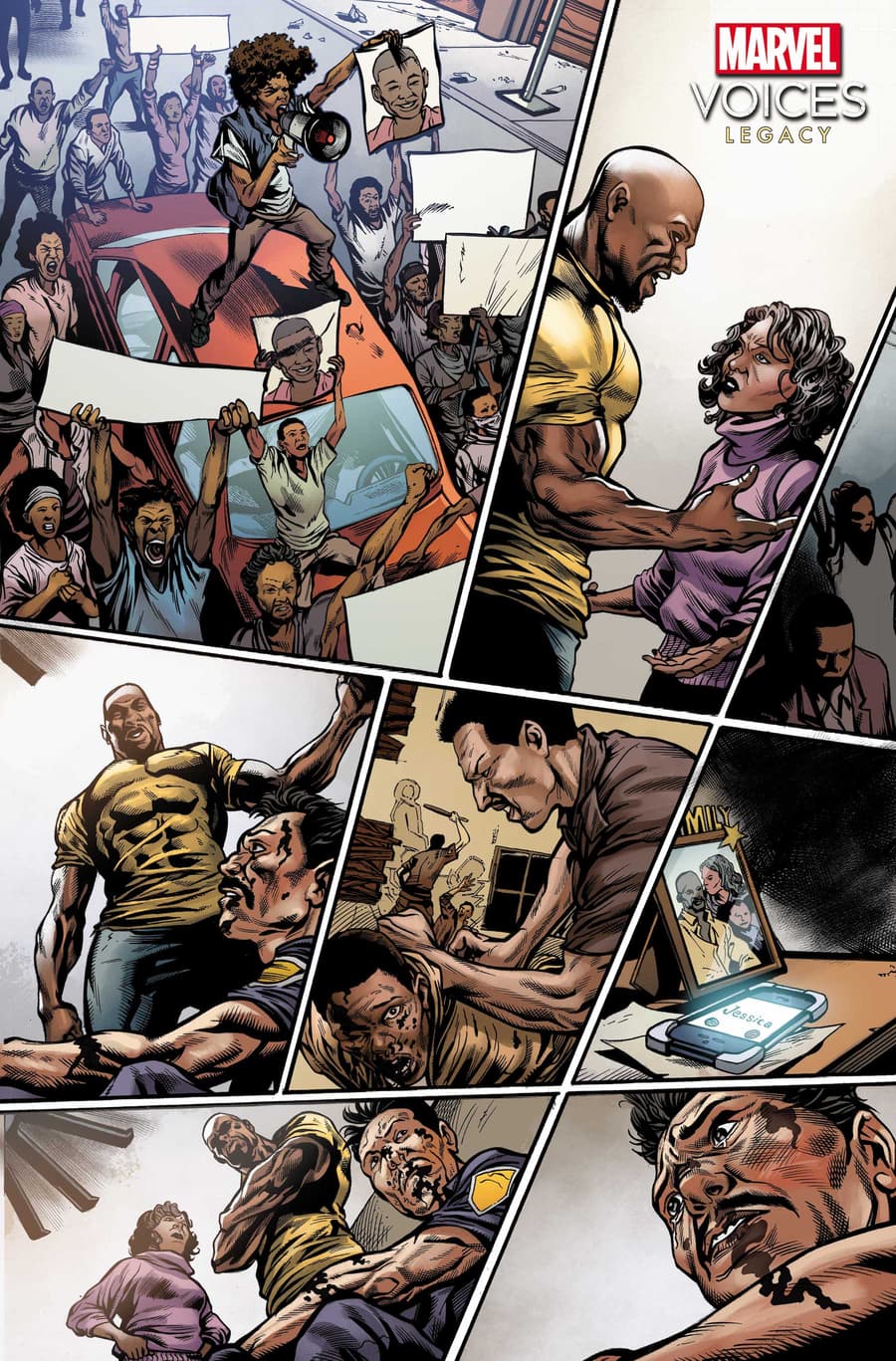 Starring Blade...
Written by Danny Lore
Art by Valentine de Landro
Colors by Dan Brown
"I was in middle school when I got my first exposure to Blade, in the movie, and from then on, he's represented the height of Black Cool for me," notes Lore. "How could I not choose to write a story that, in a lot of ways, is about the way that Blade affected me as a young kid in the Bronx and Harlem? While this isn't a meta tale, it's as much about his effect on me as a hero as it is about the kids in the story."
Starring Venom...
Written by Nnedi Okorafor
Art by ChrisCross
Colors by Rachelle Rosenberg
"The #EndSars protests in Nigeria were a powerful flashpoint in 2020," Dr. Okorafor says. "They began with a call for the disbandment of Nigeria's corrupt Special Anti-Robbery Squad (SARS) and grew into an energized demand for social justice. The #EndSars protests sent gigantic ripples all over the world and it's fitting that those ripples would make it to one of Marvel's universes...and it was a little therapeutic to imagine what would have happened if an alien symbiote named Venom and a certain woman named Ngozi had been there on that nightmarish night of October 20, 2020."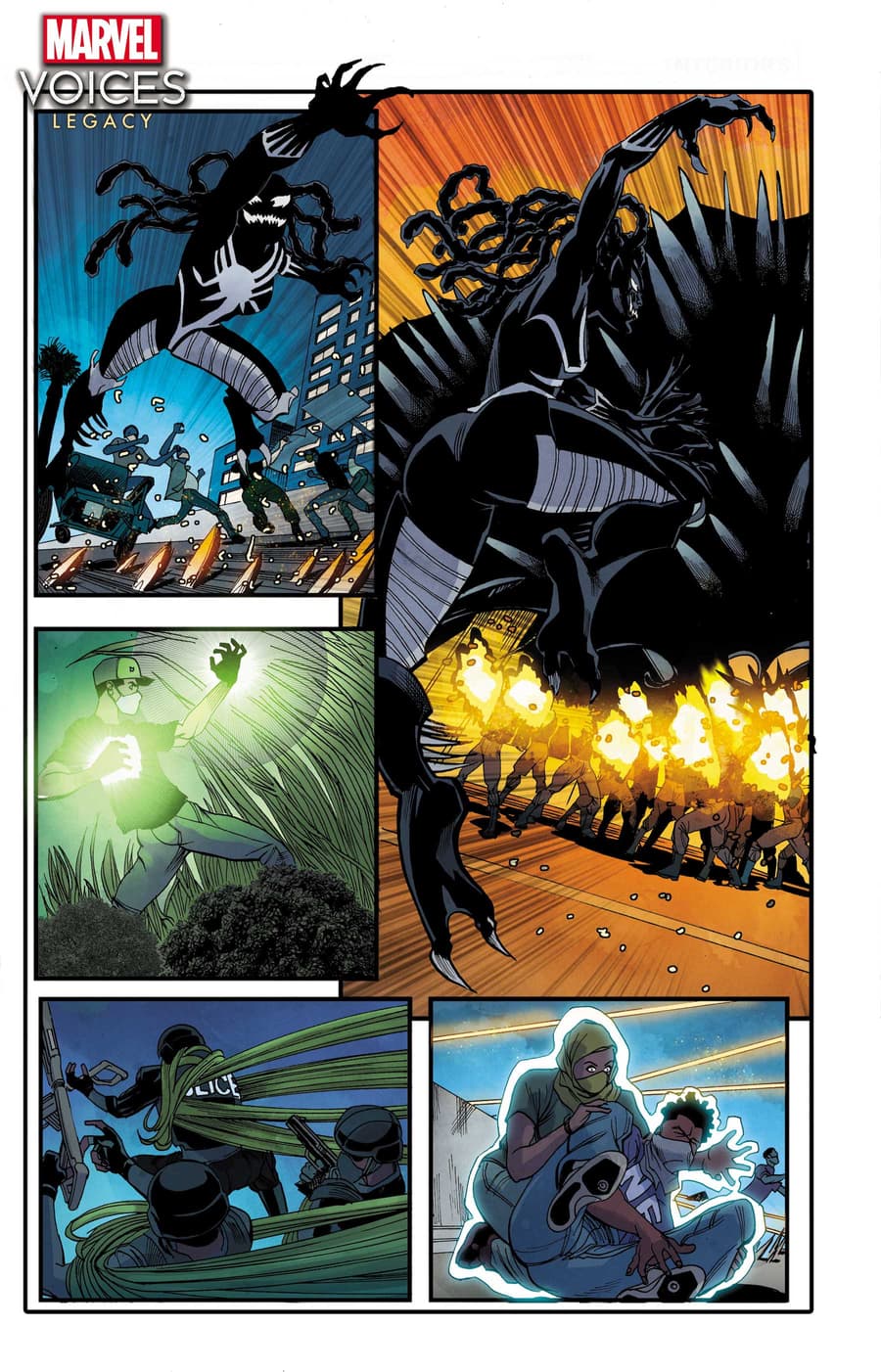 Starring Domino...
Written by Tochi Onyebuchi
Art by Ken Lashley
Colors by Juan Fernandez
"X-Cutioner's Song, The Dark Phoenix Saga, these were some of my earliest storytelling influences," muses Onyebuchi. "To now be able to count myself as a Marvel creator is to join Mount Olympus. Or, at least, the first step in my visa application to Krakoa."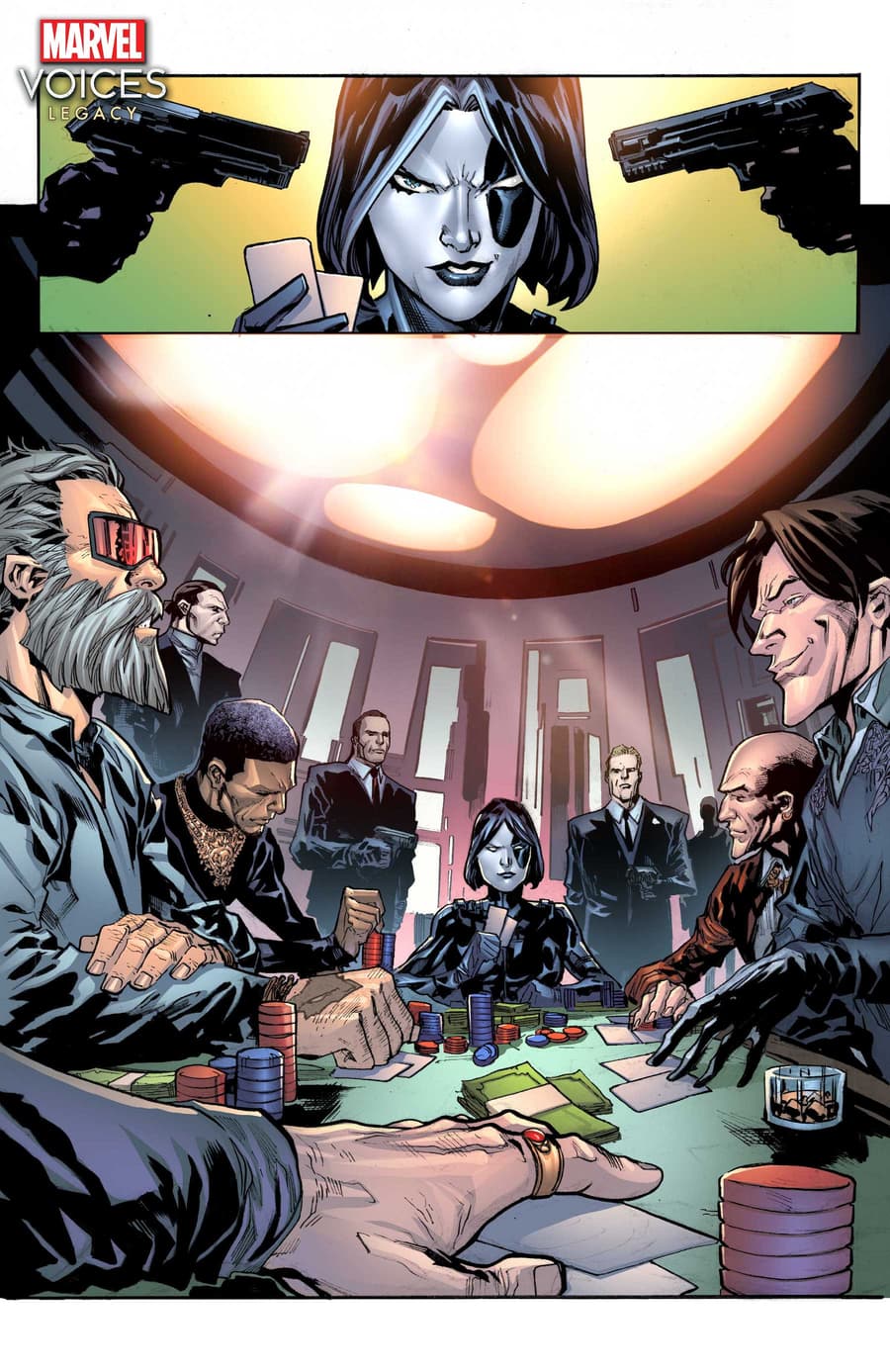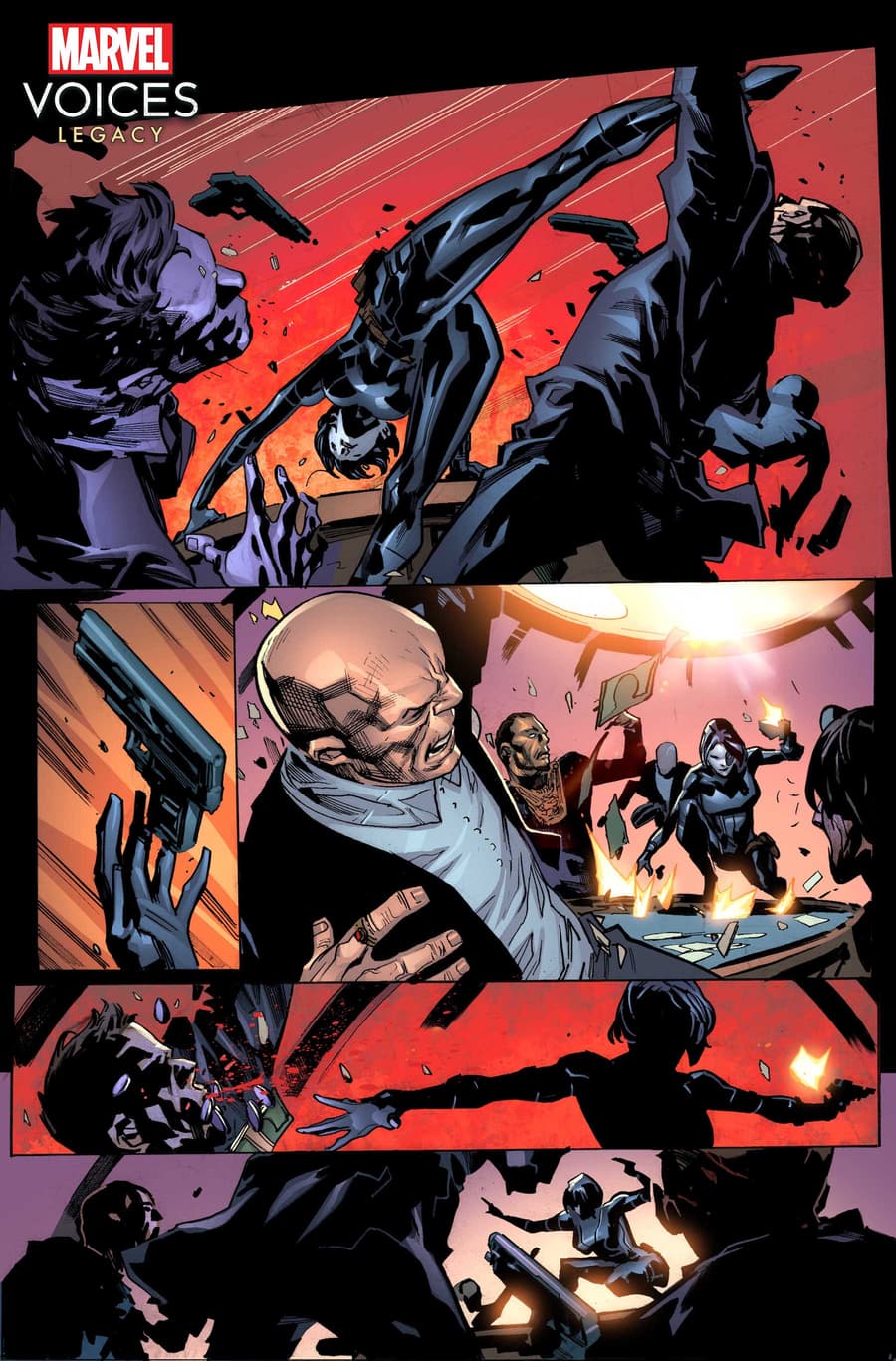 Starring Ironheart, Ms. Marvel, and Shuri...
Written by Mohale Mashigo
Art by Chris Allen
Colors by Rachelle Rosenberg
"I was really excited to work on this project because it gave me a rare opportunity to bring Riri, Shuri and Kamala together," Mashigo explains. "I wanted to see them outside of their superhero roles, just taking time off and being there for each other. Even Super Heroes need a day off and a support system."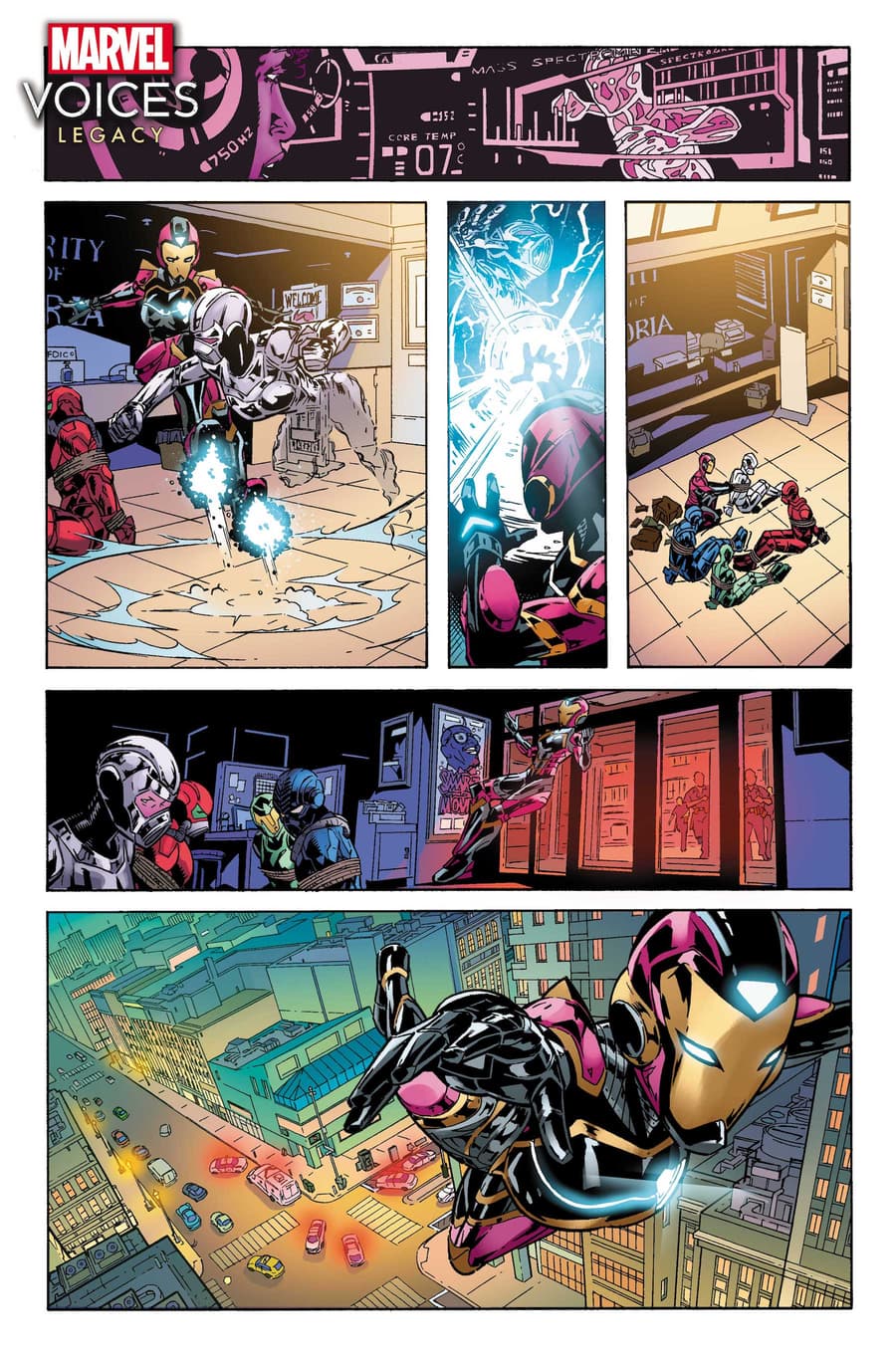 Starring Miles Morales...
Written by John Ridley
Art by Olivier Coipel
Colors by Laura Martin
"I'm deeply appreciative of having had the opportunity to contribute to this amazing collection of narratives," says Ridley. "MARVEL'S VOICES reminds us all of the power of words, representation and self-expression. And to be able to add to the growing legacy of Miles Morales…. That's about as good as it gets."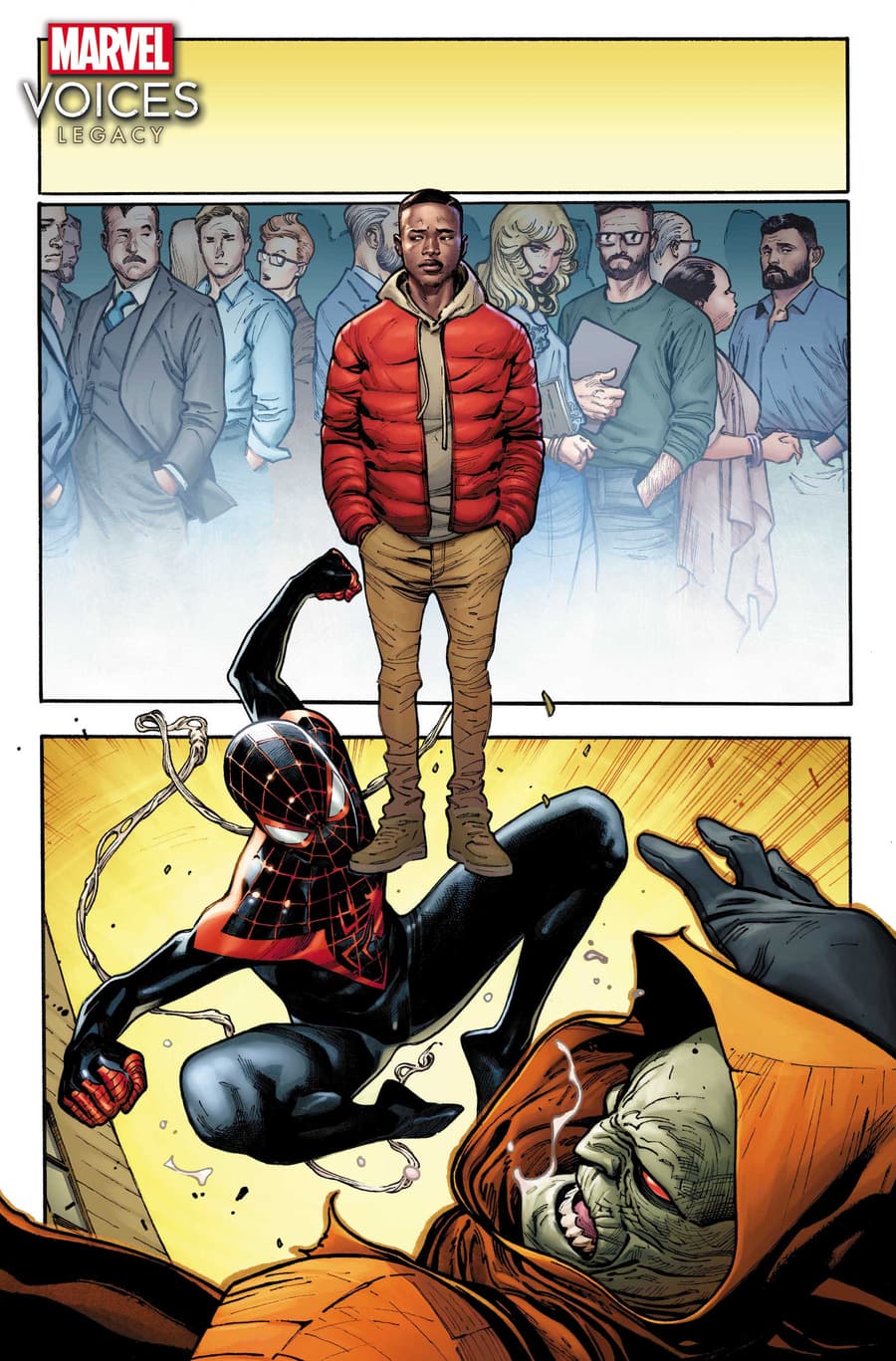 In addition to the all-star list of creators contributing to the issue, MARVEL'S VOICES: LEGACY #1 will also have a stunning collection of variant covers by some of the industry's biggest talents. Marvel's Stormbreaker Natacha Bustos, Olivier Coipel, Ejiwa "Edge" Ebenebe, Ken Lashley, and Ernanda Souza honor Marvel's legacy of black heroes in incredible depictions of iconic characters such as Storm, Shuri, Black Panther, Monica Rambeau, and many more. See the covers in the gallery below!
MARVELS VOICES: LEGACY #1 (DEC200562)
Written by STEPHANIE WILLIAMS, HO CHE ANDERSON, DANNY LORE, NNEDI OKORAFOR, TOCHI ONYEBUCHI, MOHALE MASHIGO, and JOHN RIDLEY
Art by NATACHA BUSTOS, SEAN DAMIEN HILL, VALENTINE DE LANDRO, CHRISCROSS, KEN LASHLEY, CHRIS ALLEN, and OLIVIER COIPEL
Cover by TAURIN CLARKE
Stormbreakers Variant Cover by NATACHA BUSTOS (DEC200564)
Variant Cover by OLIVIER COIPEL (OCT209084)
Variant Cover by EDGE (DEC200565)
Variant Cover by KEN LASHLEY (DEC200566)
Variant Cover by ERNANDA SOUZA (DEC200563)
The Hype Box
Can't-miss news and updates from across the Marvel Universe!