Comics
Published October 2, 2017
Halloween Spooklight 2017, Day 1: Tales of Suspense
Lee, Williamson, Heck, Buscema, and Ditko bring the sci-fi frights!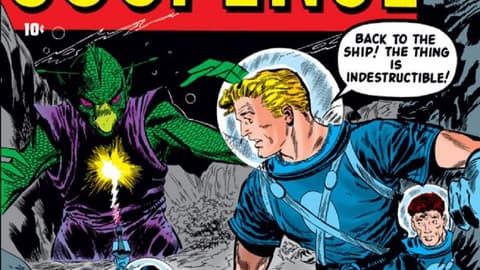 Every day this month, a new supernatural character or story from the Marvel Universe gets a spooky spotlight leading up to Halloween!
While comics have always provided some of the most strange and wonderful visual storytelling around, at times they've taken certain cues from other popular entertainment—like scary movies and sci-fi serials. And those kind of stories filled a series of classic Marvel anthologies including STRANGE TALES, JOURNEY INTO MYSTERY, and TALES OF SUSPENSE.
For the inaugural Marvel Spooklight of 2017, we focus on 1959's TALES OF SUSPENSE #1—edited by Stan Lee with art by Al Williamson, Don Heck, John Buscema, Larry Lieber, and Steve Ditko…some of the all-time great artists featured in one single comic.
Opening the Don Heck cover, the first story "The Strangers from Space!" took place in the far future—the year 2000—and posited a solar system conquered by the planet Earth. Presuming themselves to be the only sentient creatures around, humanity got a fright when an unidentified flying object appeared and began surveying various local planets.
In fear of what the aliens might do next, the U.S. military fired on the craft. In response, a humanoid creature emerged from the alien ship and announced that that merely needed a pit stop. Soon, however, the aliens revealed that they actually used hypnotic shields to hide their actual, more frightening forms. When they finally departed, the visitor stated that they hoped mankind would be more accepting when they would return in several hundred years.
Next in the issue, Don Heck illustrated a piece called "I Dared Explore the Unknown Emptiness!" Set in 2478, this story saw several space crews searching for planets to help combat Earth's overpopulation problem. Air Force Colonel Frank Stevens and his crew braved a planet called Atavisius, where they faced hungry dinosaurs, a harrowing meteor shower, and angry metallic denizens. Despite their failed mission, Stevens gave an impassioned ending speech about taking responsibility for overpopulation and using human intelligence to find another solution.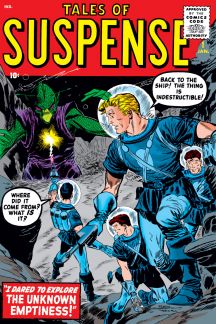 Following that, John Buscema drew a quick story called "The Day I Left My Body!" After a scuffle at a prison, an inmate named Wells saw his spirit emerge from his body and begin to watch the scene. While in his phantom state, Wells realized he had the ability to control the mind of a visiting lawyer—and after returning to his body, the prisoner realized that this power remained. He pushed the lawyer to get him his release, though he tried too hard—and caused the lawyer to lose focus, and thus the case, sending Wells back to the prison for good.
Larry Lieber pencilled the next installment, "He Fled in the Night," which took place, rather than in the future, in the past. This story, set in 1717, found a man dreaming of a life more exciting than his own nine-to-five office existence. The man quit his job to set sail on a ship…and in the last panel was revealed to be none other than Robinson Crusoe!
Finally, Steve Ditko brought this issue to a close with the story "Prisoner of the Satellites!" A character named Mark Coren innocently walked through the night when, suddenly, a series of meteorites crashed around him—with chunks of stone then turning and revolving around his body, shrinking him in the process. As a radical remedy, a group of scientists launched Mark into space to utilize nearby cosmic rays that might help reverse the process. Thanks to a series of trips around the Earth, nearby aliens—who had launched the meteors as a test—realized that this planet should not be explored further and left to conquer other planets.
At times more sci-fi than horror, these stories still dug into a few of humanity's perennial fears.
Fright Fact
TALES OF SUSPENSE #39 introduced Iron Man—and by issue #59, the Armored Avengers got a new partner: Captain America. The two heroes then shared the book until issue #99, when they each scored their own series—with CAPTAIN AMERICA carrying on the numbering from Suspense while IRON MAN launched with a brand-new issue #1.
Tune in tomorrow for another Halloween Spooklight!
The Hype Box
Can't-miss news and updates from across the Marvel Universe!