Comics
Published October 19, 2017
Halloween Spooklight 2017, Day 12: Mephisto's Fiery Debut
The demon declares the Spaceway Sentinel too good to live!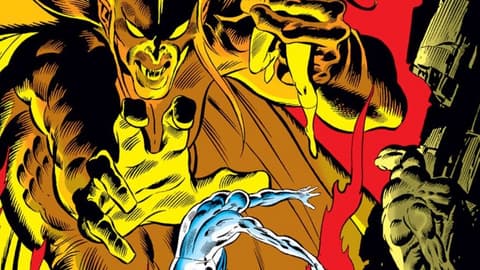 Every day this month, a new supernatural character or story from the Marvel Universe gets a spooky spotlight leading up to Halloween!
Occasionally, major characters make their first appearances in unexpected manners. Among those with strange debuts sits the demon known as Mephisto, who joined the Marvel Universe with 1968's SILVER SURFER #3.
After turning against his master Galactus in the classic FANTASTIC FOUR #48–#50, the Surfer found himself stuck on Earth, trying to understand the people he sacrificed so much for. To say the people of his new home planet didn't seem overly grateful would be…an understatement.
In fact, humanity's fear of the Surfer bothered Norrin Radd so much that, in the third issue of his first series, he threatened to punish the human race in an effort to teach them a lesson. This tale, by Stan Lee and John Buscema, saw him use his massive power to halt all of Earth's machines, plunging the globe into darkness.
At that moment, Mephisto—an inter-dimensional demon—watched the planet, displeased. He proclaimed, "While man remains an uneducated savage, my ranks of the damned are swelled to overflowing! Thus, I have ordained that nothing shall change the unthinking masses of humanity!"
Witnessing the cosmic might of The Silver Surfer, Mephisto saw a potential enemy—and declared that he must die. To defeat his new foe, the would-be devil traveled to Zenn-La to meet Norrin Radd's lost love Shalla Bal.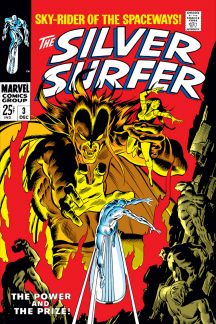 Back above the Earth, the Spaceway Sentinel came to see his attack on the planet as a mistake. After returning the world's energy, he glimpsed Shalla's approaching ship—and Mephisto accompanying it. The craft crashed into a collection of nearby mountains, though—to Radd's relief—Shalla survived.
Mephisto then returned to his domain with Shalla Bal in tow. The Surfer followed, learning that the demon wanted to take the Surfer's goodness, twist it, and control it for himself.
After failing to entice Norrin over to his side with offers of riches, women, and power, Mephisto began throwing waves of attacks at his enemy. Mud men, horned demons, and a dragon took on the Surfer at their master's behest, though the cosmic being brushed them off. The demon then sapped the hero of his will, shrunk him down, and inserted the Surfer into his own head!
The Surfer's mighty will, however, overpowered Mephisto's and he escaped the fiery dome. In response, the dark being gave his opponent one last choice: join him and stay with Shalla Bal…or refuse and lose her forever.
Norrin Radd, heartbroken, refused Mephisto, sending Shalla Bal back—untouchable—to Zenn-La.
Fright Fact
Mephisto has tempted and tortured The Silver Surfer on more than a few occasions, including several more times in that first volume. Not content with just one super powered foe, though, Mephisto got involved with Thor and Johnny Blaze as well.
In 1987, the demon starred in his own four issue limited series called MEPHISTO VS., which pitted him against the Fantastic Four, X-Factor, the X-Men, and the Avengers. He made his greatest impact, though, in 2007, during Spider-Man's "One More Day" storyline, when he offered Peter Parker the chance to save his Aunt May's life—but, in exchange, he'd have to erase his marriage to Mary Jane. Spidey, heartbroken—like the Silver Surfer nearly 40 years before—agreed.
Tomorrow, uncover Marc Spector's misunderstood madness as we explore MOON KNIGHT!
The Hype Box
Can't-miss news and updates from across the Marvel Universe!