Comics
Published October 30, 2017
Halloween Spooklight 2017, Day 19: Vampire Tales
Sink your teeth into another series of bloodsucking stories!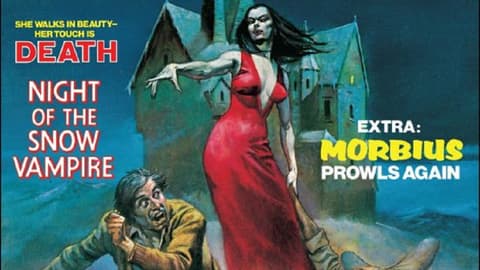 Every day this month, a new supernatural character or story from the Marvel Universe gets a spooky spotlight leading up to Halloween!
The classic horror series VAMPIRE TALES only ran for 11 issues between 1973 and 1975, but the run offered more than its fair share of vampire stories.
In the first story featured in issue #4 of the series, written by Don McGregor with art by Tom Sutton, the vampire Morbius found himself in a town called Malevolence, Maine alongside his companion Amanda. As they discovered more about the unsettling neighborhood, they came across quite the cast of characters—ranging from a hook-handed man named Oliver, Amanda's undead mother, and a batch of demons.
In the next story, "A Vampire's Home Is His Castle," by writer Doug Moench and artist Jose Lombardia, the vampire Count Varma hired a stonecutter named Syrenzy to rebuild his ancient and crumbling home. To ensure the worker's diligence, Varma turned his daughters into creatures of the undead, but Syrenzy used his building materials to defend himself before getting his revenge on the Count!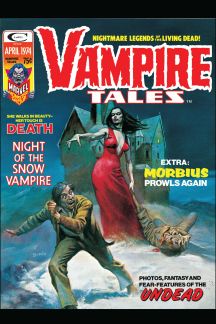 Next, writer Tony Isabella and Esteban Maroto adapted August Derleth's 1939 short story "The Drifting Snow," following a vampire that torments an old lady in the wilds of Wisconsin. And last, Isabella teamed up with artist Ernie Chua to close out the issue with a one-page story about Lilith, the first-ever vampire.
VAMPIRE TALES also offered a variety of reprints that dug deep into Marvel's horror archive. This particular issue featured "The Vampire's Coffin" from MYSTERY TALES #15 in 1953 and "Somewhere Waits the Vampire," from 1954's JOURNEY INTO UNKNOWN WORLDS #27.
Other features in the magazine included a text piece by Chris Claremont called "Everything You Wanted to Know About Vampires but Were Afraid to Ask" and Gene Conway's "Notes on a Piece I Don't Want To Write." The former explored the history of vampires in fiction, while the latter detailed the autobiographical story of how Conway earned that gig.
Fright Fact
In the aforementioned Lilith short by Isabella and Chua, the creators reached back to ancient Hebrew lore for story inspiration. Having started her life as Adam's first wife, before Eve, Lilith refused to obey her spouse's wishes—even when a trio of angles asked her to rethink her stance. When she refused again, the supposedly heavenly beings destroyed her children. The morbid events transformed the woman into a vampire, which led her to try and feed on Adam's children with Eve. The angels, however, intervened again, saving the children and cursing Lilith to wander the Earth forever!
Celebrate Halloween with tomorrow's final Spooklight as we revisit R.L. Stine's MAN-THING!
The Hype Box
Can't-miss news and updates from across the Marvel Universe!