Comics
Published October 3, 2017
Halloween Spooklight 2017, Day 2: Monsters Unleashed
Cullen Bunn throws a monster mash for the ages!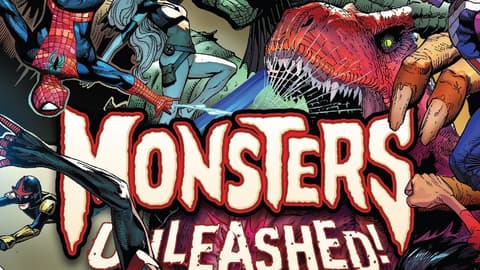 Every day this month, a new supernatural character or story from the Marvel Universe gets a spooky spotlight leading up to Halloween!
Before super hero stories ruled the landscape, monsters—of all shapes and sizes—stomped across the comic book world. Most of them ended up in falling into anonymity, with few knowing the difference, for example, between Goom and Googam, Son of Goom.
Then, earlier this year, writer Cullen Bunn and a quintet of artists (Steve McNiven, Greg Land, Leinil Yu, Salvador Larroca, and Adam Kubert) dug the creatures up and made them heroes in their own right—in the pages of MONSETERS UNLEASHED!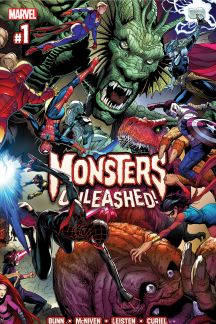 The story started as Earth's heroes found themselves in a face off against a variety of beasts all over the world. Everyone—from the Avengers and the Inhumans to the X-Men and the Champions—got in on the behemoth bashing. Meanwhile, Lunella Lafayette focused her brainpower on the means of communication that the monsters utilized in an attempt to find out why they targeted Earth.
While the A-listers went at it, a kid named Kei Kawade sat quietly in his room doodling some creatures with a pencil and paper. And, shockingly, those illustrated creatures came to life.
Kei's monsters joined the heroes' side in the fight against the alien beasts. After teaming up with the boy, the supers learned that Kei was actually a NuHuman—and held powers similar to those of an ancient Inhuman warrior who fought The Leviathan Mother by drawing constellations to life. Then, like the events of the present, she ordered her minions to attack and cleanse worlds so she might use them for her own benefit.
The combined might the heroes and the Kei monsters temporarily halted the danger—but couldn't stop The Leviathan Mother herself from making her way to Earth.
With most of the heroes and monsters at a loss, Kei—now dubbed Kid Kaiju—finished a few incomplete drawings and used their might to take on the Mother. These new creations—Fireclaw, Regis, Hi-Vo, Mekara, Slizzik and Scragg—eventually combined into one formidable force. With Kid Kaiju in control, the mega-monster took on The Leviathan Mother and, at last, succeeded.
Fright Fact
Kid Kaiju and his crew didn't hang up their hats when MONSTERS UNLEASHED reached its conclusion—they moved directly into an ongoing series written by Bunn with art by David Baldeon, Ramon Bachs, and Andrea Broccardo. And on October 18, MONSTERS UNLEASHED #7 opens up the Marvel Legacy chapter of the supernatural story…
Tune in tomorrow for another t-t-terrifying Halloween Spooklight as we flash back to the 1970s with WEREWOLF BY NIGHT!
The Hype Box
Can't-miss news and updates from across the Marvel Universe!