Comics
Published October 31, 2017
Halloween Spooklight 2017, Day 20: R.L. Stine's Man-Thing
The legendary horror author jumps into comics!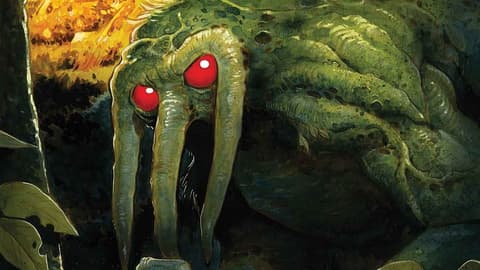 Every day this month, a new supernatural character or story from the Marvel Universe gets a spooky spotlight leading up to Halloween!
For famed horror author R.L. Stine, writing MAN-THING earlier this year marked his first foray into the medium of comics.
He outlined how it fulfilled a dream—in the intro for the MAN-THING collection, Stine remembered being a child, gathering with his friends and their stacks of comics to voraciously read them all. He noted, "Back then, I never dreamed I would get a chance to write a comic book series. So the MAN-THING series has been a dream come true for me. Taking that massive garbage heap of a character and making him come alive was a wonderful challenge for me."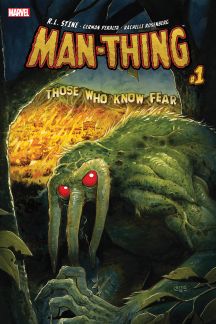 The five issue series began with Man-Thing lumbering around Hollywood, trying to maintain an acting career, while recalling his origin story (by this point in time, the swamp-dweller had evolved from the mindless creature seen in earlier appearances to a thinking, speaking individual).
Though, when a mysterious other Man-Thing showed up, the two tussled before morphing into one being and returning to the swamp once again! No longer able to speak, but still possessing the power of thought, he came across an ex-girlfriend of his—from his days as a human.
The woman, Lily-Ann Millard, almost immediately got snatched up by a huge snake and taken away. In an effort to find her—and also to figure out what strange force plagued the swamp—he sought the reality-guarding Oldfather. In his search, however, he found that the Oldfather went missing…and the door to the Nexus of All Realities stood propped open!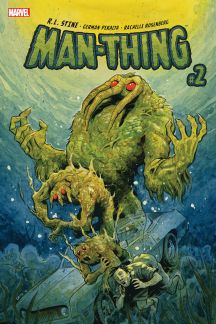 Plodding onward, Man-Thing soon found himself captured by a being named Queen Irena, who transported the protagonist to an arena where he had to fight for Oldfather's life. When The Man-Thing returned to his human form as Ted Sallis, his opponent chose to take his own life instead of killing a weakling. Irena had Ted tossed in jail where he then reunited with Lily-Ann.
After a few more twists and turns—including a change back into his Man-Thing body—our hero finally got his hands and fiery stare on Queen Irena. Needless to say, she didn't stand a chance. Then, finally reunited with Oldfather, the duo faced The Yellow Arrow before escaping through the door to the Nexus of All Realities again.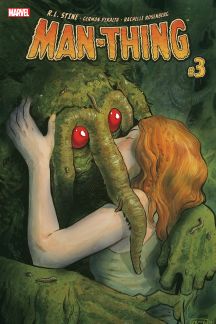 Fright Fact
In addition to the swampy main story, each issue of R.L. Stine's MAN-THING limited series also contained a short scare story in the back. Artists like Daniel Johnson, Christopher Mitten, Kate Niemczyk, Jonathan Marks Barravecchia, and Tyler Crook helped tell anthology-style bits of fun size horror, featuring a bed and breakfast for bad boyfriends, unfortunate parenting, and a monster-filled neighborhood watch!
That wraps up this year's Spooklights! Happy Halloween—and beware for next year!
The Hype Box
Can't-miss news and updates from across the Marvel Universe!