Comics
Published October 31, 2018
Halloween Spooklight: Doctor Strange: Damnation
The Master of the Mystic Arts and friends try to save Las Vegas from Mephisto and his invading hordes.
Throughout October, a new supernatural character or story from the Marvel Universe gets a spooky spotlight leading up to Halloween!
Happy Halloween! Welcome to the scariest day of the year. Let's celebrate by looking at a recent comic event that pits good versus evil with an army of human souls in the balance.
During the events of Secret Empire, Pseudo Steve Rogers worked hard to obliterate everything from hope and peace to trust and legacy, but he quite literally caused the absolute destruction of Las Vegas.
Which brings us to DOCTOR STRANGE: DAMNATION by Nick Spencer, Donny Cates, Rod Reis, and Szymon Kudranski. With the event over and the nation trying to heal, the Sorcerer Supreme appears outside the wreckage and uses a recent power upgrade to bring the city and its lost denizens all back.
Immediately after doing so, though, a huge spire bursts through the street called the Hotel Inferno, a casino run by Mephisto. See, when Hydra-Cap's forces destroyed Vegas, it was dropped whole cloth into Mephisto's realm, so when Strange brought it back, they came too, ready and willing to offer sin in exchange for souls stored in the casino vault.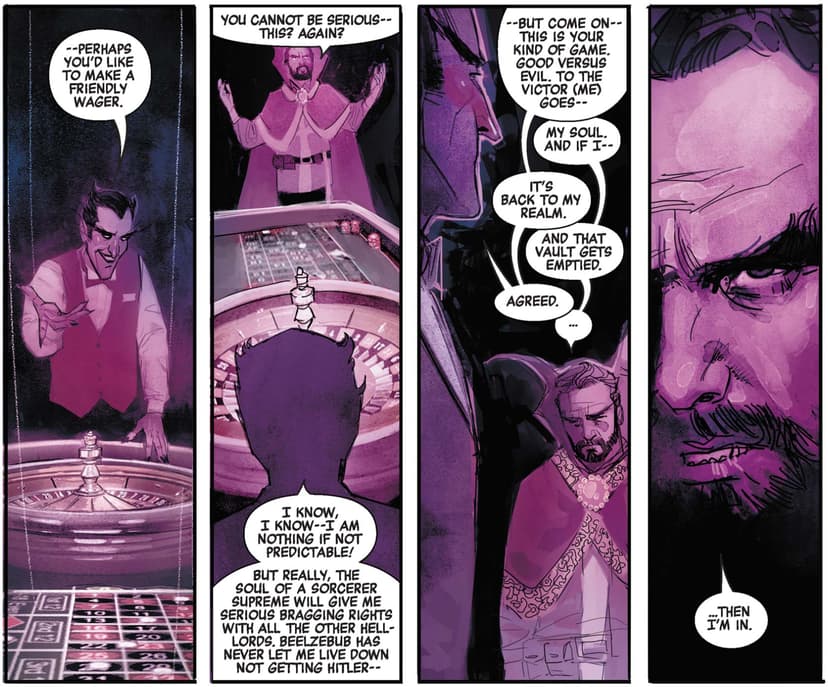 In an effort to kick the insidious interlopers out of the City of Sin, Doctor Strange agrees to bet his soul that heroes can save the day. While Mephisto turns Thor, Falcon, Black Panther, Hawkeye, and Captain Marvel into Ghost Riders who serve him, Wong calls in Blade, Iron Fist, Johnny Blaze, Man-Thing, Brother Voodoo, Moon Knight, and Elsa Bloodstone to assist the doc.
Joined by local hero Scarlet Spider upon arrival, this new band of heroes, occasionally referring to themselves as the Midnight Sons, kicks some demons in the face before quickly discovering another Ghost Rider working against them: Strange himself! That is until a ghost dog named Bats possesses the already-possessed Strange's form.
While Wong's team fights the Ghost Ridered Avengers, Johnny races up to confront Mephisto himself, but the demon plays his hand by taking away Blaze's curse... just before kicking him out of the tower to his apparent death.
What Mephisto could not know, though, was that Blaze's death fully worked into Wong's plans. While the demon did his thing up on Earth, Johnny took over his seat of power in Hell where time moves much slower than on Earth!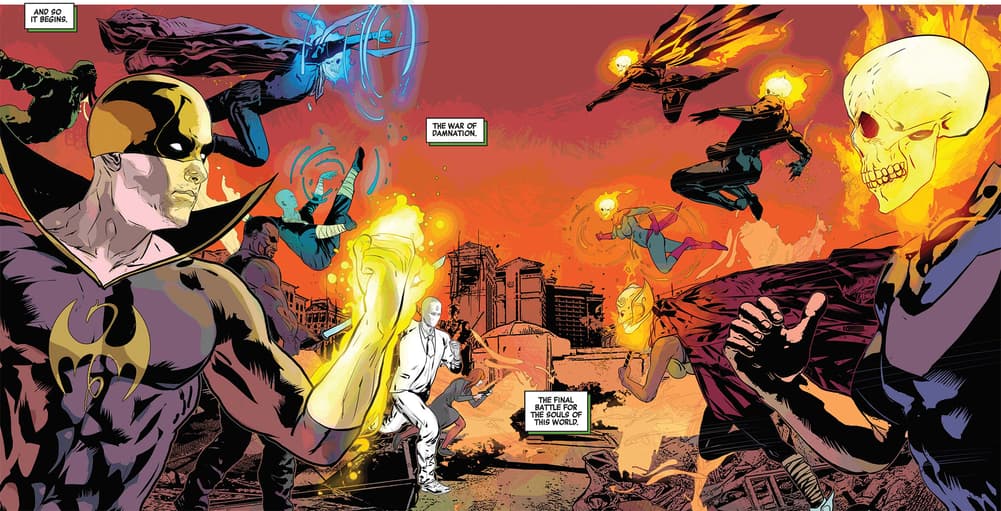 Once in the netherworld himself, Wong explains to its new leader that he played his hand in such a way that would help rebuild Strange's confidence by showing him that people would fight alongside and trust him in battle.
That includes the souls of the once-possessed Avengers which give the Master of Mystic Arts a power boost so he can beat up on Mephisto. Strange even brought down Thor's lightning to finish the fiend off but he escaped back to Hell only to find an army of Ghost Riders waiting to torment him for a thousand years of Hell time before returning him to the Earthly plane a few moments later. Once there, he's imprisoned in the magically fortified Hotel Inferno penthouse which still served as a casino!
Fright Fact
The battle for Las Vegas between the heroes and demons can fully be enjoyed just by reading through DOCTOR STRANGE: DAMNATION, but other titles got in on the action as well. DOCTOR STRANGE #386-#389 show how Mephisto managed to take over the good doctor's body. Meanwhile, IRON FIST #78-#80 has Danny Rand literally fighting for his sister's soul. BEN REILLY: SCARLET SPIDER #15-#17 explains how the Peter Parker clone got in on the action and the deals he made with a certain devil. Finally, give the DAMNATION: JOHNNY BLAZE: GHOST RIDER one-shot a read to see exactly how everyone's favorite motorcycle stunt driver became king of Hell.
The Hype Box
Can't-miss news and updates from across the Marvel Universe!