Comics
Published October 15, 2018
Halloween Spooklight: Journey Into Mystery #2
Look back at the '50s thrills offered up by the eventual birthplace of Thor!
Throughout the month of October, a new supernatural character or story from the Marvel Universe gets a spooky spotlight leading up to Halloween!
Long before it saw the birth of an Asgardian hero who continues to thrill readers to this day, JOURNEY INTO MYSTERY offered thrills and chills to an audience hungering for scares like zombies crave delicious brains. Similar to books like TALES OF SUSPENSE and STRANGE TALES, JOURNEY offered up a variety of stories in an anthology format featuring some of the greatest creators of all time.
Between its 1952 debut and the transition to Thor with 1962's #83, the Atlas title played host to the likes of Joe Orlando, Steve Ditko, Wally Wood, Russ Heath, Joe Kubert and Al Williamson among many others, all working from Stan Lee's ideas.
We're kicking off this year's Marvel Spooklights by checking out the second issue ever published, not just because of its incredible talent line-up – including that fantastically creepy Russ Heath cover – but also because these stories represent a fascinating glimpse at what would eventually develop into the Marvel Universe.
Heath opens the issue with a tale known as "The Scarecrow," which stems from skinny weakling Tim Blake's nickname. Wanting to flip the script, he bought a fifty-cent strength potion, but not the $100 antidote. Once hulked-up, Blake's anger takes over and then he realizes he's still getting bigger! Before he can offer quadruple what the antidote cost, he finds himself falling into more trouble than he can manage!
Comic penciler and later pin-up artist Jay Scott Pike handled the cover story "Don't Look." It opens right up on a terrifying man offering a young patent attorney the chance to open a package that he says, "Will either make you a millionaire or drive you mad." The lawyer eventually listens to his pitch. Basically, the mirror allows you to think about a person and see what they'll look like at a given time in the future. After realizing it actually works, the lawyer has the man hauled off to an asylum, but keeps the object to make money. However, once he looks at it himself in it, he sees a familiar face that leaves him chilled to the bone.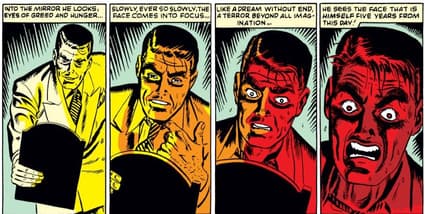 Another multi-talented artist, Howie Post, appears in the issue to draw "How Clumsy Can You Be?" Though presented in a more cartoony style, this yarn features an American named Hal trying to learn magic from a yogi in India, but failing miserably at every turn thanks to his less-than-graceful nature. He probably should have focused on mastering those skills instead of offing his teacher given the walk-off finale of the story.
Ideas of strength, rage and power came up again in "Thru The Door," drawn by Bob Brown and David Gantz, as a huge, brutish boxer chases after his manager and girlfriend who he caught canoodling with one another. In a shocking twist ending, the manager finds himself caught between two very different kinds of monsters.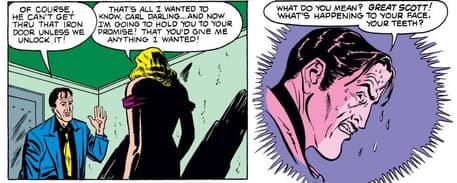 The issue closes with the Gene Colan-drawn "The Hiding Place" which, in a way, picks up where the previous one left off as another man attacks his wife and best friend who had been seeing each other behind his back. This time, though, the woman kills their attacker and the boyfriend says he'll take care of it. However, when he calls back later to tell her he ran off, that doesn't explain who she's been dancing with all night... in the boyfriend's costume! 
Fright Fact
As JOURNEY INTO MYSTERY continued its run, the focus shifted from straight-ahead scare fare to somewhat socially conscious sci-fi. Take 1956's #33 for example. Not only does it feature Lee's story ideas, but also artists like Steve Ditko, Al Williamson and others exploring the pluses and minuses of technology, experimentation and even drugs. And then there's Williamson's excellent story about making friends with pirates and the dangers that come with it...for the pirates!
Next time we unsheathe our swords and take on bloodsuckers by looking at Blade's adventures in the '90s.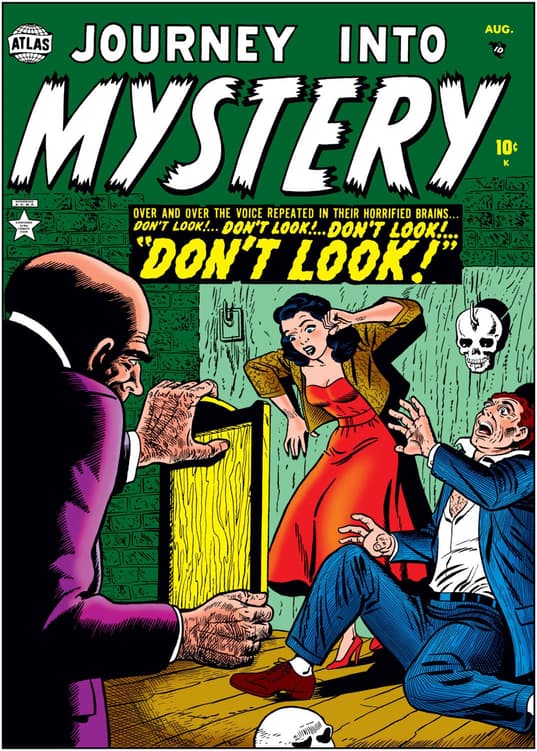 The Hype Box
Can't-miss news and updates from across the Marvel Universe!