Comics
Handle with Care: The Most Powerful Items in the Marvel Universe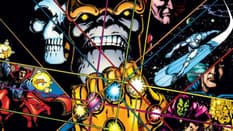 The Guardians of the Galaxy and X-Men have found themselves tempted of late by the Black Vortex, a mysterious Celestial artifact capable of granting its users phenomenal power, albeit at an unknown price.
This happens a lot in the Marvel Universe.
Whether you're talking man-made weapons or jewelry forged in realms beyond, every time near omnipotence rears its seductive head, you can bet heroes and villains alike will think once or twice.
Read up on some other items Thanos would love to have in his trophy case…
The Casket of Ancient Winters
Feared throughout the Nine Realms, this portable portal to the frigid cold of Niflheim can turn any world into an arctic wasteland. Malekith unleashed its frozen fury on Midgard, only to be narrowly shut down by Thor, who entrusted the Casket to Avengers butler Edwin Jarvis for safe keeping.
The Crimson Gem of Cyttorak
One of the Octessence, the cruel and mighty Cyttorak placed a portion of his power into an enchanted ruby, angling to gain a mortal avatar that would spread his rule across other dimensions. Cain Marko would discover the gem and becomes the unstoppbale Juggernaut for years, though Colossus also recently hosted the persona.
The Darkhold
Before escaping the realm of Earth to elude benevolent ascending gods, the demon Chthon transcribed his store of evil spells into a "Book of Sins" that came to be called the Darkhold. With few exceptions such as Doctor Strange, any who invoke the Darkhold open themselves up to possession by Chthon.
The Evil Eye
Forged on Avalon, the Evil Eye can serve as an offensive weapon, an asset for defense, and a nullifier against power sources. Loki and Dormammu infamously attempted to assemble the Eye by pitting the Avengers against the Defenders.
The Infinity Gauntlet
The six Infinity Gems offer individual mastery over time, space, power, the soul, the mind, and reality respectively. Brought together, the Infinity Gauntlet provides omnipotence to its holder. The great powers of the universe have fought to keep the gems separate, but Thanos, Magus, and most recently the Illuminati, have united them for fleeting moments.
The Mandarin's Rings
The power-hungry Mandarin uncovered 10 rings that channeled a variety of abilities, quickly making them his signature weapon. Alien in nature, they have of late been revealed to possess a level of sentience, fueled by dead warriors able to assert their will over any who place the weapon on their finger.
The Ultimate Nullifier
Despite its small size, the Ultimate Nullifier may be the most feared object in the Marvel Universe, giving even Galactus pause. The entity in possession and control of the Nullifier can wipe anything out of existence, including whole realities, but unless they possess total control, risk destroying themself in the process.
The Hype Box
Can't-miss news and updates from across the Marvel Universe!