Comics
Published March 9, 2017
Hawkeye: Private Eyes
Kelly Thompson gets Kate Bishop some guidance from Jessica Jones!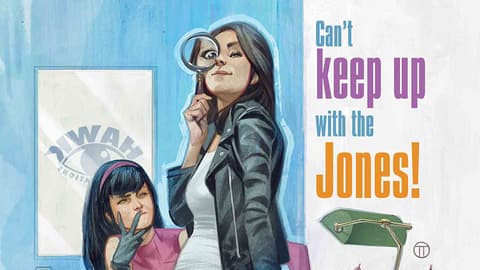 It's Women's History Month everyone! And it just so happens that Marvel Comics has a leading lady team-up that Hall and Oates would be proud to sing about coming your way April 5 in HAWKEYE #5 by series writer Kelly Thompson and guest artist Michael Walsh. That's right, Jessica Jones rolls into town with Kate Bishop ready to soak up all the veteran detective tricks she can like an enthusiastic sponge.
"I think Kate would be the first one to admit that she's sort of still figuring out how to be a PI and so Jessica Jones has already been a sort of mentor and a great force in her life, so to get to use her in the private detective capacity as well, she's super into it," says Thompson.
The writer let slip that throughout this two issue team-up Kate pulls advice from her experiences working with Jessica; sort of like Jessica's PI tips, brought to you by Kate Bishop. For instance, Jessica might see a suspect in Kate's aviators and Kate's take away from that: aviators rule! A thought cops everywhere agree with, Kate, because aviators do indeed rule.
"I think that certainly these aren't bits of advice Jessica is trying to impart, it's just bits of experiences that Kate is choosing to pick up from her specific sensibility," Thompson notes. "And sometimes they're more relevant to actually learning something than others, but I think within the context of the story it's fun and everyone will enjoy it and you learn a little bit about Kate and a little bit about Jessica at the same time."
Now given that Jessica pretty much owns the role of stoic, street smart sass master who doesn't take lip from anyone, we could imagine that there might be a bit of tension with Kate about as stoic as a five-year-old whose parents just brought home a puppy. Even so, Thompson believes Jess can't help but be reminded of when she began her detective days, and may even pick up some tips herself.
"I think everyone learns a little bit from Kate just because she's such a boundless fount of optimism, to an almost ridiculous degree," the writer shares. "I don't think that's Jessica's sensibility but it sort of rubs off on her. It's definitely a mentorship but as they grow together, I think it changes a little bit through our story so it goes more from mentor-mentee to just colleagues which is huge for Kate and it's thanks to Jessica's strong guiding hand that helps her get there."
Catch all the action and maybe even a few detective tricks on April 5 in HAWKEYE #5!
The Hype Box
Can't-miss news and updates from across the Marvel Universe!