Comics
Published September 27, 2017
Head to Head: An America Sketchbook
Artist Joe Quinones pits the star against Exterminatrix!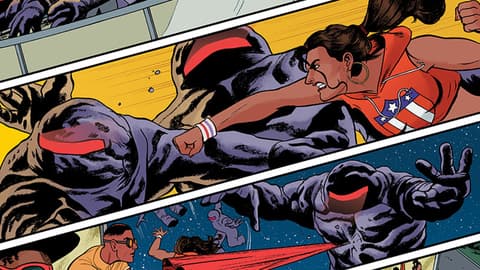 She's faced The Demiurge, teamed up with Galactus, started life at a new college—but America Chavez faces her biggest challenge yet in AMERICA #8!
On October 25, writer Gabby Rivera and artist Joe Quinones bring our hero face-to-face with The Exterminatrix for Marvel Legacy! America will need everyone at her side—not least Grandma Madrimar—as the super villain goes on a warpath.
We spoke with Quinones about his continued relationship with America, making homages in his art, and working with Gabby Rivera.
Marvel.com: How has your relationship with America Chavez changed as you've drawn her more?
Joe Quinones: Like any character, the more time I've spent drawing America, the more I understand her. Drawing her becomes second nature and I start to get a real handle on her body language and personality. It's important to have that through line, given that her outfits constantly change. I love drawing her.
Marvel.com: Were you able to put your own spin on The Exterminatrix and her minions when preparing for this issue?
Joe Quinones: Absolutely. I had my own take on [artist] Russell Dauterman's designs for her from THE MIGHTY THOR, with some design suggestions from AMERICA's own [artist] Ming Doyle. I wanted to add a little more color into her outfit with the two-tone cape and to open up her face mask a bit so we could see her mouth. Ming suggested the kiss mark eye holes and I loved the idea.
Marvel.com: Apparently, you've managed to incorporate a family pet into the Marvel Universe…
Joe Quinones: Yes! I felt inspired by my tenure on HOWARD THE DUCK, where [writer] Chip Zdarsky and I incorporated my real life cat, Biggs, into the story. Here we have a cameo by my sister's dog, Charlie—an energetic little pug-chihuahua. I can't say it has a huge influence on storytelling, it's just a fun connection for me to enshrine these two animals I love in the comics I'm drawing.
Marvel.com: How has it been working with the AMERICA crew on this series?
Joe Quinones: Everyone has been so nice and supportive of each other since the start. I finally got to meet Gabby a month ago and she was a ball of energy and ideas. [Editors] Wil Moss and Sarah Brunstad have kept the train running and have a keen understanding of the voice of the book.
Marvel.com: Readers might notice a nice Norman Rockwell nod in this issue. Do you come up with those references or do they appear in the script?
Joe Quinones: Yes, indeed. I nod to Norman Rockwell's "Freedom of Speech" painting in this issue. I also referenced his "Freedom of Worship" piece for the cover to issue #10. I thought it appropriate as America tries to stand up and speak truth to power in this scene. It didn't appear in the script, but I feel like borrowing from these iconic pieces helps speak to the heart of the book—we are immigrants and people of color. We are Americans. We are free and here to stay.
Snag the final product in AMERICA #8, by writer Gabby Rivera and artist Joe Quinones, on October 25!
The Hype Box
Can't-miss news and updates from across the Marvel Universe!