Comics
Published November 23, 2016
Hellcat: Crossing Black Cat's Path
Patsy Walker and friends contend with a new kind of opposition!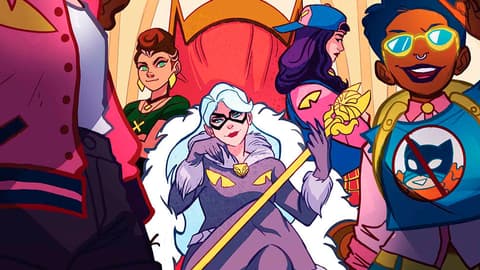 Proving to be the kind of faceoff you cannot believe you did not want until this moment, the battle between Hellcat and Black Cat in the pages of PATSY WALKER, A.K.A. HELLCAT has been building nicely. An unexpected delightful twist of their rivalry has proved to be Felicia Hardy's gang of similarly amoral girls aiding her in the fight.
Writer Kate Leth took the time to talk to us about the identities of these women and why they may have chosen to involve themselves with one of the Marvel Universe's greatest thieves in advance of December 21's issue #13!
Zoe
"Sure, she's Ian's ex, but Zoe has a lot more than that going on," Leth argues. "Besides trashing the apartments of rude boys, I mean. They wouldn't say it to her face, but her friends all think she's a bit of a bully. Maybe she just doesn't like letting people in. [She] doesn't like being told what to do—even by someone as powerful as Black Cat."
Lina
"Lina didn't ever think she'd be in a gang, but she's definitely not complaining," explains the writer. "Secretly a softie, Lina plans everything out twice mostly so her friends don't get hurt. Don't call her on it, though, she's got a mean right hook."
She adds: "Likes: video games, baby animals, K-Pop. Dislikes: snobs, mansplaining, pollen."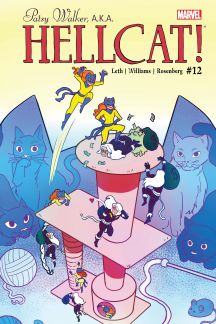 Jin
"The weapons expert, so to speak," says Leth. "Sharp, dangerous and quick as a whip—when she's not crushing on everyone around her, that is. Jin met Zoe and the rest of the crew when she got a rep for lock picking her way through SoHo's finer art supply stores. She's very into Black Cat and doesn't think it's obvious."
Ari
"They don't call her The Brains for nothing," the writer enthuses. "Ari is a tech geek and video game junkie, who would be at home leveling up her mains if being bad wasn't so much fun. She has no time for your questions, she just wants to break stuff, cause trouble, get pizza, and school you in Mario Kart."
The next round of this cat fight erupts in PATSY WALKER, A.K.A. HELLCAT #13 by Kate Leth and Brittney L. Williams on December 21, but pick up issue #12 today!
The Hype Box
Can't-miss news and updates from across the Marvel Universe!