Comics
Published May 2, 2017
S.H.I.E.L.D. Tries to Dismantle Hydra!
Part 3 of the History of Hydra.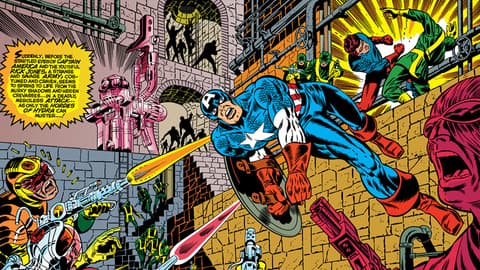 The true modern era of Hydra's history began with a momentous occasion in the ranks of its greatest enemy, S.H.I.E.L.D., when the famous spy agency appointed war hero Nicholas J. Fury as its director.
This came in direct response to Hydra's growing prominence as a global terror network and its continued development of fantastic weaponry. With Fury at the helm, S.H.I.E.L.D. entered into direct combat with its opposite number, kicking off a series of skirmishes and full-blown battles that while the world-at-large slept peacefully without knowing of them, still forced Fury and his agents to stay one step ahead of Hydra at all times.
[Why Nick Fury Called Captain Marvel at the End of Marvel Studios' 'Avengers: Infinity War']
During this era, a man named Arnold Brown, outwardly a nebbish toady of a huge corporation, believed himself the leader of Hydra and its sole benefactor. Hydra developed terrifying devices such as the Betatron Bomb and Overkill Horn, but ultimately met defeat at the hands of S.H.I.E.L.D. when Fury proved to be more than a match for it. Brown himself lost his life to a bullet from a lower Hydra agent who refused to believe the little man to be the infamous masked leader of the world-wide organization.
Baron Strucker took a more direct hand in guiding Hydra after those initial dark days, and worked to create such monstrosities as the Death-Spore bomb as well as witnessing the development of A.I.M. as Hydra's science and research arm. Nick Fury intervened again, never believing Hydra's supposed demise and dissolution, and brought the fight right to Strucker's doorstep to end the baron's reign and very life…for the first time.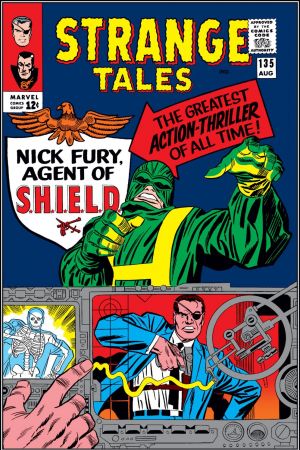 Others rushed to fill the hole in Hydra due to Strucker's absence, proving its slogan of "cut off a limb and two more shall take its place." A woman known as Madame Hydra arose to seize the group's reins and inaugurated her ascent to the leadership by challenging Captain America. Hydra also swept a young woman named Jessica Drew into their ranks to transform her into an assassin code-named Spider-Woman. On her first official assignment, she refused her mission to kill Nick Fury and set off on a path that eventually led to her becoming a S.H.I.E.L.D. agent and super hero.
['Marvel's Agents of S.H.I.E.L.D.' Officially Renewed for Season 7]
The ghost of Strucker also lived on at Hydra in the form of a Life Model Decoy known as The Deltite. The wily robot set up a ploy to pit Hydra against S.H.I.E.L.D. again and in doing so, fomented such widespread mistrust through both groups that it nearly destroyed them entirely. After the LMD's destruction, a weary Fury disbanded S.H.I.E.L.D.
For Hydra, it meant another era of insecurity and lack of leadership, prime real estate for its creator to return from the dead and set it back on track again…
The Hype Box
Can't-miss news and updates from across the Marvel Universe!