Comics
Published January 28, 2021
Who Has Brandished the Black Knight's Banner?
Prepare for 'King in Black: Black Knight' with a look at Dane Whitman and the Ebony Blade!
When the night's the blackest and you need your swash buckled, in the mighty Marvel Universe you need only seek so far as dashing Dane Whitman—who just happens to be shining and starring in his own one-shot entitled KING IN BLACK: BLACK KNIGHT #1! Stand down, symbiotes! It's slice-and-dice day for you!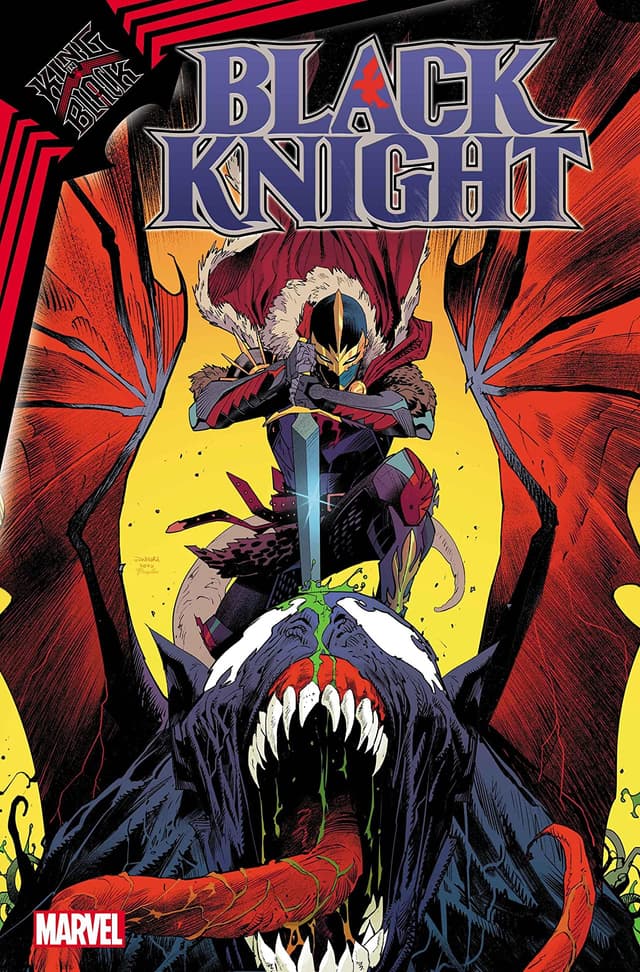 We're excited for Dane, natch, but the legacy of the titanic title's long and likable, so we've cherry-picked a thrilling trio of entrants to illustrate and educate you on what we like to call the Big, the Bad, and the Bittersweet of the Black Knights—you'll see what we mean!
The first Black Knight capered and cavorted in the era of old Camelot!
Way back when castles had moats and kings were never without their crowns, a handsome lad named Sir Percy of Scandia—hey, a hefty lot of he-men are named Percy, pal!—came to Camelot and met a wily wizard with the moniker of Merlin, and as these things happen, history was made. The sly sorcerer created a champion out of the young gent and before you could say "Make Mine Marvel," the Black Knight was born!
In BLACK KNIGHT (1955) #1, powerfully published by Marvel's predecessor Atlas Comics, fans found out all about Sir Percy and his amazing alter-ego, as well as his significant supporting cast. There was King Arthur and Merlin, of course, but there was also the lovable Lady Rosamund and the vile villains of the piece, namely Morgan le Fay and the malevolent Mordred the Evil. And just to round out the medieval mash, the Black Knight was gifted with a little thing known as the Ebony Blade, a terrific tool Merlin mixed up from meteorite metal!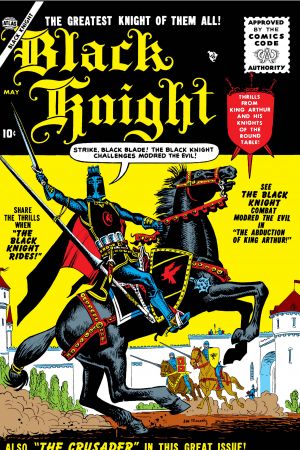 When not hiding his true identity while acting like a foppish fool—it was all the rage back in the day for our handsome heroes—Sir Percy found action and adventure over the years until that dark day when he was stabbed in the back by Mordred and murdered where he stood. We learned of this in MARVEL SUPER HEROES (1967) #17, as well as the story of Percy's spirit that came to his modern-day descendant's aid—a dude named Dane Whitman!
The second Black Knight fashioned his own flying horse!
So, that was the Big; now for the Bad. What's that you whisper to us, True Believers? The bad? Yep, sorry to say that Percy's lineage wasn't all sunshine and Santa Claus—one bad apple fell from the tree and his name was Nathan Garrett, the modern-era Super Villain Black Knight!
When Giant-Man stopped Garrett from selling secrets to a foreign power in TALES TO ASTONISH (1959) #52, the grouchy genius slunk off and reinvented himself as villainous version of his illustrious ancestor, Sir Percy of Scandia. Garrett forged a gimmicky lance with all kinds of weapons in it—and a winged horse he generated through genetic games! With all that at his disposal he flew out into the world as the new Black Knight, and lucky for the public got his butt handed to him by Giant-Man and the wonderful Wasp.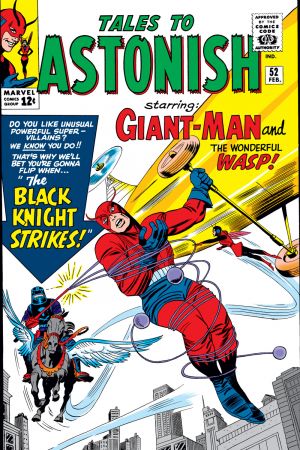 Now, Nathan came to no good end, as is proper for perpetrators. After his dark debut, he joined up with the Masters of Evil in AVENGERS (1963) #6, and while he could boast he tussled with Thor, he and his crafty cronies suffered a dismal defeat and his winged steed eventually ended up with a devilish dasher designated the Dreadknight. Garret himself was mortally wounded in an altercation with Iron Man in TALES OF SUSPENSE (1959) #73, but admitted and atoned for his atrocities to his nephew before he died.
The nephew? Oh, his name was, yeah…Dane Whitman.
The next Black Knight walked the line between the light and the dark!
We now come to the Bittersweet. Remember a little tome a few years back we titled VENGEANCE (2011), about a new Masters of Evil that happened to be made up of youngsters? In that group of villains resided a young, female Black Knight who, to this day, has never had her real name revealed. As we met her in VENGEANCE (2011) #1, she proved herself a scrappy, singular sister with a yearning for battle—and what battles she had! Lady Bullseye, the Sinister Six, and the new Teen Brigade, just to name a few!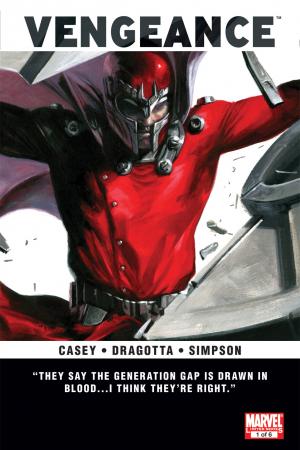 Alas, this Knight's story is short, for after she left the Young Masters in VENGEANCE (2011) #4 to allegedly acclimate herself to eschew evil, she disappeared into the mists only to resurface not too long after in AVENGERS UNDERGROUND #2…as part of a pack of toughs under the leadership of the Constrictor.
What are we to make of her on-again-off-again embracing of the dark and the light? Who knows, but the bitterness of the bad and the sweetness of the super heroism led us to this compound conclusion! 
Peruse these eye-poppin' publications with Marvel Unlimited! And read KING IN BLACK: BLACK KNIGHT #1 on February 3!
The Hype Box
Can't-miss news and updates from across the Marvel Universe!