Comics
Published October 8, 2019
How America Chavez Shaped Her Latinx Identity
America represents so many different kinds of people who live on Earth, but she's actually from another part of the Multiverse!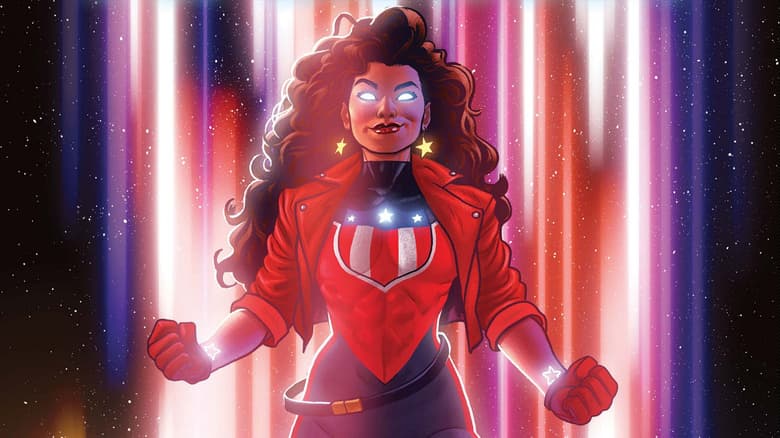 In recognition of Hispanic Heritage Month, Marvel is putting the spotlight on its most heroic Latinx characters!
For not originally being from this world, America Chavez AKA Miss America surprisingly represents quite a bit of it. Born in the Utopian Parallel outside of time and space to two mothers, Chavez soon left her home in search of an identity and better use of her dimension-hopping abilities and incredible strength. This becomes emblematic of her entire journey in the Marvel Universe thus far as she continues to take the world into her own powerful hands.
Taking on the mantle of Miss America from Madeline Joyce, America Chavez quickly made a name for herself by becoming the hero for the under-represented simply by just living the life she wanted with whom she wanted to live it. By taking her pride and wearing it on her sleeve, Chavez has made an impact far beyond just being the first openly queer Latina Super Hero in the Marvel Universe.
Upon her arrival on Earth, America quickly found a unique understanding within the diaspora of the Latinx community. Mirroring the various disparate regions that form the Latinx cultural makeup across the Americas, Chavez found a home with the Puerto Rican community in the Bronx as a young child. This community immediately welcomed her with open arms, and other Latin communities and regions did the same the more she continued to explore. Feeling so welcome in each one of these communities saw a new cultural identity emerge within her.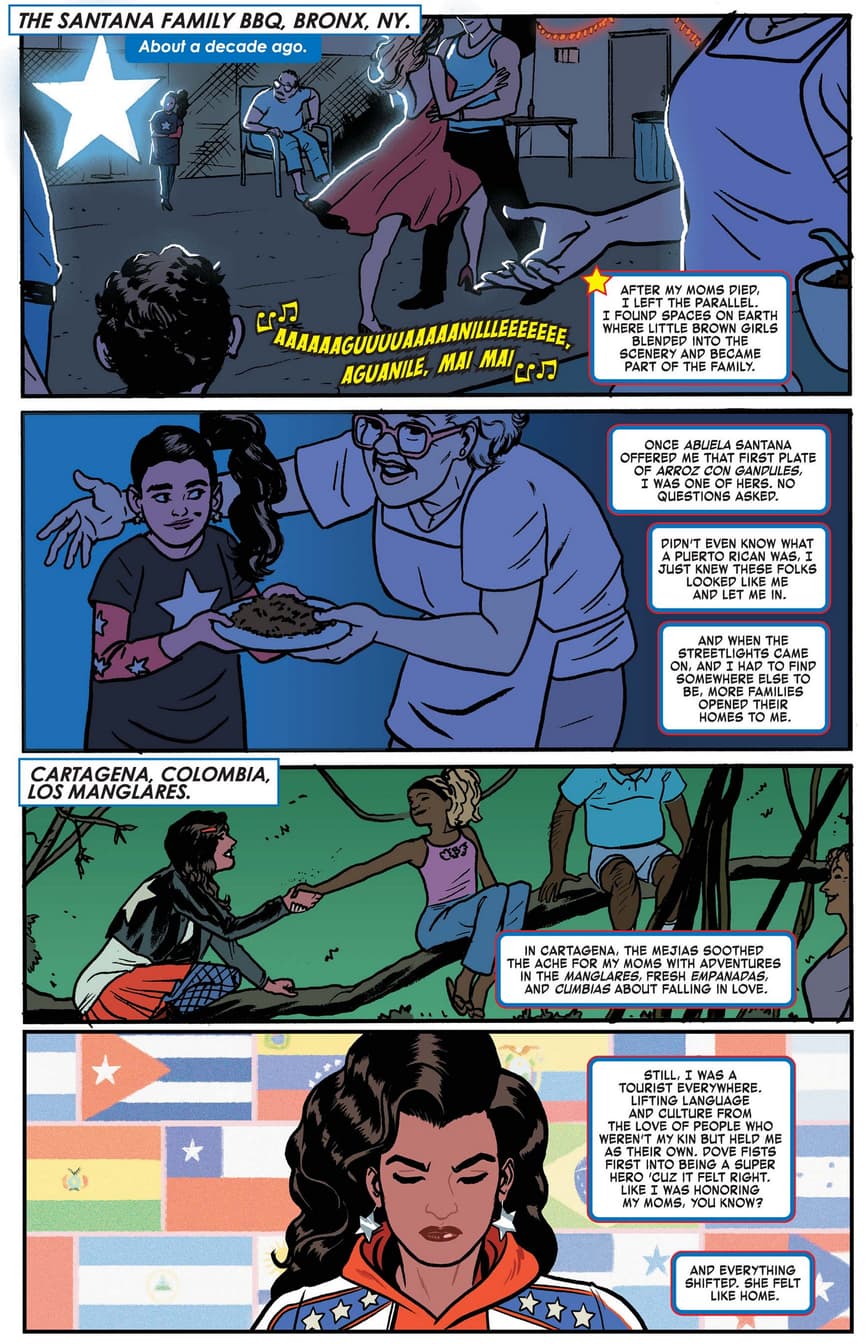 Although Chavez is not directly a part of Latinx community by blood, each one of these communities has become a part of her being. At its core, the Latinx identity is one that comes from a mingling of many regions – one that continues to be defined by new means every day! This constantly changing nature resonated with America, and she decided to adopt and represent the Latinx identity for all the greater things it represents, thus cementing the "Chavez" of her namesake.
Donning red, white, and blue, her work in the Marvel Universe goes beyond simple patriotism for any one nation but instead further taps into the ideal that one can adopt a home wherever they see fit and still have the same amount of pride. She's someone who can find herself suddenly thrown back in time, and still have the wherewithal to punch Adolf Hitler without a second thought! It's a strong reminder that the Americas contain a multitude of identities who can still find unity against hatred.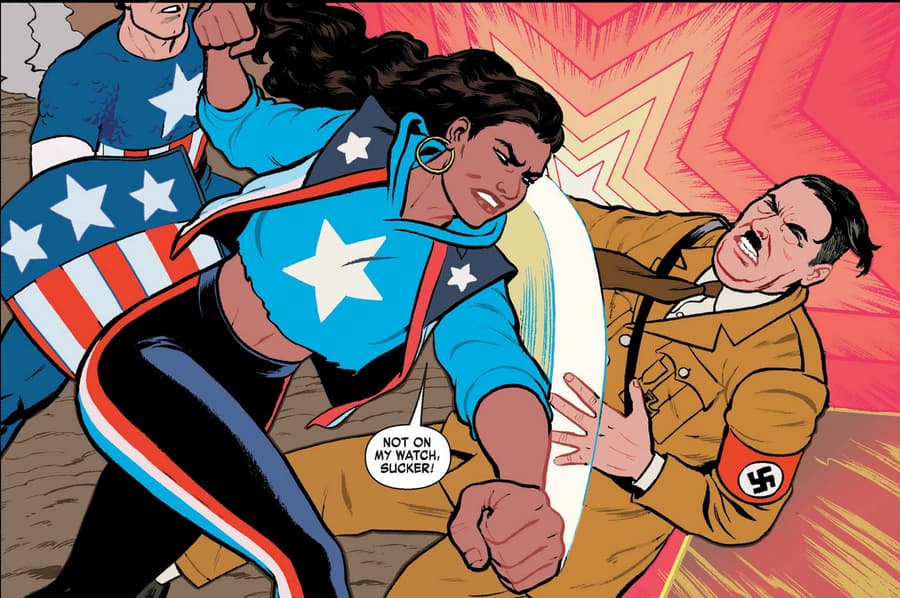 Combined with her portal-opening abilities that allow her to traverse the Multiverse, Chavez is an embodiment for the displaced, those who sometimes have no choice but to find a new home, yet still want to live their lives to the fullest. Displaced Latinx people can often live in a constant anxiety due to an outside world that can make them feel like they don't belong, but Chavez is incredibly straightforward. Showing that it's okay to act alone sometimes, to accept the help from others, experiment, live, and even throw a shark if you feel like it.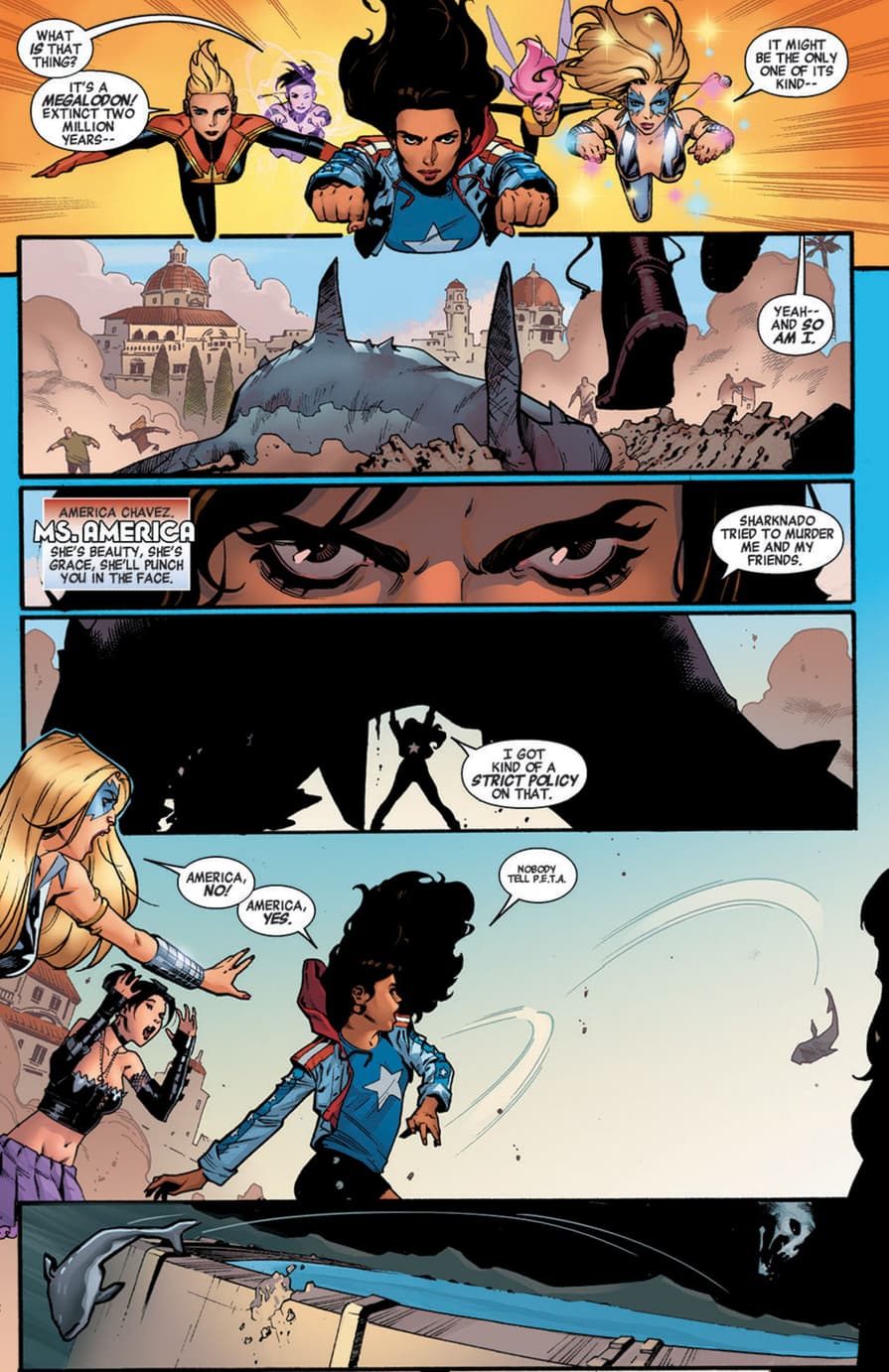 Even with all her immense power, America Chavez's greatest strength is an unapologetic love for herself and her found family. A revolutionary spirit with a strong grip on the future, Chavez reflects of all the best elements of the Hispanic culture. Even if she's not from a traditional background – and far from where she was born – she keeps that inner strength through even the wildest adversities.
Marvel.com is celebrating Hispanic Heritage Month! Follow along for more articles starring the Latinx luminaries of the Marvel Universe and follow #HispanicHeritageMonth on social media!
The Hype Box
Can't-miss news and updates from across the Marvel Universe!