Comics
Published February 26, 2020
How 'Falcon & Winter Soldier' Reforges a Team
Spoiler alert! Read through a full breakdown of today's issue #1!
Warning! This article contains spoilers for today's FALCON & WINTER SOLDIER #1, so read on at your own risk, True Believers!
Sam Wilson and Bucky Barnes have been tied together for decades, even though they hadn't ever actually met in the comics until relatively recently. Both men were partners of Steve Rogers, but it wasn't until CAPTAIN AMERICA (2004) that they encountered each other and became friends and partners. When Bucky became the new Cap in CAPTAIN AMERICA (2004) #34, the Falcon had his back against the Red Skull. A few years later, Sam became the next new Cap in CAPTAIN AMERICA (2012) #25. But like Bucky before him, Sam eventually relinquished his role as Captain America back to Rogers.
This week, Derek Landy and artist Federico Vicentini bring the titular duo back together in FALCON & WINTER SOLDIER #1.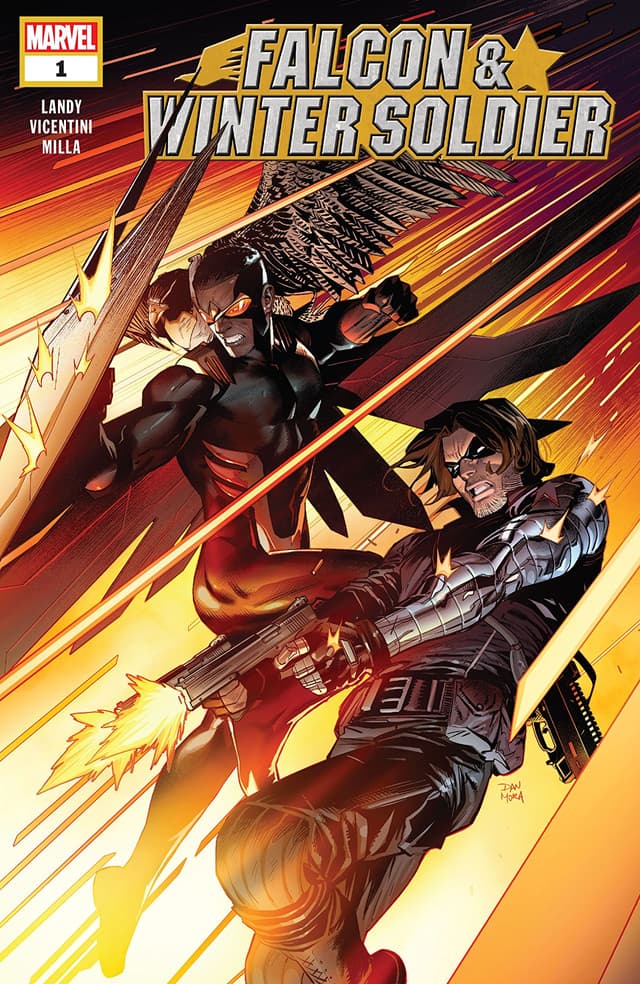 But this isn't the first time in recent memory that Sam and Bucky have reforged their partnership. As seen in HAWKEYE: FREEFALL, Sam and Bucky have been working together again. But when things pick up in today's new #1, the duo apparently hadn't seen each other in some time...
The issue begins with an assassination attempt on Bucky's life, as unknown agents descend upon the house he shares with his cat. Bucky and his feline friend survive the attack, but it's clear someone wants the Winter Soldier out of the way. Meanwhile, Sam is investigating the disappearance of his friend, Sally McKenzie. Along the way, Sam's sources clue him into the Office of Federal Utilities, a front for a covert government organization that hunts down domestic terrorist cells.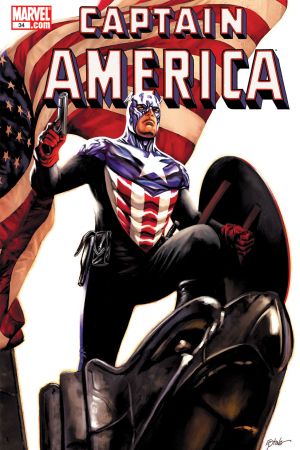 Captain America (2004) #34
published

added to marvel unlimited

writer

inker

painter (cover)

penciler

penciler (cover)

letterer

colorist
What is Marvel Unlimited?
Sam and Bucky reunite at an OFU office, which was apparently the scene of a mass murder by a single killer. While there, Bucky admits that he's been working with the OFU as part of his conditional pardon for his activities as the Winter Soldier. Essentially, Bucky has to keep killing in order to redeem himself in the eyes of the government. Note that Sam isn't entirely convinced that Bucky wasn't the man behind the massacre, at least not right away. The Winter Soldier could have easily carried out this carnage, although the level of precision was frightening. Bucky says that the killer didn't waste a single bullet.
The important info that emerges here is that there's a power struggle within Hydra, and the late Baron Zemo's protege is leading one of the factions. However, neither Sam nor Bucky know exactly who their new enemies are. Regardless, it also establishes that Sam is still romantically linked with Misty Knight—a relationship that originally developed during CAPTAIN AMERICA (2012). Unfortunately, an off-panel encounter between Bucky's cat and Misty may have placed some strain on their dynamic.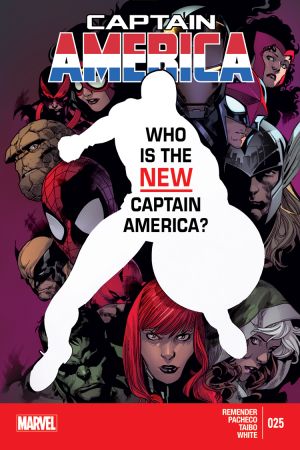 Captain America (2012) #25
published

added to marvel unlimited

artist

penciller (cover)

colorist

inker

writer
What is Marvel Unlimited?
In the closing moments of the issue, Sam and Bucky encounter the Natural, a Hydra assassin who is seemingly a teenager...but the Natural's skills far exceed their own and he wipes the floor with them. Ironically, the Natural claims to be a big fan of both Falcon and the Winter Soldier. That's the only reason both men aren't dead; the Natural talks himself into sparing their lives for now. But he also warns the duo that he'll happily kill them the next time they meet.
As FALCON & WINTER SOLDIER continues, it appears that Sam and Bucky will once again need to rely on each other to survive. Their enemies—new and old—are gunning for them. But we're still placing our bets on the guys who used to be Cap.
Read FALCON & WINTER SOLDIER #1 for yourself at your local comic shop now!
The Hype Box
Can't-miss news and updates from across the Marvel Universe!