Comics
Published May 31, 2019
How Ms. Marvel Has Been Preparing for Her Trip into Space
Kamala Khan is taking her first trip to space -- here's why she's more than ready for a battle beyond Earth!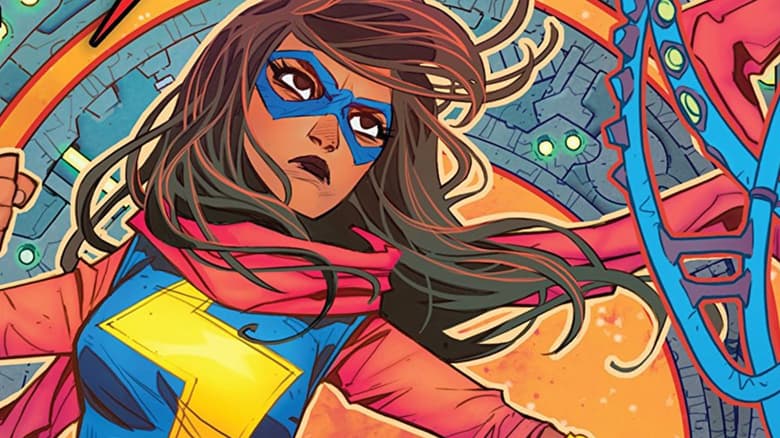 Kamala Khan has had some pretty extreme experiences in her life as a Super Hero. In the upcoming MAGNIFICENT MS. MARVEL #3, she'll add another notch to her belt with her first major space adventure. But just because she hasn't battled in space before doesn't mean she's not up to the task. Kamala has had plenty of encounters that have helped ready her for space – here are the top five!
Undergoing Terrigenesis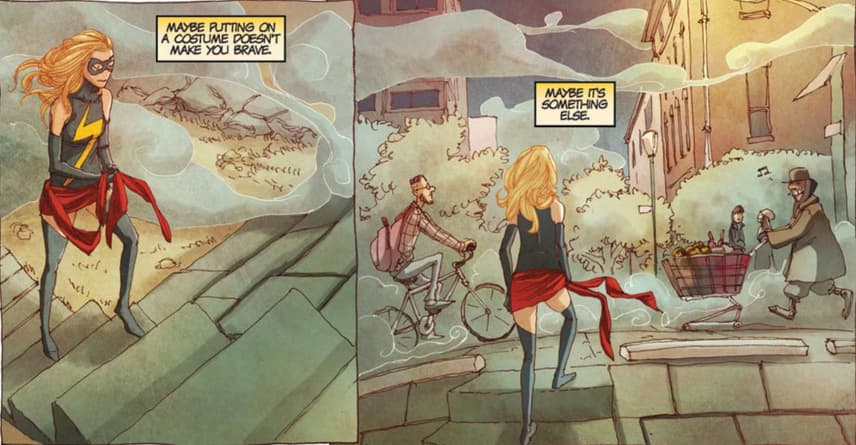 Let's go all the way back to the beginning of Kamala's Super Hero story – way back to 2014's MS. MARVEL #1. Undergoing Terrigenesis is an intense experience that can rattle a person to their core. It challenges your sense of identity and transforms your body in surprising and unexpected ways. Like a lot of people, Kamala was pretty freaked out at first. But not only did she find a way to move on with her life, she saw her Terrigenesis experience as an opportunity to reach her fullest potential. That's the kind of attitude a hero needs to succeed in a space battle.
Being Mentored by Captain Marvel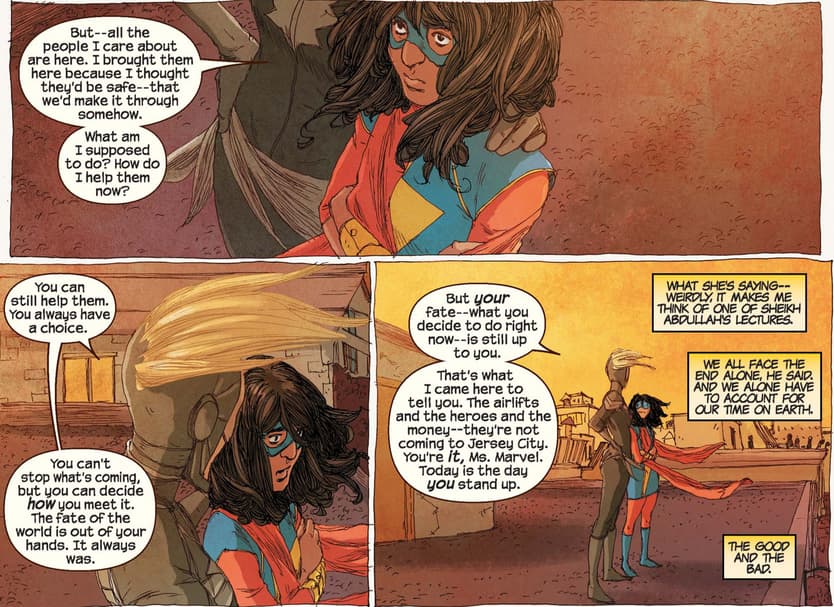 Kamala may not have spent a ton of time in space herself, but having Captain Marvel as her mentor means she has some familiarity with the kinds of crazy things that can happen off-planet. We first see how much Kamala looks up to Carol Danvers in 2013's CAPTAIN MARVEL #17, and the strength of their relationship, while strained at times, is demonstrated time and again. Carol, of course, has clocked plenty of time in space and has even gotten to know a few aliens, going back to her work with Mar-Vell. So we'd say it's safe to assume Carol has dropped a few relevant pointers for Kamala here and there.
Incursions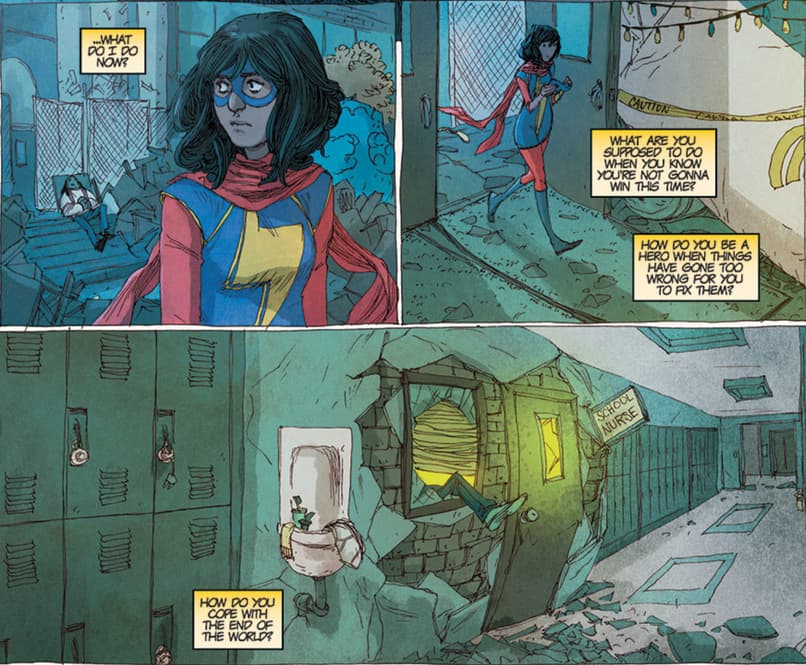 In 2015' SECRET WARS storyline, the multiverse experiences incursions in which alternate dimensions collapsed in on one another. Throughout these incursions, Kamala worked to keep the peace in Jersey City. While it's not exactly space, dealing with threats from other dimensions is something that will throw a lot of unfamiliar dangers into a hero's path. To successfully navigate a situation like that, you have to be prepared for the unexpected, and the same is true of adventures in space.
Fighting Warbringer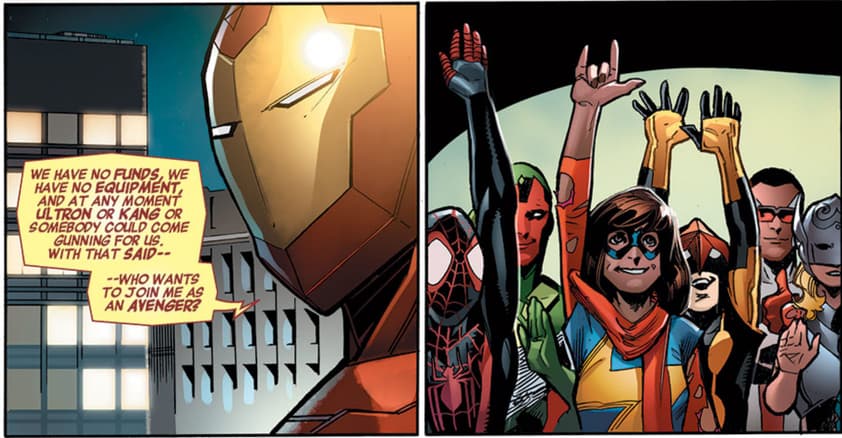 While Kamala hasn't fought aliens on their own turf yet, she does have some experience going up against extraterrestrials. In 2015's ALL-NEW ALL-DIFFERENT AVENGERS #1, she found herself facing Warbringer. Kamala first encountered the alien at the Liberty Science Center. After discovering that he was searching for ancient artifacts that had the potential to do major damage to the planet, she worked with several other heroes to stop him – a feat that earned her a place on the Avengers.
Founding the Champions
As we see in MS. MARVEL and the early issues of CHAMPIONS, Kamala demonstrates her skills as a leader and begins coming into her own as a hero in a new way. After the events of Civil War II, Kamala decided she wanted to do things differently, hoping to avoid the infighting and politics that she felt dragged down the older generation of Super Heroes. Along with Spider-Man and Nova, she cofounded the Champions, a group of young heroes committed to a different way of serving ordinary people. This is precisely the kind of leadership and confidence necessary to win a space fight.
Over the years, we've watched Kamala Khan grow as a person and a hero, coming into her own as an accomplished Avenger and Champion. And we're excited to see her continue to take the next step in her journey as she ventures into space!
MAGNIFICENT MS. MARVEL #3, written by Saladin Ahmed with art by Minkyu Jung, is on sale now online and at your local comic shop.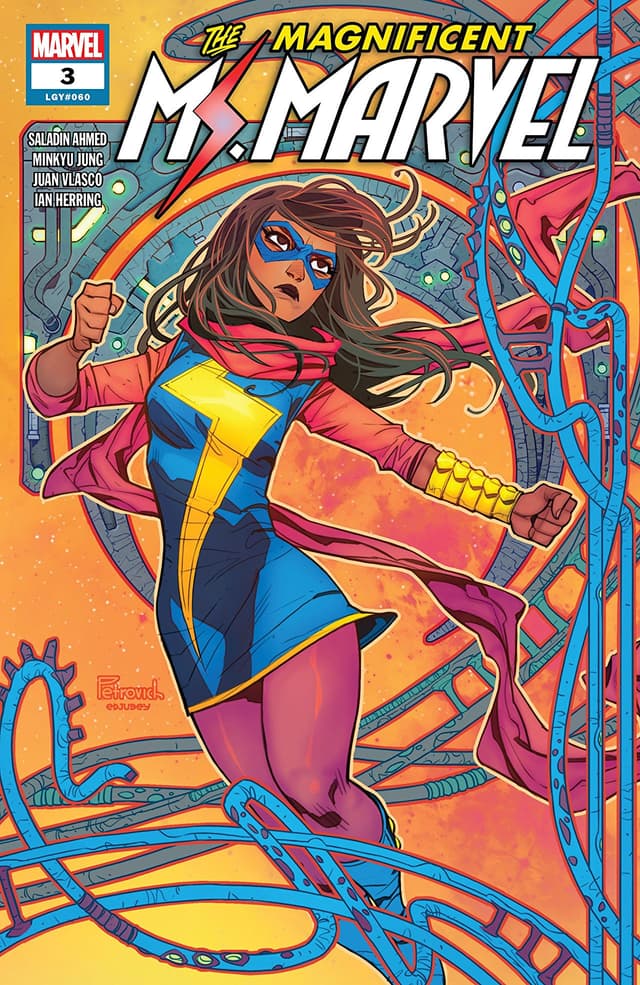 The Hype Box
Can't-miss news and updates from across the Marvel Universe!