Comics
Published January 1, 2020
How 'Thor' #1 Heralds a New Age of Thunder
Spoiler alert! Get a full breakdown of the brand-new Odinson ish!
Warning! This article contains spoilers for THOR #1, so read on at your own risk, oh frantic ones!
The War of the Realms is over, and a new creative team has taken the reigns in THOR #1. Jason Aaron left the incoming creative duo, Donny Cates and Nic Klein, with a new status quo that finds Thor Odinson firmly established as the new All-Father of Asgard. The reign of Odin is finished, and Thor's time has come at last.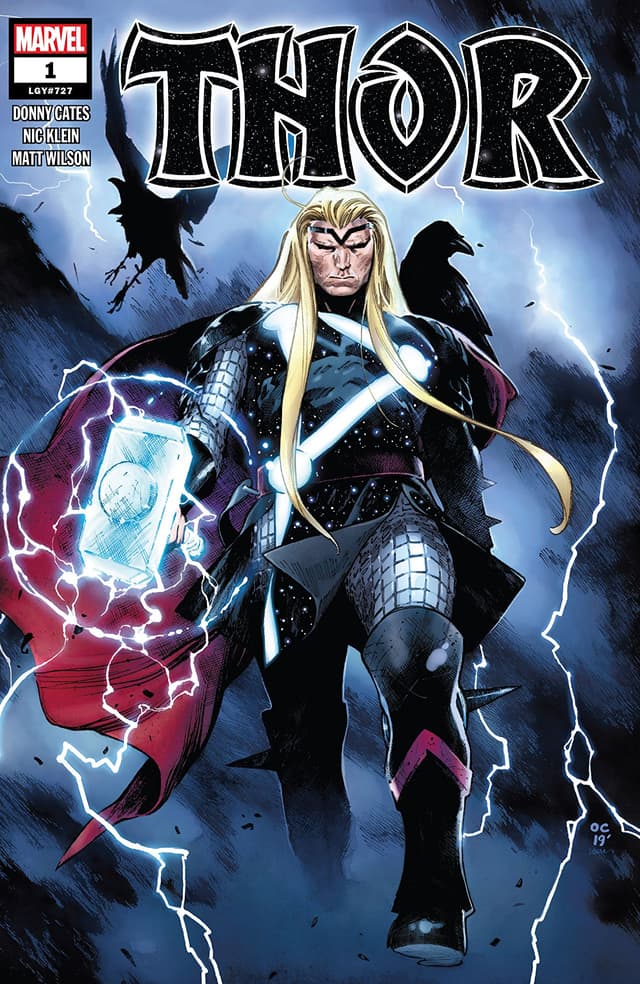 Unfortunately, the happy days are never long for Thor, and he's never looked so old. Between the loss of his eye and his arm, Thor could easily be mistaken for his father. He's also quicker to anger than we've seen in the past, and he no longer has any patience for Loki.
In theory, Thor's ascension should be a good thing for the Odinson and for all of the realms. Within the opening pages, Thor sends Mjolnir across the ten realms with a message and a not-so-subtle threat: "Let there be peace or let there be thunder." But as far as Thor's fellow Avengers are concerned, he's retired and out of the hero game.
Leave it to Loki to be the only one who can still speak truth to Thor's power, even if the Odinson doesn't want to hear it. The new king of the Frost Giants has noticed that Thor is having difficulty lifting Mjolnir, almost as if the hammer is becoming heavier. We've only recently come out of a long stint with Thor believing himself to be unworthy of Mjolnir. But if Thor had already overcome that problem, why is the hammer suddenly resisting him?
This may seem like a unique situation for Thor, but he has been the leader of Asgard before. In THOR (1998) #40, Odin fell in battle and Thor eventually received the Odinpower as he became Asgard's new king. However, Thor distanced himself from humanity and decided to rule the Earth after Asgard was destroyed in THOR (1998) #67. Is it a coincidence that THOR (1998) #68 picked up in the then far-off year of 2020 with the world under Lord Thor's control? Lord Thor's reign continued for 200 years until he changed his personal history in THOR (1998) #79.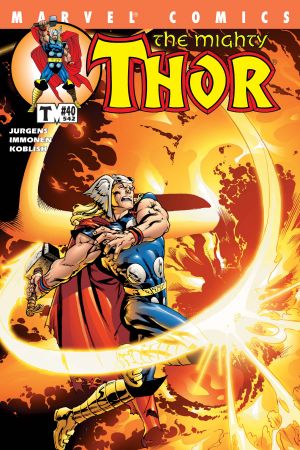 The Odinson had a second chance at being Asgard's ruler in THOR (2007), when Thor led his people through a new beginning of their life cycle. However, Loki eventually tricked Thor into killing his grandfather, Bor, thus relinquishing the throne to their half-brother, Balder. Keeping that in mind, it's easier to see why Thor is so wary of taking advice from Loki in the present.
One of the big changes in this issue is that Lady Sif is the new guardian of the Bifrost. She's inherited the responsibility and the all-seeing eyes of her late brother, Heimdall, who recently perished in VALKYRIE: JANE FOSTER #2. It's now Sif's lonely duty to oversee the Rainbow Bridge and keep an eye on all of creation. But neither Sif nor Thor foresaw the arrival of Galactus in a near death state.
Galactus has spent so much time battling the Fantastic Four that few fans remember his connection to Thor. It was within the pages of THOR (1966) #168-169 that readers first learned about Galactus' origin story. In the previous version of the universe, Galactus was merely a man named Galan. He was the sole survivor of his world, and Galan was reborn as Galactus the Devourer in the Marvel Universe that we now know. That particular tale is very relevant for THOR #1, as Galactus claims that the Black Winter is the force that destroyed his universe...and it's back to claim this universe as well.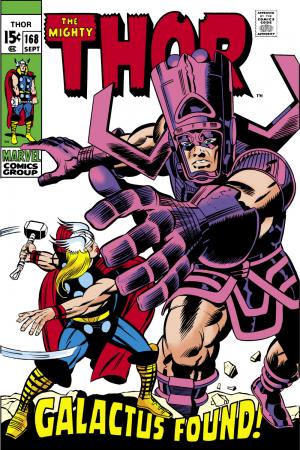 For the first time since his transformation in Cates's SILVER SURFER: BLACK, Galactus' first herald reunited with Thor and his former master. Although the Surfer's idea to empower Galactus with the energies of long hidden planets seems sound, the Devourer had his own plans. According to Galactus, the Black Winter appeared to him as the one who will end his life: the Mighty Thor. Therefore, Galactus turned his cosmic powers on the Odinson and transformed Thor into his latest herald. With that, the ravages of age have fallen away as Thor was rejuvenated and his eye and his arm were restored.
Thor may be more formidable than ever before if he retains the Odinpower with his newly gifted Power Cosmic. Even Mjolnir itself appears to be changed by the experience. But is Thor still in control of his own mind? Or has he become Galactus' pawn? Galactus isn't hiding his intentions. After facing the Black Winter alongside Thor, Galactus plans to keep Thor close to him if he is still fated to die at the Thunder God's hands.
The battle for the universe has yet to begin, but Thor's greatest challenge may lie beyond the Black Winter.
Read THOR #1 at your local comic shop right now!
The Hype Box
Can't-miss news and updates from across the Marvel Universe!