Comics
Published November 6, 2019
How 'X-Force' #1 Ramps Up the Danger for Krakoa
Spoiler alert! Read through a full analysis of today's brand-new Dawn of X issue!
Warning! This article contains spoilers for today's X-FORCE #1, so read on at your own risk, True Believers!
There's no greater hallmark of the X-Men than a good old-fashioned cliffhanger. And today, writer Benjamin Percy and artist Joshua Cassara certainly gave us one in X-FORCE #1.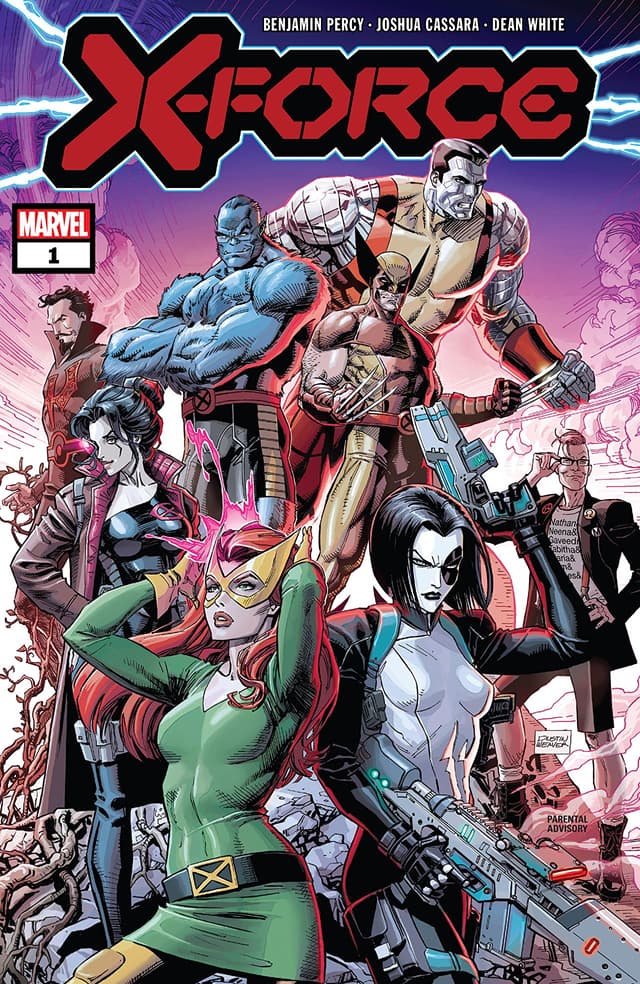 Thus far, the Dawn of X has shown us that Krakoa would be different than the previous attempts at a mutant state. Genosha, Utopia, and New Tian all ended in disaster. Now, for the first time, Krakoa seems vulnerable and the X-Men's most important member may be dead.
During HOUSE OF X, the X-Men declared victory over death thanks to their new resurrection protocols. However, those resurrections were dependant upon Charles Xavier and the Cerebro unit he wore on his head. That's past tense, because now, Cerebro is broken and Xavier may have been assassinated by an elite group of assassins. Is there someone who can fill in for Xavier during his slight case of death? We know there are back-ups for the Cerebro unit, but how important was it for Xavier himself to restore the mind and soul to reborn mutants?
Perhaps the most alarming aspect of X-FORCE #1 is that we don't know who was behind the attack. A shadowy group hidden by masks smoked out Domino in the opening pages, and even her mutant luck wasn't enough to get away. That same group apparently sponsored the four assassins who carried out the assault on Krakoa in part by faking Domino's bio signature. These soldiers tore through some of the X-Men's best fighters to achieve their goal. That's frightening enough in and of itself.
Wolverine did warn Beast that their sense of security on Krakoa was making them soft. As if to illustrate the point, there's a predator on Krakoa that simply shouldn't exist. And yet it very nearly made a meal out of Beast. Whether the creature is a natural inhabitant of Krakoa or another means of outside attack remains to be seen.
The issue also reveals that Colossus was in Russia protecting mutants before his ex-lover, Kate Pryde, returned him to Krakoa in grave condition. Surprisingly, the mutant with the most page time was Black Tom Cassidy. He's taken to referring to himself almost exclusively in the third person, while bonding with Krakoa on an even deeper level than Doug Ramsey. Black Tom and the island aren't one and the same, but he seems to have sensed the attack long before the other mutants did...
As for Xavier, the issue appears to hint that he may have been drugged while on a good will mission to Sokovia. The ancillary pages for X-FORCE #1 explain Krakoan diplomacy in detail, as well as a hidden agenda for regime change when hostile nations take a hard anti-mutant stance. The island's security features were also clearly marked out, and yet already easily beaten by the assassins.
Even if Xavier survived or can be revived, this attack has demonstrated that the X-Men's human enemies will stop at nothing to exterminate them. It may very well take a more dangerous version of X-Force to turn back the tide as the Dawn of X unfolds.
Read the issue yourself at your local comic shop today!
The Hype Box
Can't-miss news and updates from across the Marvel Universe!