Comics
Published July 3, 2017
I Am Groot: Brave New Dimension
Figure out where in the galaxy this Guardian has gone with writer Christopher Hastings!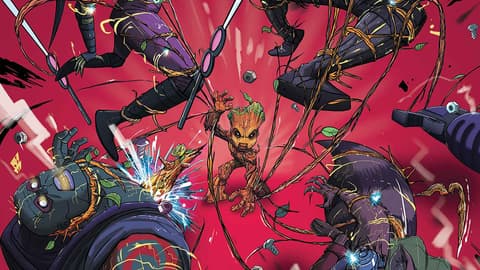 Groot the living tree—a tiny baby tree at the moment—has become lost in space. In the first arc of the new I AM GROOT series from writer Christopher Hastings and artist Flaviano, the Flora Colossus finds himself separated from his team and trapped on a strange and menacing planet where no one can understand a word he says.
I AM GROOT is the story of our diminutive hero finding his way home from a brave new world, and learning about himself in the process. We tapped Hastings for more…
Marvel.com: So tell us a little about this planet our tiny hero has been trapped on in I AM GROOT? What or who stands in the way of Groot getting home?
Christopher Hastings: [In] issue #2, we see that the planet is very strange. It's old, its original culture and society forgotten. The people that live there now carry hints to what life used to be like, but they're so far removed, they don't know why. Groot has to discover the planet's old ways, and how seemingly unconnected events, landmarks, and people all play together in order to unlock the way home.
The main force trying to stop Groot is a man we only know as The Administrator, someone who very much does not want Groot upsetting the order of the planet in order to leave this dimension and get back to the Guardians. He's aided by an army of shape shifting service robots [who travel via] connected underground tunnels—so they can pop up anywhere [at any time].
Marvel.com: Groot is kind of like a planet himself, made of grass and rocks and wood. If Groot is a planet, is he trapped on a sort of macrocosm of himself?
Christopher Hastings: Macrocosm is an apt word! The story of the planet scales up from and runs parallel to Groot's own journey right now, as someone who is trapped at a small size, unable to fulfill his purpose and grow.
I definitely agree that Groot has traditionally represented the duality of nature. It is life giving—or nurturing—but can flip and be total power, stronger and fiercer than any human. I think that makes Groot appealing, putting a face on nature.
Marvel.com: Usually Groot is selfless, giving help and support—literally and figuratively—to his friends. But now that he's alone, what does this story mean for him and his growth as a character?
Christopher Hastings: I think the story of Groot's literal growth is being handled in the main [ALL-NEW GUARDIANS OF THE GALAXY] book. But this arc in I AM GROOT is more about emotional growth, adjusting Groot's mindset for that eventual return to adulthood. [It's] a "child stuck in a strange and scary land" kind of space fairy tale, with little notes of meditation on Groot's current arrested development.
Also there are the creepy robots.
Marvel.com: Besides the obvious—i.e. the language barrier—how does Groot stand out from the other super heroes in Marvel's roster for worse or for better?
Christopher Hastings: Well, right now he really stands out because he's a super-powered toddler. I don't believe the Avengers currently has any of those in their ranks. Little Groot is a ton of fun, just very impulsive, and we get a lot of great reactions out of him thanks to Flaviano's artwork. As for downsides, he's certainly not as powered up as full size, so we have to get creative with how he uses his abilities.
Marvel.com: The current incarnation of Groot is a fairly new character. Is this series about him finding himself?
Christopher Hastings: That's very much what we're trying to do here! It's why I thought it important to get him away from the Guardians. He has to make this journey alone, and he'll see pieces of himself in these other new characters he meets along the way.
Join the journey with I AM GROOT #3 by Christopher Hastings and Flaviano, out July 26!
The Hype Box
Can't-miss news and updates from across the Marvel Universe!