Comics
Published May 22, 2017
I Am Groot: He is Groot
Christopher Hastings goes down a wormhole with the tiniest Guardian!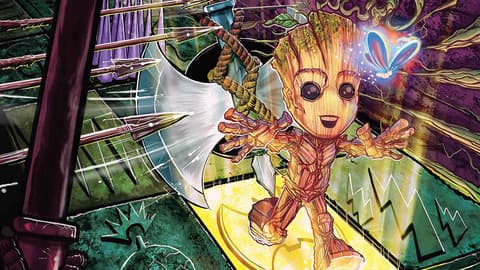 Don't call him a sapling! He may be 1/12th his usual size, but he's still the universe's most powerful walking, talking tree. He is Groot!
Alone at the far side of the cosmos, unable to find the rest of the Guardians, and really, really small—that's where we'll find the galaxy's most lovable piece of timber on May 24 with the start of the brand-new series I AM GROOT!
With writer Christopher Hastings and artist Flaviano at the helm, the three-word wonder jumps headfirst into his own adventure as an underdeveloped, unintelligible, and very unlikely hero. To find out more, we spoke with Hastings about the difficulties—and unexpected benefits—of writing Groot.
Marvel.com: What's the greatest challenge of writing Groot given his signature three word limit?
Christopher Hastings: Well that's the challenge right there, he can't quite express complex ideas the same way w''re used to with the fancy language we communicate with every day. But with some body language, and the occasional assist from another character in the book translating for him, Groot can communicate all the base level important stuff we need in a story.
Marvel.com: And since there's nothing else like it in comics, what's the greatest advantage that Groot's linguistic style brings to a story?
Christopher Hastings: It is a great relief to drop the need for a snappy protagonist who always has the right zinger. But that's just for me! I'd say in the story, it is nice to change the focus to physicality, to non-verbal expression. Comics is a visual medium after all, so I like to see a character communicate in a purely visual fashion.
Marvel.com: He might not say much, but he has such a defined personality. How would you describe Groot's characteristics as this series begins?
Christopher Hastings: He's a kid who is just enjoying being a kid. Now, he's doing that in the most hazardous conditions that space adventure would suggest, so it causes a good amount of trouble. He gets separated from the Guardians, and he's scared and alone in a place where nobody can understand him, that draws out a few characters that are pretty hostile to Groot for reasons unknown. So he's still really impulsive, and curious and just running all over the place, but he's trying to figure out how to get home.
Marvel.com: One of the greatest elements of any Groot story is witnessing other characters interact with—and attempt to understand—Groot. So who might we see hanging with the tree in this new series? How would you describe the dynamic they bring to the book?
Christopher Hastings: Groot's first ally is some kind of alien dog's head on a robot body named Buddy, because who doesn't love a doggie buddy, especially in space? Buddy's helpful, but dim, frustrating Groot's issues with communication. Later on we meet Dhamsus, kind of a Ron Swanson type space farmer/ice elemental, and Diplatessa, a woman split into multiple versions of herself at different points in life. They all want to help Groot, and find that Groot awakens them out of a sort of complacency they had on this dead and corrupted world Groot lands on. Each one of them ties into the mystery of the planet's past, and its key to reuniting Groot with the Guardians.
Also there's a swarm of shape shifting robots set out to trick and capture Groot at every turn. They're creepy!
I AM GROOT #1, by writer Christopher Hastings and artist Flaviano, is available this week on May 24, with issue #2 following June 28!
The Hype Box
Can't-miss news and updates from across the Marvel Universe!