Comics
Published October 3, 2017
Iceman: A Swarm of Sentinels
Sina Grace sends Iceman to battle alongside the Champions!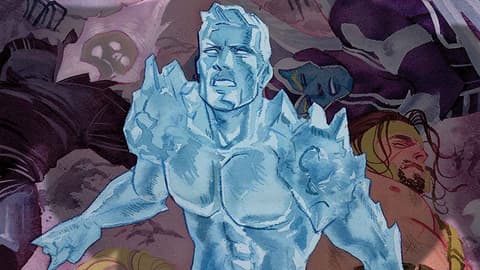 For years, potentially the most terrifying enemy a mutant could encounter stood tall and purple and pink—a Sentinel.
But Bobby Drake has other things to worry about in ICEMAN #7!
On November 1, writer Sina Grace and artist Robert Gill see Bobby balancing the maintenance of a legacy he's yet to build, leading a team he's never served with, and—perhaps most terrifying—going on a date.
Sina filled us in on the complex, challenging, mile-a-minute life of the young Iceman.
Marvel.com: How would you describe the dynamics found in this iteration of the Champions?
Sina Grace: This assortment of characters come together under very human circumstances—grieving a friend—but these aren't particularly "human" characters. Considering that Bobby Drake may be the most human of them all, given how much he's been thawing out of late, he ends up being the emotional backbone of this group.
Marvel.com: Considering that Iceman finds himself as the youngest member of the group, how does he feel about getting dropped into the role of team leader?
Sina Grace: My approach with Iceman being reinserted into the Champions became putting him in situations where he may not have previously been equipped to save the day, but in this story he pulls it off—no problem. A lot needs to be juggled in issues #6 and #7: the Champions have to take down a bunch of seemingly rogue sentinels while protecting civilians in busy West Hollywood, everyone's grieving Natasha, and on top of that, Bobby jumps into the middle of his first date with a boy! Typical Marvel Comics stuff, amirite?
The Bobby Drake of yesteryear would probably have pushed all the emotional stuff down and focused solely on being a hero…the new Iceman feels ready to take it all on.
Marvel.com: What did you think of seeing Robert Gill unleashed on this large cast for the first time? How did you find the collaborative process with him?
Sina Grace: I feel like the Marvel Legacy tie-in acted as a really great way to test Robert's capabilities as a storyteller and illustrator. We had a talk before I wrote out this massive fight scene in issue #7 and he basically told me to throw everything I've got at him, and I followed with: "If you can make it cooler than what I described, go for it."
The result couldn't be more epic. Robert grew up reading Marvel Comics just like I did, so I think he felt pretty ecstatic to take a stab at these characters. He draws such a sick Ghost Rider! I wish we had more bandwidth to dedicate to Johnny Blaze.
Marvel.com: The team finds itself up against a swarm of Sentinels in this issue. What made them the right antagonists for this arc?
Sina Grace: I couldn't find any villains that seemed appropriate—in terms of speaking to what the characters deal with, in terms of grieving Natasha, and in terms of reminiscing about being Champions—so I decided to tell a story about someone trying to carve a space for herself in this world, paralleling Iceman's own journey. The Sentinels also nod to the last issue of CHAMPIONS from the '70s!
Marvel.com: In the life of Iceman, how do you see issue #7 as a key point in his ongoing evolution?
Sina Grace: I told readers that, after issue five, we'd get to see Bobby Drake come into his own, flexing some Omega-Level muscles. From an action standpoint, this issue truly delivers. Bobby refuses to hold back any longer, because he's confident enough to know that he's got the training and know-how to do the right thing. I wanted to throw a handful of instances where Bobby's decision-making steers him right—both as a super hero and a human. Readers should expect more of this kind of Iceman as the series progresses.
Join the Champions in ICEMAN #7, by Sina Grace and artist Robert Gill, on November 1!
The Hype Box
Can't-miss news and updates from across the Marvel Universe!