Comics
Published May 18, 2017
Iceman: Cold Comfort
Sina Grace prepares Bobby Drake for a reunion with Kitty Pryde and more!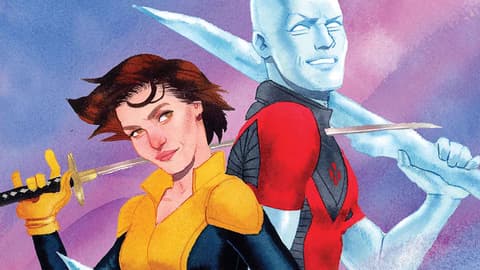 It may be spring, but there's a cold front heading your way this June in the all-new series ICEMAN, written by Sina Grace with art by Allessandro Vitti!
To prepare you for the brewing storm we spoke with Grace to find out just what to expect and here's the deal: The new series follows present day Iceman working through some of the more human aspects of his life that he has never really dealt with, like relationships, sexuality and how to be a successful adult. We understand those feels, Bobby. Oh and let's not forget there's a younger Bobby running around town who, according to Grace, slays life; nothing like competing with yourself.
So just who is Bobby Drake?
"He's the funny guy who shoots ice out of his hands and says one-liners," states Grace. "So instead of working around that I said, no, he's very compartmentalized. And so we are looking at what comes after the laughter." But let's be clear: there will not be a shortage of one-liners. "I like the jokes I write for him," the writer clarifies. "They aren't jokes I could say, but when Bobby cuts them they work."
And when ICEMAN #2 hits on June 21, you can bet several of these jokes poke fun at the weird, ex-girlfriend-but-still-fellow X-Man dynamic he has cooking with Kitty Pryde. "Awkward is an understatement," muses Grace. "But Bobby and Kitty are both very responsible super heroes so they'll never let what they haven't worked out get in the way of helping people, or the world." So when a new mutant's powers emerge, the two former lovebirds set out to give him ye ol' X-Men spiel, but things start to get a little slippery. "The situation definitely exacerbates what's been left unspoken," teases Grace.
Kitty has to deal with the fact that her ex-boyfriend is gay, and Bobby still isn't exactly the, "Hey girl, let's sit down and talk this through," type. Luckily, his walls might be melting just a tad though. "He's admitting that there is stuff to talk about and it can't just be swept under the rug with a joke," confirms Grace. So while they do progress it may take a few more awkwardly tense encounters before they can really put behind their history together to a copacetic friendzone future.
Oh and as an added bonus I'll let you guys in on a little inside secret: Turns out Grace really likes "Sex and the City," go figure, so artist Vitti decided to run with that, pretty literally, by giving Iceman a whole line of slick kicks that even Carrie Bradshaw would envy. Probably lost you at the "Sex and the City" reference, but hey at least you can say you know what it's like behind the scenes!
Be sure to catch all the action, adulting progress, and cool shoes in ICEMAN #1 out June 7, and ICEMAN #2 out June 21!
The Hype Box
Can't-miss news and updates from across the Marvel Universe!