Comics
Published June 23, 2017
Iceman: The Parent Trap
Can Bobby Drake survive his most terrifying encounter yet?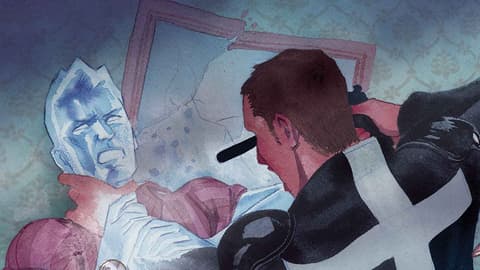 Bobby Drake returns on July 26 in ICEMAN #3, written by Sina Grace with art by Alessandro Vitti, to face his scariest opponent yet: his parents.
In this new series Bobby's life remains a bit complicated despite his desperate attempts to find both self and general acceptance, de-stress his life outside of the X-Men and have a little less icy relationship with his family. But lets face it: mutants attract drama, and in the words of a wise young prince, there's no need to argue, parents just don't understand.
Just how little do they understand? We caught up with Grace to find out!
Marvel.com: We know Bobby is headed home to visit his parents; what's going through his mind? Anything he's worried or excited about?
Sina Grace: After Bobby and Kitty's adventure in West Covina [in ICEMAN #2], he's feeling the urge to open up to his parents, and build a more honest relationship with [them]. He's done dancing around the aspects of his life that he wants to celebrate—being a mutant, his sexuality, etc.
Marvel.com: What's Bobby's daydream scenario of how his visit plays out?
Sina Grace: In Bobby's "best of" scenario, his parents would [sense] something was going on, and basically hand him the opportunity to feel like he can open up without shame or judgment. Basically, he'd love if they did the work for him!
Marvel.com: What's actually in store for him at this family get together?
Sina Grace: Unfortunately for the Drake parents, their new home, and all of their nice things, the Purifiers are staging an ambush. The runt that Iceman took out in the first issue mattered a great deal to someone higher up…
Marvel.com: You can see in ICEMAN #1 that Bobby and his parents aren't exactly on the same page; can you describe a little more in depth the dynamic of their relationship?
Sina Grace: Bobby's relationship with his family, for me, comes from the same DNA as characters in a David O. Russell film: overpowering, Irish Catholic, and a little sassy. Bobby's got to get his wit from somewhere!
Marvel.com: Briefly describe the perfect life for Bobby from his parent's perspective.
Sina Grace: Historically speaking, Bobby's parents are happiest when their son is living his life in bullet points they can toss around as bragging rights to friends: "Bobby's got a degree. Bobby bought a house. Bobby proposed." His life doesn't follow any traditional road map, and that makes them uncomfortable.
Marvel.com: What does Bobby have in common with his parents, and where do they differ?
Sina Grace: I think the easiest way to sum up their relationship, in terms of what they have in common and how they differ, is that they love each other, but they don't like each other.
Marvel.com: Does their relationship grow at all?
Sina Grace: Papa and Mama Drake do end up seeing their son in a different light. I'm not sure whether or not readers will expect it, but to that point: I want the reader's relationship with Bobby's parents to grow in a way where you see them as humans.
Marvel.com: Is there anything you can tease about what's in store for Bobby? Any surprises?
Sina Grace: Fans should expect a few more friendly faces to pop in the book over the next few issues. In terms of surprises, I have some pretty intense stuff lined up with Bobby and his journey to understand his powers a bit more! Keep on reading!
Lightning Round!  
Marvel.com: Bobby's biggest pet peeve with his parents? SG: Judgment. Marvel.com: His parent's biggest pet peeve with him? SG: Unaccomplished. Marvel.com: What is their parenting style? SG: Catholic Marvel.com: If his parents had mutant powers what would they be? SG: Rock skin. Marvel.com: It's Christmas: what does Bobby give them? SG: Personal trinket. Marvel.com: What do they give Bobby? SG: Sweater and gift certificate. Marvel.com: What are his parent's best qualities? SG: Dedication. Marvel.com: Their worst quality? SG: Obstinate. Marvel.com: What would they say is Bobby's best quality? SG: Intelligence. Marvel.com: His worst quality? SG: Immaturity. Marvel.com: If they could change one thing about each other what would it be? SG: Perspective. Marvel.com: Do cool jokes run in the family? SG: Sometimes.
Don't miss a single cringe-worthy family moment in ICEMAN #3 by Sina Grace and Alessandro Vitti, out July 26!
The Hype Box
Can't-miss news and updates from across the Marvel Universe!