Comics
Published September 21, 2017
Incredible Hulk: Interstellar Infamy
Greg Pak introduces Marvel Legacy with a return to Planet Hulk!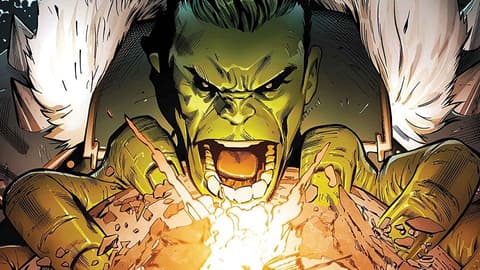 On October 18, Amadeus Cho makes an unexpected interstellar trip as writer Greg Pak and artist Greg Land head back to a brutal world with INCREDIBLE HULK #709!
Marvel Legacy begins with "Return to Planet Hulk: Part One," as the young genius goes where another Hulk has gone before—Bruce Banner. But the planet Sakaar has changed since the Doctor visited years ago. And Amadeus finds himself in unfamiliar territory—on the continent of Filia, halfway around the globe from where The Hulk landed before. Thrust into a conflict he didn't expect, The Totally Awesome Hulk will have to use every ounce of his intellect and power to survive.
We grabbed a few minutes with Greg Pak to see what's in store for Amadeus on Planet Hulk.
Marvel.com: Amadeus Cho has learned a lot about himself and his Hulk persona recently. How does this new self-awareness influence his experience on Sakaar?
Greg Pak: Amadeus started off as the Hulk a couple years ago with this big, loopy idea that he could be the best Hulk ever; he never saw being the Hulk as a curse. He doesn't think of himself as a tortured soul like Banner. He figured he'd become the Hulk and show the world how awesome the Hulk could be. But over the last few storylines, Amadeus has come closer and closer to the darkness within himself. To be specific, he's got a Dark Hulk inside that's fighting to get out—and he's terrified of what he'll become if that happens.
So as this new storyline begins, Amadeus gets pulled into the brutal world of Sakaar at the absolute worst time—when he's trying to suppress the brutal monster within.
Marvel.com: How does Amadeus find himself on Sakaar?
Greg Pak: The story took place in TOTALLY AWESOME HULK #23, which just hit stands, so I don't want to spoil it too much. I'll just say that Amadeus ends up deciding he's too dangerous for planet Earth in his current state, so he exiles himself to try to figure out what's going on with this Dark Hulk inside. But then he gets a signal from Sakaar—someone desperately needs help from The Hulk. And he's still that cocky kid who thinks he's going to be the best Hulk ever, so he can't stop himself from responding.
Marvel.com: You've said before that we'll see a different side of Sakaar—literally—in this story. What new friends and foes will Amadeus find in his time there?
Greg Pak: During the original PLANET HULK story, the Hulk fought the evil Red King of Imperia, freed the slaves and gladiators he'd oppressed, and united the different people of the continent in a new alliance. (Whoops! Spoiler alert!)
This time 'round, Amadeus lands on a different continent on Sakaar—the land of Fillia, which had been at war with the Red King. So you'd think the Fillians would be happy that The Hulk took out the Red King…but once The Hulk disappeared, a thousand new murderers arose in the chaos and now Fillia's a blasted wasteland where a terrible warlord hunts small clans for sport. One of these clans has put out a call for The Hulk—and they've gotten Amadeus.
So we'll meet a stalwart headman, a scrappy insectivore hiver, an eerie priestess, a manic lackey, and a brutal warlord. It's a big, epic battle-axes-and-blasters sci-fi fantasy, and you're going to love it.
Marvel.com: Should we expect to see familiar faces from the original PLANET HULK story?
Greg Pak: Since we're on the other side of the planet, we won't see exact characters from the original PLANET HULK. But this fits right into all that worldbuilding we did for PLANET HULK, so you'll see folks from the various species we established during that story. And you'll see a disturbing perversion of the myths and legends we introduced there too.
You'll see a Marvel hero you might have wished appeared in the original PLANET HULK. I'll say no more, but definitely don't miss issues #711 and #712!
I'd also like to plug the gorgeous work of Greg Land, inker Jay Leisten, and colorist Frank Darmata. They're taking the original designs and worldbuilding for PLANET HULK and putting their own spin on them in this new part of the world—it's just gorgeous stuff.
Marvel.com: What has been most exciting about this return to Sakaar?
Greg Pak: I absolutely loved working on PLANET HULK back in the day. It remains one of the greatest experiences I've ever had making comics, and I'm thrilled to have a chance to dig back into that world whenever the opportunity presents itself. With this particular story, it's a kick throwing Amadeus into the mix, because he was famously one of the few heroes crazy enough to side with the Hulk during WORLD WAR HULK. So there's a bit of a comeuppance here—a chance to see how Amadeus handles the kind of brutal world that the Banner Hulk endured. There's a lot of delicious and scary stuff to dig in with that kind of set up, and I'm having a blast.
I should also note that if you're digging this vibe, please do check out the "Planet Hulk" prose novel that hits stores on October 4! I got pulled on board to write it last year, and if you dug the original PLANET HULK, I think you're going to love the prose novel. We got a chance to dig a lot deeper into all kinds of aspects of the story and try some surprising new things. Check it out!
INCREDIBLE HULK #709, by Greg Pak and artist Greg Land, crash lands on October 18!
The Hype Box
Can't-miss news and updates from across the Marvel Universe!