Comics
Published November 9, 2018
'Infinity Wars: Fallen Guardian #1': Which Hero Will Perish?
One of the Guardians of the Galaxy won't escape Infinity Wars with their life. Who will survive?
INFINITY WARS began within the pages of GUARDIANS OF THE GALAXY, so it's only fitting that it end with them as well. Marvel's team of cosmic misfits has been torn asunder by the actions of one of their own. Gamora became Requiem, and she claimed the powers of the Infinity Stones for herself. It's probably going to take a sacrifice of epic proportions to restore the universe to its proper state – and that likely means that at least one Guardian will pay with their lives.
On Wednesday, December 19, writer Gerry Duggan and artist Andy MacDonald's INFINITY WARS: FALLEN GUARDIAN #1 will pay tribute to the lost hero by looking back at their life. The Marvel.com team legitimately doesn't know which of the Guardians is doomed to die in INFINITY WARS, but we can make a few educated guesses and lay out the odds. After all, there are only five real possibilities. 
Rocket

Odds: 1,000:1
Let's get this one out of the way: Rocket Raccoon is probably safe from the grim reaper. Rocket may be as mortal as anyone else on the Guardians, but he's got a few advantages. For example, we already know that Rocket is going to be a member of Earth's Mightiest Heroes in the upcoming AVENGERS: NO WAY HOME weekly event series. Therefore, it would be the wrong time to send him to his eternal reward.
Star-Lord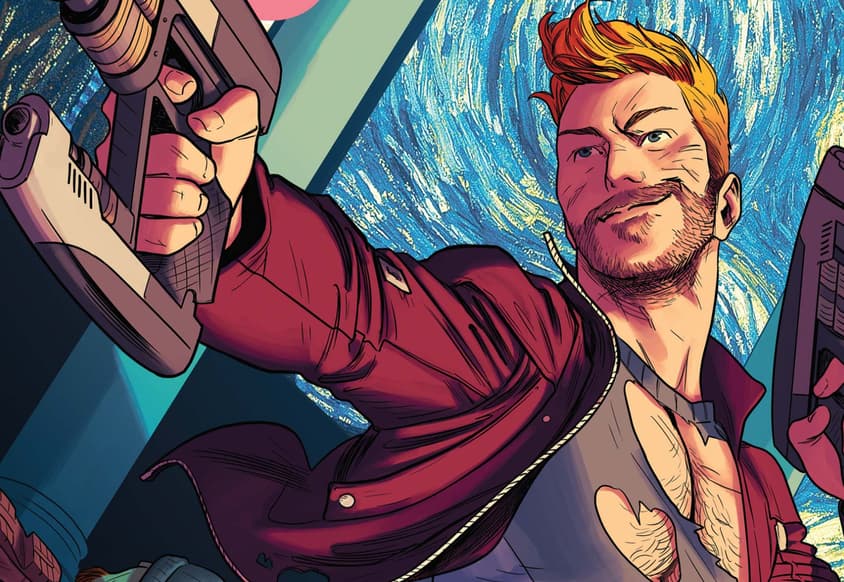 Odds: 100:1
Killing Peter Quill (Star-Lord) could actually have the biggest impact on all of the Guardians. He's not exactly beloved by everyone, but he is very important to their lives. Peter has been their friend and leader, and the current team wouldn't exist without him. The only problem with killing Peter now is that Gamora nearly murdered him at the beginning of INFINITY WARS. Giving Star-Lord a dirt nap after that close call just couldn't recreate the shock of seeing him impaled on Gamora's blade. If he survived that, what would it take to convincingly finish him?
Star-Lord has also been spotted on the preview art for the next GUARDIANS OF THE GALAXY series by Donny Cates and artist Geoff Shaw. Even so, we can't completely rule out Star-Lord's demise in the coming conflict. Preview art can always be changed, and Star-Lord's presence on the new GUARDIANS OF THE GALAXY could have simply been a way to ensure that no one saw his fate coming.
Groot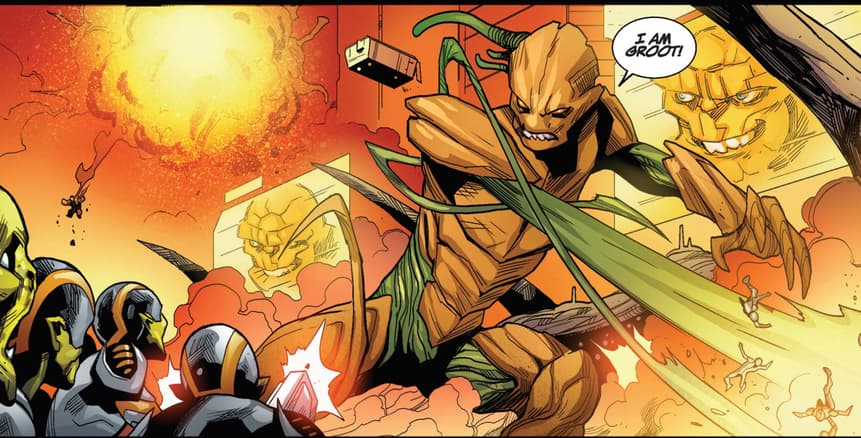 Odds: 10:1
Who doesn't love Groot? This walking and talking tree may have once been an obscure Marvel monster, but Groot's popularity has exploded since he joined the Guardians over a decade ago. Even on the team, almost everyone likes Groot. He's the heart of the Guardians – and that's exactly why his death would tear them apart.
Now, Groot is notoriously difficult to kill, and he has been known to regrow himself from tiny pieces of wood. It would take something pretty drastic to murder Groot in a way that ensured he wouldn't be able to come back from it. Considering that the Infinity Stones are still in play, they can't be ruled out as murder weapons. Groot is also present in the preview art for GUARDIANS OF THE GALAXY, but that's far from a guarantee of safety.
Gamora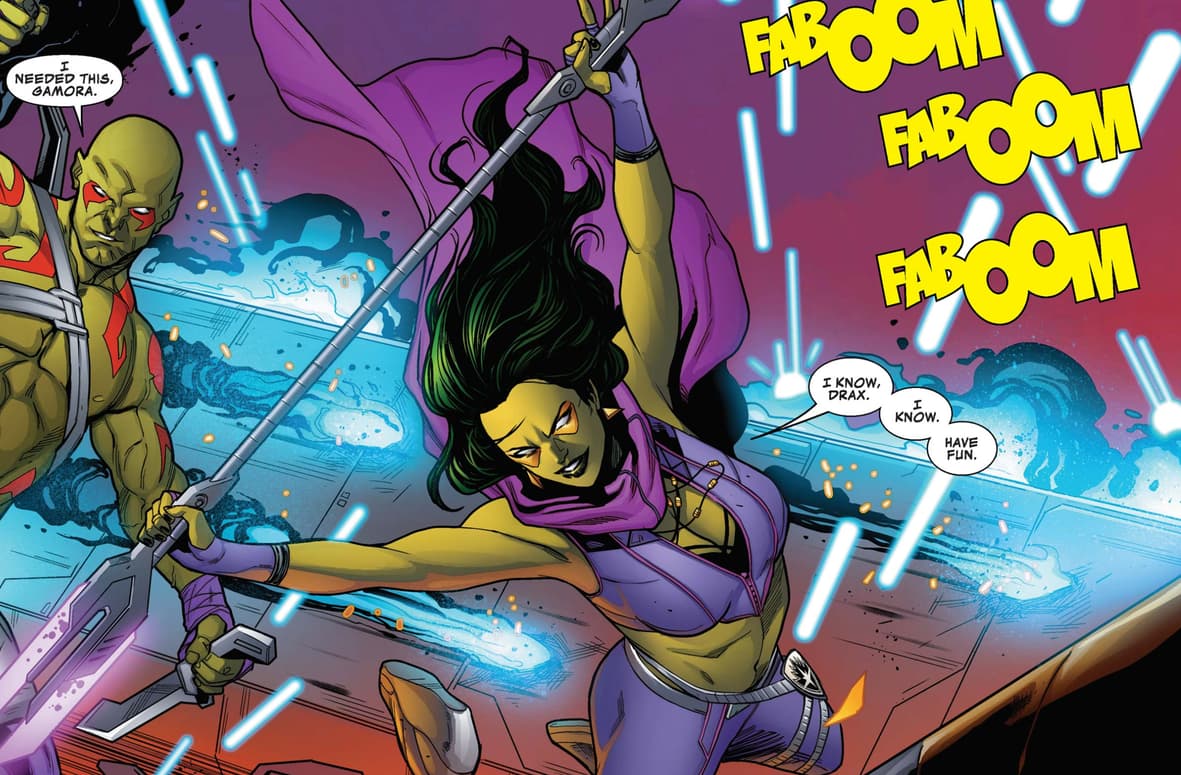 Odds: 5:1
Things really don't look good for Gamora. The deadliest woman in the galaxy just wanted to reunite with the lost part of her soul. But somehow, Gamora has lost sight of her original goal and transformed into something unrecognizable. She really is Thanos' daughter now, even though she halved the universe in a far more humane way than the Mad Titan.
Even if Gamora can come back from the brink, it's difficult to see how the Guardians could ever fully trust her again. As far as the heroes of Earth are concerned, Gamora is just another cosmic villain now. How can she redeem herself? By undoing the damage she caused even if it costs Gamora her life and her soul. That may pave the way for Gamora to receive forgiveness from her surrogate family, but she would still be lost to them. And that would be heartbreaking for everyone involved.
Drax the Destroyer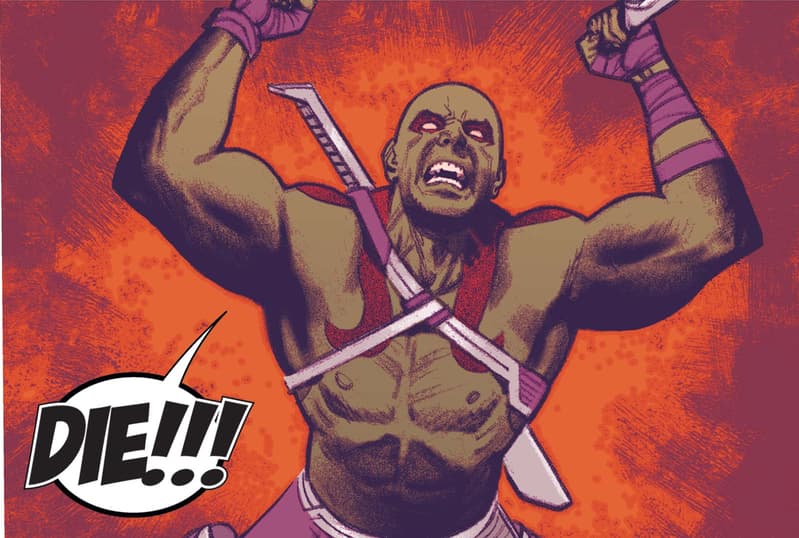 Odds: 2:1
You may have noticed that INFINITY WARS #5 portrayed Drax in his human form as Arthur Douglas, alongside his wife, Yvette. Drax felt a strong pull that compelled him towards the final battle even though he no longer had the strength or power of his regular body. In this form, Drax is more vulnerable than ever before. That also makes him all too easy to kill.
If Drax dies, he could finally be reunited with Yvette in death and find the peace that eluded him in life. So much of Drax's existence was predicated upon killing Thanos that he never really had a chance to be truly human again. The Guardians would take his loss hard, and it really seems like this could be it for Drax the Destroyer. If he saves the universe one last time, then his rest will be well earned.
This is all speculation and conjecture until we read INFINITY WARS #6 and INFINITY WARS: FALLEN GUARDIAN #1 on Wednesday, December 19. But here's the scary part: we can't be certain that only one Guardian will bite the big one. This may be the end of the team as we know it.
INFINITY WARS #5 is available now, either online or at your local comic shop! You can also pre-order INFINITY WARS #6 and INFINITY WARS: FALLEN GUARDIAN #1 today!
The Hype Box
Can't-miss news and updates from across the Marvel Universe!