Comics
Published June 30, 2017
Iron Fist: Murder Cult
Danny Rand teams up with the Master of Kung Fu, Shang-Chi!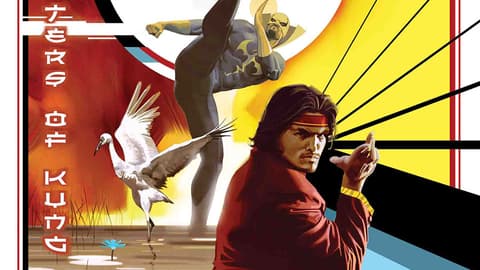 In the immortal words of Carl Douglas, "Everybody was kung fu fighting … In fact, it was a little bit frightening." These lyrics pretty much sum up the forthcoming two-issue arc in Ed Brisson, Mike Perkins and Andy Troy's IRON FIST when Danny Rand teams up with Shang-Chi, the Master of Kung Fu in Issue #6 (out Aug. 2).
Together, they're taking on a deadly cult never before seen in Marvel comics in a story that Brisson promises is equal parts martial arts and horror. Read on to see our full interview with Ed as he describes what it was like to pair up two of the most iconic living weapons in the Marvel Universe.
Marvel.com: So tell us a little about this "murder cult" trying to kill Danny and how Shang-Chi is here to help?
Ed Brisson: Without getting into spoiler territory…After the events of The Trial of Seven Masters, Danny is just trying to get home. He's learned more about himself and knows what he needs to do, where he needs to go. However, it seems some people don't want him to make it home. Some people would rather see him dead. The "murder cult", known as The Lineage of the One True Light is not a group we've seen in the Marvel U before. Mike Perkins and I had a lot of fun creating the look for The Lineage and their leader. I'm hoping that people will be sufficiently creeped out by them. Shang-Chi gets a tip-off on the hit and comes in to help Danny. The why of it all, you're going to have to read to find out.
Marvel.com: What kind of dynamic can we expect between these two characters? How does Danny feel about this team-up, especially one with the son of an internationally infamous criminal mastermind?
Ed Brisson: These two are supposed to be the top kung-fu masters in the Marvel U and I think that there's a mutual respect between them, however, we wanted to play off that a little. We've got them competing a little, even if it's low key and not at the forefront. There are comments here and there that let you know that they're both aware that the other is perhaps trying to outperform the other. As to Shang-Chi's dad being an infamous criminal mastermind, it's not something that is addressed. Danny knows that everyone's got their own issues. Hell, Danny's own father tried to kill him in Iron Fist: Living Weapon, so he's not one to start criticizing some else's parents.
Marvel.com: Does Danny feel insecure about his own fighting abilities in the presence of the so-called "Master of Kung Fu"? 
Ed Brisson: I don't know if Danny feels insecure around Shang-Chi, but he certainly has a tendency towards trying to impress those around him. And that need is going to be turned up to eleven when he's around someone who carries the title of "Master of Kung Fu". Even though they're working together, any competing that they do through the two-issue arc is almost guaranteed to be initiated by Danny. However, their skills will be tested in ways that neither anticipates. I think readers are really going to dig it.
Marvel.com: Using that as springboard, how do their fighting styles differ with Danny being trained in the mystical K'un-Lun and Shang-Chi in mainland China? 
Ed Brisson: Historically, Danny's focus has been almost strictly hand-to-hand combat, where Shang-Chi has training in both hand-to-hand and in using weaponry. Iron Fist can sometimes be impulsive, where Shang-Chi is more disciplined and focused.
Marvel.com: Looking at Jeff Dekal's cover art, I get an old school '70s Kung Fu movie/poorly dubbed action vibe. Did films like Bruce Lee's Enter The Dragon influence this issue/new story arc? If so, how will we see it manifested on the page? 
Ed Brisson: His covers are amazing, aren't they? Had the pleasure of meeting Jeff at HeroesCon a couple of weeks ago and picking up an original Iron Fist drawing. That dude is crazy talented and super nice. This one is a weird one, to be honest. The first arc was heavily influenced by my love of kung fu flicks, but this second arc is less so. This one is more of a kung fu/horror mash-up. It's a very moody and atmospheric action piece with some pretty high stakes for our heroes. Mike Perkins and Andy Troy have done an incredible job of creating an unsettling vibe for the book. It's a little off-kilter for what most might expect from an IRON FIST book, but I think that people are going to be pleasantly surprised.
Marvel.com: Are there any other characters in the IRON FIST mythos that are in the wings or ones you'd like to write for in future issues?
Ed Brisson: There are a couple who're set to appear in an upcoming arc, but I don't want to spoil anything. But, honestly, there are very few characters from Iron Fist's past that I don't want to bring into the series. I feel he's got a rich gallery of villains — everyone from Razorfist to Davos — and a compelling list of supporters and friends — from Luke Cage to Colleen Wing to The Immortal Weapons. This list is as long as my arm. There are some deep cut baddies that I've been pitching for upcoming arcs that we'll hopefully get to see. More immediately, though, people may have noticed Sabretooth on the cover of the first issue in the LEGACY arc. Sabretooth made his first appearance in IRON FIST #14 and the two have clashed several times since and it looks like they're both still holding a grudge.
The Hype Box
Can't-miss news and updates from across the Marvel Universe!