Comics
Published April 7, 2017
Iron Fist: Tooth and Claw
Danny Rand finds himself trapped between two deadly opponents!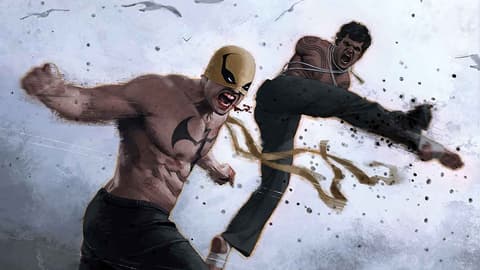 Danny Rand, aka Iron Fist, struggled against The Eel of the Blessed Waters on the beaches of Liu-Shi but nonetheless proved successful this week in IRON FIST #2. In issue #3, due in stores on May 3, the Immortal Weapon takes on both The Rat of 12 Plagues and The Resourceful Snake and the results may not be as pretty for the erstwhile hero.
Writer Ed Brisson took a break from watching the Vegas odds on the Labor in Liu-Shi to help us handicap the upcoming bouts.
Marvel.com: As we see briefly at the end of IRON FIST #2, The Rat of 12 Plagues is a creepy looking opponent. Can you take us through how you and series artist Mike Perkins collaborated on his look? Where did the inspiration for the character come from for you in the first place?
Ed Brisson: I always wanted The Rat of 12 Plagues to be, as his name would indicate, a terrifying opponent. Initially, I'd had an idea of the type of place The Rat would live and the personality spun out of that. I'd originally had him as someone who'd lived like a rat, in sewers, but as I went to script, it made more sense that he'd lived his life out in a ghost village. A child who was the sole survivor of a massacre, who had to find a way to survive amongst the dead.
Mike's the one who really made the character come to life though. I gave him only brief notes on each of the seven and Mike just went to town. The look for Rat of 12 Plagues is 100% Perkins.
Marvel.com: For Danny, what makes The Rat a uniquely dangerous opponent?
Ed Brisson: He's so deadly because he's both a Kung Fu master and a living plague. With one touch of his claws, he can infect an opponent with sickness like they've never experienced before. Other than his sifu, none have encountered The Rat of 12 Plagues and lived to talk about it.
Marvel.com: What is one feature of Rat that you find particularly exciting or interesting as a writer?
Ed Brisson: He's a survivor. He may be nasty and disease ridden, but he was left to fend for himself at a young age and managed to overcome the elements, famine and even disease. Not only did he survive disease, he conquered it and learned to use it as a weapon for his own survival. He absorbs the essence of others to feed himself, which makes him necessarily evil. And that sort of evil is a lot of fun to explore.
Marvel.com: If Iron Fist can defeat Rat of 12 Plagues, next on the fight docket is The Resourceful Snake. As a character, what makes Snake stand out for you creatively?
Ed Brisson: The Resourceful Snake has a past that's not entirely dissimilar to Danny's. I can't divulge too much here, for fear of spoiling, but these two would have a lot to talk about if they weren't on a mission to beat each other's heads in. The Resourceful Snake has a lot to prove and, as we'll find out, Danny provides him with a bit of a second chance to right a past wrong.
Marvel.com: The cover of IRON FIST #3 appears to showcase The Resourceful Snake and reveals him to be a double amputee. Where in the creative process and how did he come together for you? What role did Perkins have in aiding you in the Resourceful Snake's creation?
Ed Brisson: Again, this one is a little tough to get into without spoiling. The Resourceful Snake is missing both arms. That initially started off as a bit of a nod to the One-Armed Swordsman films. We just took it one arm further, I guess. The Resourceful Snake is a powerful combatant with a long history as a skilled combatant.
We do learn how he lost his arms and that, not surprisingly, will play a role in why he's eager to fight Iron Fist.
When we were putting together, the notes I gave Mike on The Resourceful Snake were not much more than: He's a fighter who lost both arms in combat, but that has not stopped him. He's adapted [and] refined his style and can now beat any four-limbed opponent he faces. In my description, I believe he was angry, but Mike came back with a more jovial looking character and I think that works much better, so I made sure to write him as such when the time came.
Marvel.com: As Danny Rand continues on his quest to win the whole tournament and hopefully reset his own chi, how is his understanding of the stakes evolving, if at all, in issue #3? Does he have an inkling that something more complex is going on than he was initially led to believe?
Ed Brisson: Absolutely. There's something going on beneath the surface here. Danny quickly becomes ensnared in a conspiracy and learns that the odds are stacked against him winning. And, even if he does win, there's no guarantee that he's ever getting off this island.
The next round kicks off in IRON FIST #3 by Ed Brisson and Mike Perkins on May 3!
The Hype Box
Can't-miss news and updates from across the Marvel Universe!