Comics
Published October 31, 2014
Iron Man Introduces Blue Ear
The Armored Avenger welcomes the hearing aid-empowered hero to his first comic alongside new hero Sapheara!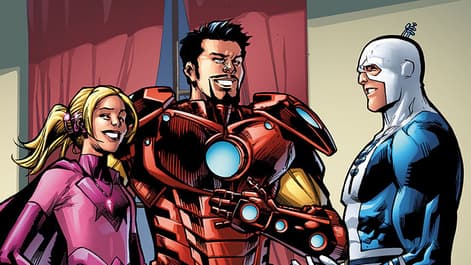 It all began simply enough with a loving mother and a son who wanted nothing more than to be a hero and thought his hearing aid meant he could not.
"Over two years ago, Christine D'Allesandro wrote an e-mail to Marvel asking for help," recalls Marvel Custom Solutions Creative Director Bill Rosemann. "Her young son Anthony Smith didn't want to wear his hearing aids because he didn't see any of our characters wearing them. In response I sent Christina a cover image of WEST COAST AVENGERS #1, featuring Hawkeye as team leader, and told her that Clint Barton wore them back in the 80's after he injured his ears."
"[I told her] if Anthony wore his hearing aids—which he called Blue Ear, since they were made of blue plastic—we'd make him an honorary Avenger," he continues. "Then, after I passed Christina's e-mail around, Marvel's Nelson Ribeiro and Manny Mederos were nice enough to create and draw the hero Blue Ear in two pin-ups, which I shared with Christina, and which made Anthony and his classmates very happy!"
Not only did it make Christina, Anthony, and his friends happy, it made people everywhere excited to read the adventures of Blue Ear—except Blue Ear did not yet have any adventures.
"I was determined to make this comic happen, so I asked Marvel Custom Solutions VP Jonathan Rheingold if we could find a partner to underwrite a story that would feature Blue Ear and show how children who are hearing impaired are true heroes," explains Rosemann. "Jonathan reached out to the Children's Hearing Institute because he knew someone whose daughter received a cochlear implant from Dr. Simon Parisier, the founder of CHI, giving her the miracle of hearing. CHI and its executive director Melissa Willis wanted to educate the world about the hearing impaired and also share a preventative warning about the dangers of loud audio—via ear buds—that is damaging the hearing of millions around the globe."
From there, the book needed a team to bring Blue Ear to life and Marvel turned to writer Marc Sumerak and artist Karl Moline for what would become IRON MAN: SOUND EFFECTS.
"I had already heard a lot about Blue Ear due to coverage in the media, but I had no idea that he had only appeared on a few pin-ups," confesses Sumerak. "I was pleasantly surprised and honored that I got to help build him as a character for this book."
Building Blue Ear meant creating an identity and world for him beyond his power set. After plenty of brainstorming, it all came together.
"We kicked around a few different approaches before we settled on his identity: Dr. Pedro Perez, a scientist working for Tony Stark on top-secret projects involving super-hero-level sound technology," Sumerak reveals. "Naturally, Dr. Perez's research had allowed him to upgrade his own personal hearing aid with all sorts of futuristic functions. But he didn't stop there! As Blue Ear, he also created a number of other gadgets that come in handy over the course of the story."
Of course, as any comic book fan knows, if something happens at Stark Industries, a certain Shellhead cannot be far behind. According to Rosemann, the inclusion of Iron Man just felt right.
"We're hoping to spread the word that cochlear implants and hearing aids are nothing to be afraid of or make fun of," he points out. "In fact, they're similar to Iron Man's armor: incredible technology that helps people."
With two classic Marvel villains involved—including one familiar to fans of the "Marvel's Agents of S.H.I.E.L.D." TV series—Blue Ear and Iron Man need more help. Thus, one more hero joins the fray: the all-new Sapheara.
"When I joined the project, I knew the basics of what the Children's Hearing Institute was looking for in this new character: a young female hero with cochlear implants," remembers Sumerak. "From there, I worked with Bill to flesh out the rest of her personal details, including the origin of her powers [and] her background as daughter of a movie star. It made sense to have Samantha's dad, Jackson Farrell, always in the spotlight, yet for Sam to stay away from it because she felt different from those around her. The events of the story allow the perfect chance for Sam to overcome her insecurities and embrace her differences as personal strengths."
"She's an inspiration to those who've been misjudged and underestimated by others, but refuse to sit on the sidelines," Rosemann adds. "Sapheara is a fresh new star in the Marvel Universe, and it's her turn to shine!"
"Current research is proving that with today's new technology such as ear buds/iPods, and media gaming consoles, a younger generation is experiencing some degree of hearing loss," says Dr. Simon Parisier, Founder of The Children's Hearing Institute. "Part of our message is to educate this population in an exciting way on the potential dangers of technological and environmental noises. What's unique is that Marvel helps translate the impact of this message by partnering Iron Man with two super hero characters [that] use hearing aids and cochlear implants to hear."
Looking at the project now, the editor feels certain Marvel stands to deliver the best possible debut for Blue Ear.
"Marc Sumerak is an expert of weaving strong themes into an action-packed adventure, delivering all the drama, humor and thrills that readers expect in a Marvel comic," Rosemann promises. "Karl Moline, who excels at drawing teen heroes, gave Sapheara the debut she deserved. Inker Manny Clark supplied crisp texture, colorist Javier Mena made the action pop, and letterer Joe Sabino made sure that readers of all ages could easily follow the story. Add on cover artist John Tyler Christopher and you have another Marvel Custom Solutions comic book that shows the world why the medium and characters we love are so powerful, fun, and cool."
"The Children's Hearing Institute has been overwhelmed with requests for copies of the comic book on not only a national level but internationally as well," says Children's Hearing Institute Executive Director Melissa A. Willis. "Our collaboration with Marvel Custom Solutions has by far, exceeded everyone's expectations. It's truly rewarding for CHI to know that Blue Ear and Sapheara are inspiring children with hearing related issues all over the world."
The Hype Box
Can't-miss news and updates from across the Marvel Universe!