Comics
Published May 23, 2018
It's All Star Wars on Marvel's The Pull List
Watch the all-new video version to preview this week's Marvel Comics!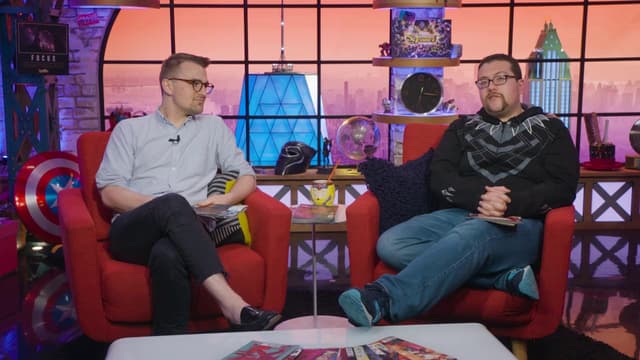 Travel to a galaxy far, far away with Marvel's The Pull List!
On the podcast, Ryan and Tucker preview May 23's new comic releases, including BLACK PANTHER, DOCTOR STRANGE, MOON KNIGHT, STAR WARS: THE LAST JEDI, and all the other books that are waiting for you in stores right now!
Watch the video version above as the two dive into all the Star Wars books on offer this week, then dive into the full audio episode below.
Here's the full list of what's available from Marvel this week:
MARVEL PRINT COMICS ON-SALE (5/23/18)
BLACK PANTHER #1
CHAMPIONS #20
DOCTOR STRANGE #390
FALCON #8
HUNT FOR WOLVERINE: MYSTERY IN MADRIPOOR #1
INCREDIBLE HULK #717
INFINITY COUNTDOWN: DARKHAWK #1
INVINCIBLE IRON MAN #600
LEGION #5
MOON KNIGHT #195
OLD MAN HAWKEYE #5
OLD MAN LOGAN #40
S.H.I.E.L.D. BY HICKMAN & WEAVER #5
SPIDER-MAN/DEADPOOL #33
STAR WARS #48
STAR WARS ANNUAL #4
STAR WARS: DOCTOR APHRA #20
STAR WARS: THE LAST JEDI ADAPTATION #2
WEAPON X #18
X-MEN: GOLD #28
YOU ARE DEADPOOL #4
COLLECTIONS
BLACK PANTHER: LONG LIVE THE KING
FANTASTIC FOUR VISIONARIES: JOHN BYRNE VOL. 7
FANTASTIC FOUR VISIONARIES: JOHN BYRNE VOL. 8
GUARDIANS OF THE GALAXY: EARTH SHALL OVERCOME
GUARDIANS OF THE GALAXY: THE POWER OF STARHAWK
MONSTERS UNLEASHED VOL. 2: LEARNING CURVE
STAR WARS LEGENDS EPIC COLLECTION: THE EMPIRE VOL. 4
THE MIGHTY CAPTAIN MARVEL VOL. 3: DARK ORIGINS
VENOM & X-MEN: POISON-X
ON THE MARVEL APP
MASTER OF KUNG FU (1974) #90-109
QUASAR (1989) #13-16, 51-52
MARVEL TWO-IN-ONE (1974) #83-84
WHAT IF? (1977) #16
DIGITAL COLLECTIONS
LEGION: SON OF X VOL. 4 – FOR WE ARE MANY
WOLVERINE BY DANIEL WAY: THE COMPLETE COLLECTION VOL. 4
FRESHLY DIGITIZED COMICS ON MARVEL UNLIMITED
BEN REILLY: SCARLET SPIDER #10
CHAMPIONS #14
DARTH VADER #8
DEADPOOL VS. OLD MAN LOGAN #2
DEFENDERS #7
DOCTOR STRANGE #381
FREE COMIC BOOK DAY #1
GIANT-SIZE SPIDER-MAN #3
GIANT-SIZE WEREWOLF BY NIGHT #5
GUARDIANS OF THE GALAXY #147
HAWKEYE #12
INCREDIBLE HULK #710
MARVEL TEAM-UP #23-26, 28-30
MARVEL'S BLACK PANTHER PRELUDE #2
MIGHTY THOR #701
NOT BRAND ECHH #14
PETER PARKER: THE SPECTACULAR SPIDER-MAN #297
SECRET WARRIORS #8
SPIDER-MEN II #4
STAR WARS: DOCTOR APHRA #14
THE AMAZING SPIDER-MAN #791
THE PUNISHER #218
THOR VS. HULK – CHAMPIONS OF THE UNIVERSE #6
WEAPON X #11
WEREWOLF BY NIGHT #34-43
X-MEN: BLUE #15
Subscribe to the show on Apple Podcasts, download the episode from Marvel.com/podcasts, or tune in on SoundCloud!
The Hype Box
Can't-miss news and updates from across the Marvel Universe!