Comics
Published August 27, 2015
Top 10 Jack Kirby Characters
We narrowed down our 10 favorite characters "The King" had a role in bringing to life.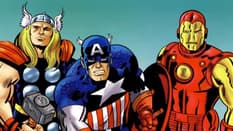 To list off all the Marvel characters that Jack Kirby had a hand in creating would be like trying to count the stars in the night sky. However, the Marvel.com staff got together and narrowed down our 10 favorite characters "The King" had a role in bringing to life.
10. The Black Panther
10. The Black Panther
Kirby imbued the first prominent African hero in comics with a combination of ferocity and regality that has made T'Challa unique through the years. "The King" made a simple ebony jumpsuit with a pair of ears look like the baddest outfit around.
9. Thor
9. Thor
The mighty God of Thunder brought out the epic sides of Stan Lee and especially Jack Kirby, who delighted in not only presenting a very different Thor than the one who originated in Norse mythology, but designing Asgard and its extensive cast. Everything from Mjolnir to Bifrost and every Frost Giant in between shows off Kirby's flair for conveying power and glory.
8. M.O.D.O.K.
8. M.O.D.O.K.
M.O.D.O.K.: the kind of creation that could only have sprung from Kirby's imagination. The grotesque giant floating head with tiny arms and legs makes the Mental Organism Designed Only for Killing one of the most unique designs by "The King," the type that a lesser artist may have made into a joke—but under Kirby's pencil, M.O.D.O.K. carried a deranged, homicidal air like none other.
7. Doctor Doom
7. Doctor Doom
Living up to such a menacing moniker would prove difficult for an artist, but not for "King" Kirby. The cold steel of Doom's armor conveys the power and impending destruction, while a green cape heightened the nobility and ostentatious nature of Latveria's tyrant. Few characters invoke the fear and forthcoming despair like Doom, proving again Kirby's skills at creating both good and evil.
6. The Avengers
6. The Avengers
United by a chance encounter with Loki, Iron Man, Thor, Hulk, Ant-Man and Wasp formed a legacy that continues to evolve in all mediums. The various characters showcased Kirby's diverse skills that filled every single panel to the brim with action and excitement, no matter what foe Earth's Mightiest Heroes faced.
5. Iron Man
5. Iron Man
A suit of iron that can fly and fire beams of energy makes for an exciting enough hero, but the man inside the armor creates a legend. Tony Stark's resources also meant Kirby and others could redesign the suit for any occasion, allowing "The King" to experiment and reinvent Iron Man to reflect the evolving character inside.
4. The Fantastic Four
4. The Fantastic Four
As he ascended to new heights of his career, Kirby imbued Marvel's First Family with dynamic personalities that rang true, particularly the tough-talking, but kind-hearted Thing, whom he had a personal affinity for. The creative explosiveness of "The King" helped the FF kickstart the modern Marvel Universe.
3. Galactus
3. Galactus
At first, the idea of making a giant man in a purple skirt a menacing villain seems challenging…but not to "The King." Kirby's incredible, dynamic design for Galactus instantly leaves a powerful and ominous impression on anyone who first glances the Devourer of Worlds. All Galactus needs to do is show up on the page and the stakes of any story instantly skyrocket, all without anyone saying a word.
2. The Hulk
2. The Hulk
He's big, he's mean, and he's grey. Well, in his first appearance, at least. Only Kirby could take a man, unleash his more primal, powerful emotions, and turn him into one of the most beloved monster in any medium. Even his co-creator could never predict how many readers connected with this "strangest man of all time" for decades nor how many would question the durability of Hulk's pants.
1. Captain America
1. Captain America
Kirby and collaborator Joe Simon just wanted somebody to punch Hitler in the face; they ended up with one of pop culture's most enduring icons. Jack's first major Marvel creation, Captain America had a personal significance to the hardluck kid who had fought in World War II himself for the ideals of freedom and justice. Years later, Kirby's Cap still inspires.
The Hype Box
Can't-miss news and updates from across the Marvel Universe!