Comics
Published July 24, 2019
Jane Foster: Her Mightiest Moments
Follow the noble nurse who became a hero!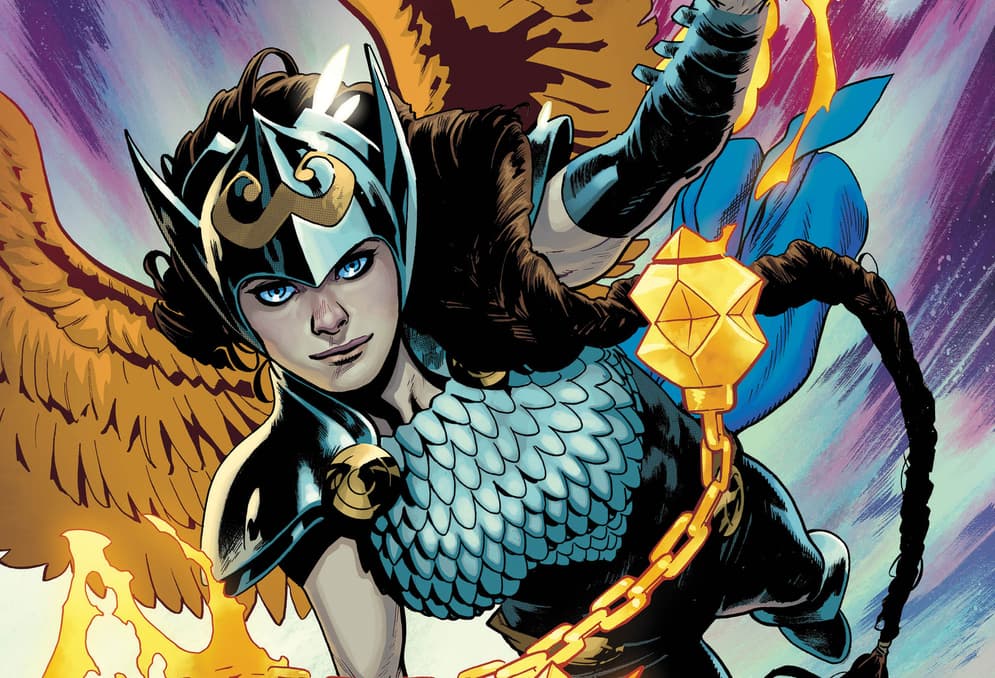 Jane Foster has been through her fair share of battles, in the literal and personal sense. Here is a look back at Jane Foster's mightiest moments!
Jane Fights Cancer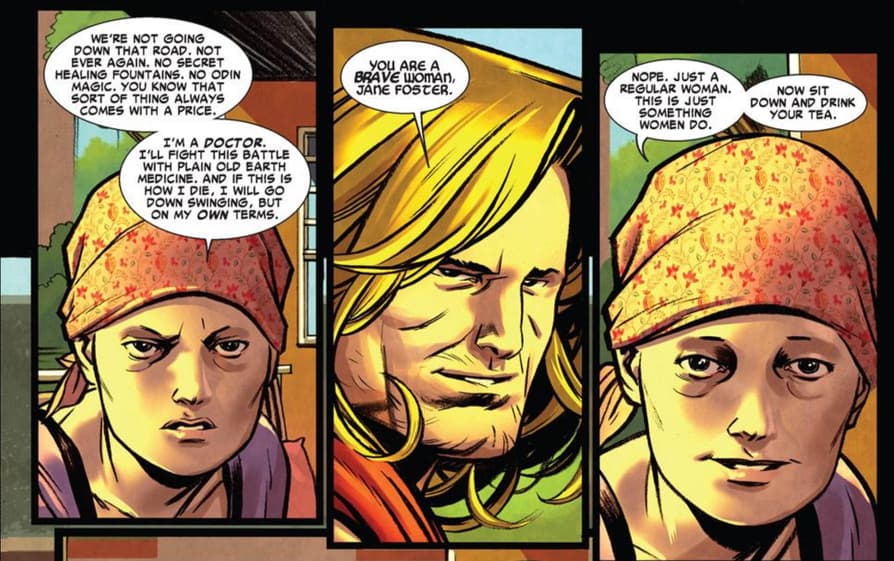 After an absence from Thor's story, Jane Foster re-entered the life of the Asgardian in THOR: GOD OF THUNDER (2012) #12 while she was in the midst of treatment for breast cancer. Thor offered to help cure her with some Asgardian magic, but she refused. This was her fight.
Jane Represents Midgard at the Congress of Worlds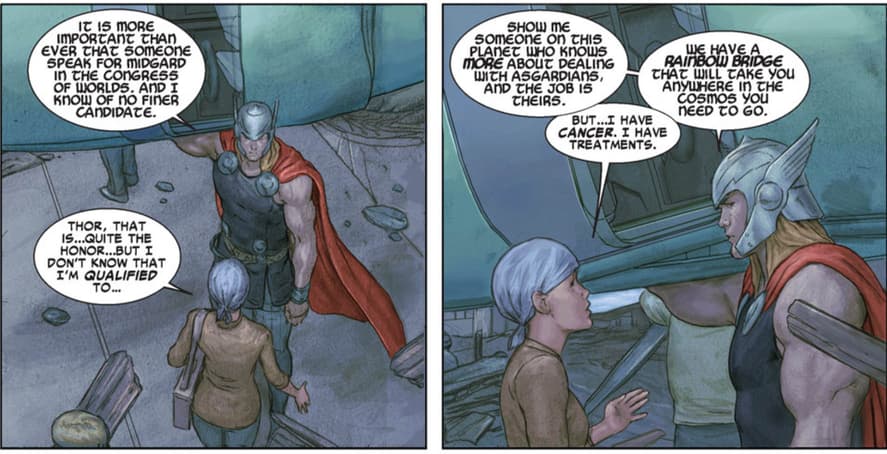 In THOR: GOD OF THUNDER #24, Thor revealed to Jane just how highly he thought of her when he asked her to represent Midgard in the Congress of Worlds. She may not have had super strength at this point, but Jane Foster provided some evidence that her connection to Asgard may have run deeper than originally thought. Not long after she took on this role, Jane found herself summoned to take on another one...
Jane Becomes Thor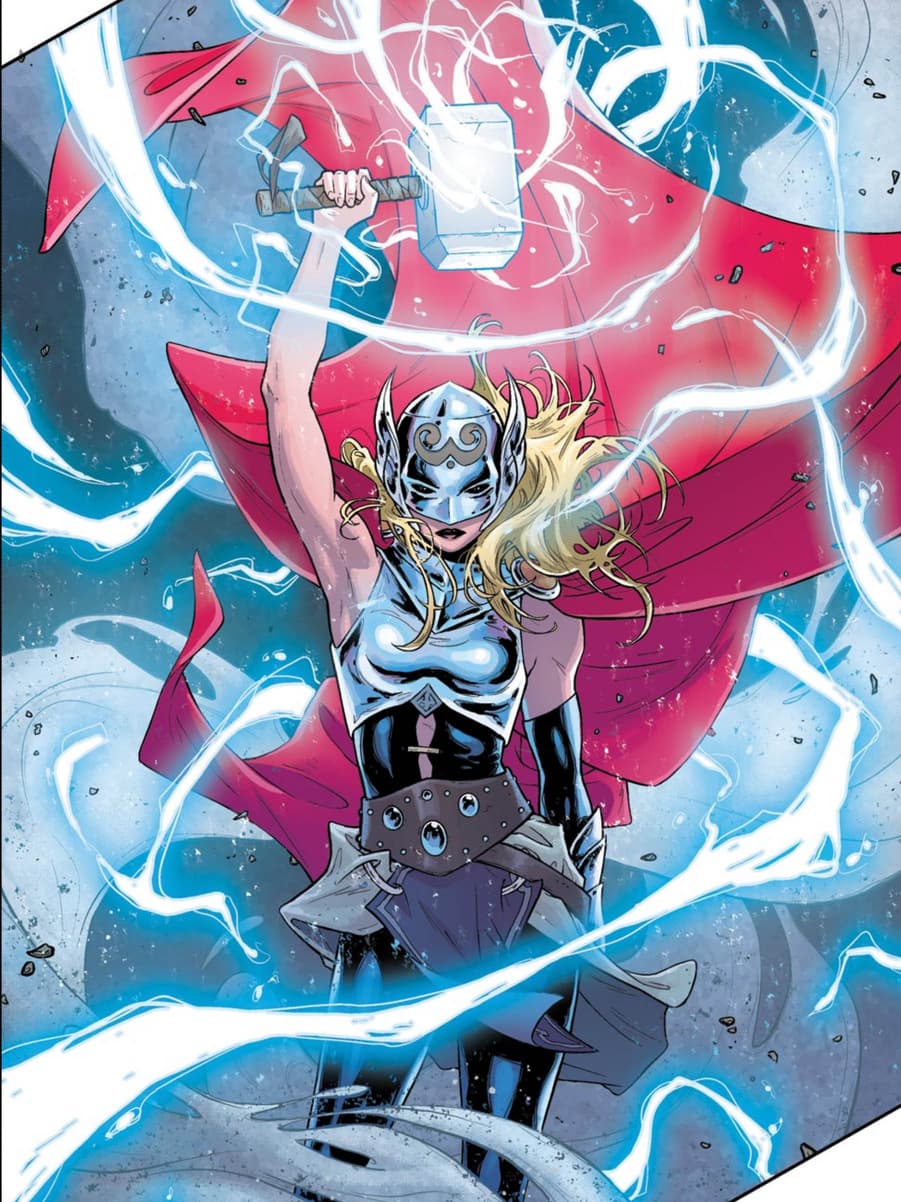 Not long after Thor (Odinson) was deemed no longer worthy of wielding Mjolnir in THOR (2014) #1, Jane Foster was telepathically drawn to the Moon where Mjolnir lie in wait. Upon lifting the hammer, Jane underwent a physical transformation, took on the powers of Thor, and discovered that she was the one worthy to carry the title of Goddess of Thunder. Becoming Thor flushed the toxicity from her body, giving her a replenished energy after her cancer had progressed. Unfortunately, the toxic chemicals purged by the power of Thor also purged the chemotherapy that was supposed to kill the cancer, basically canceling out any medical benefits of Jane's treatment and advancing her cancer to near lethal levels.
But Thor had a responsibility.
Jane Sacrifices Her Life to Defeat the Mangog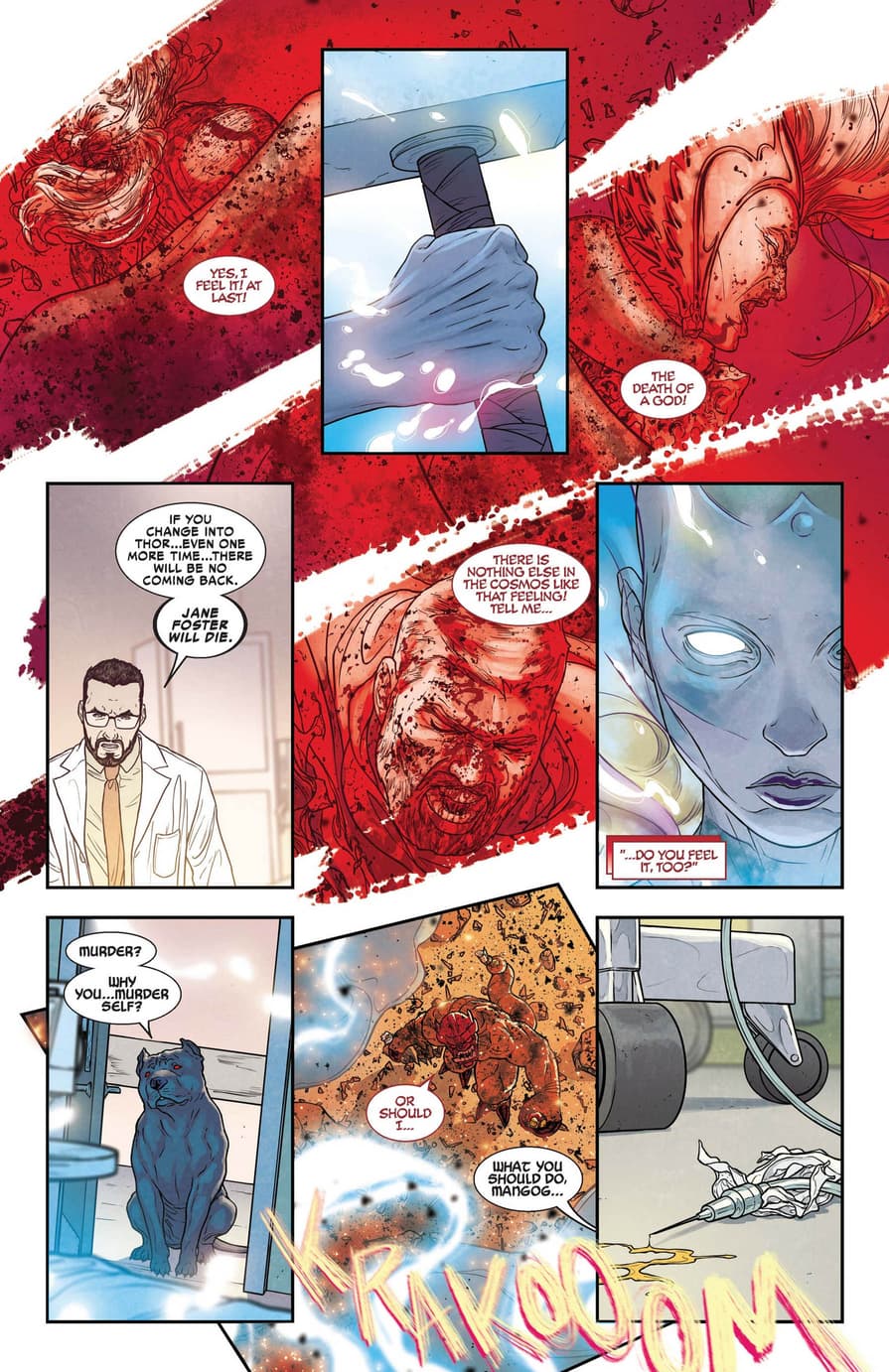 Jane's time as Thor pushed her cancer to Stage 4, and she was warned by Doctor Strange in MIGHTY THOR (2015) #704 that if she reached for Mjolnir again and became Thor, it would kill her. But the Mangog was wreaking havoc on Asgard, sending the city of Asgardia plummeting towards the Sun -- and Jane couldn't just let it happen. Despite the warnings and the objections from her friends, Jane summoned Mjolnir to become Thor one last time to defeat the Mangog, even if it meant her life.
And it did.
Jane Returns to Live Another Day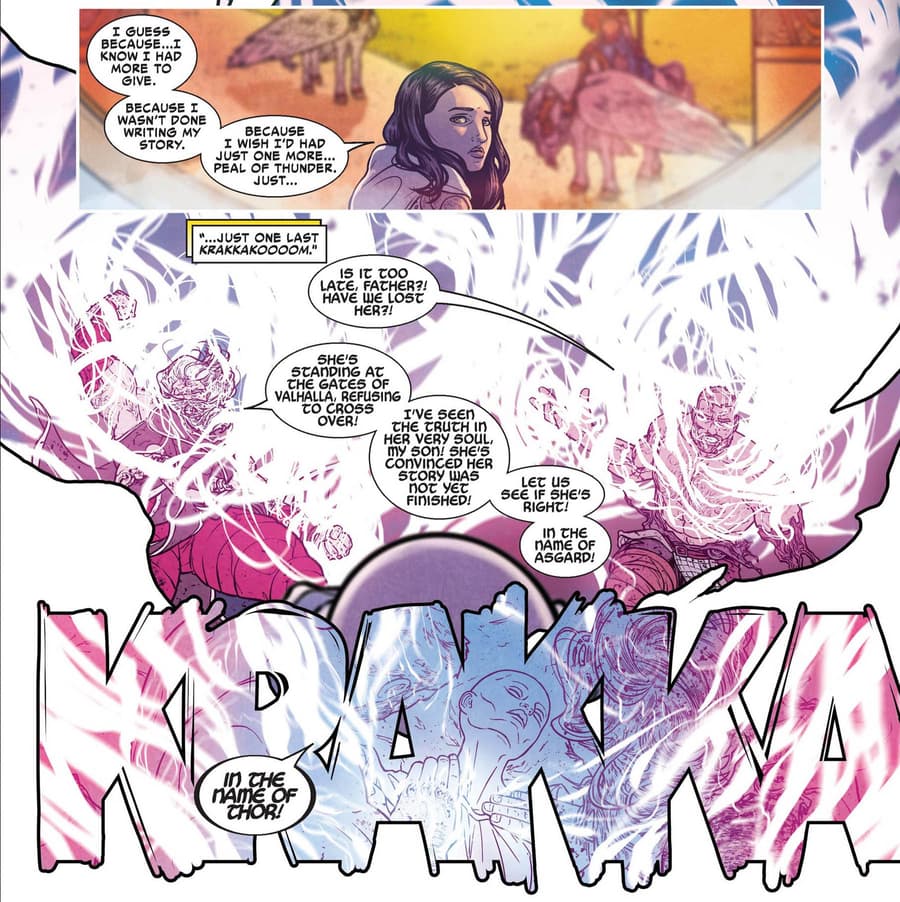 Jane Foster, in her mortal form, died after Thor defeated the Mangog. But when she stood at the Gates of Valhalla next to Odin in MIGHTY THOR (2015) #706, she realized that despite her sacrifice, she wasn't ready to die. She couldn't go through the gates. Odinson had tried and failed to bring Jane back from the dead -- Odin succeeded. Jane Foster lived and vowed to look after herself back on Midgard after giving herself to Asgard. And it turned out that Midgard would really need Jane Foster.
Jane Fights for Midgard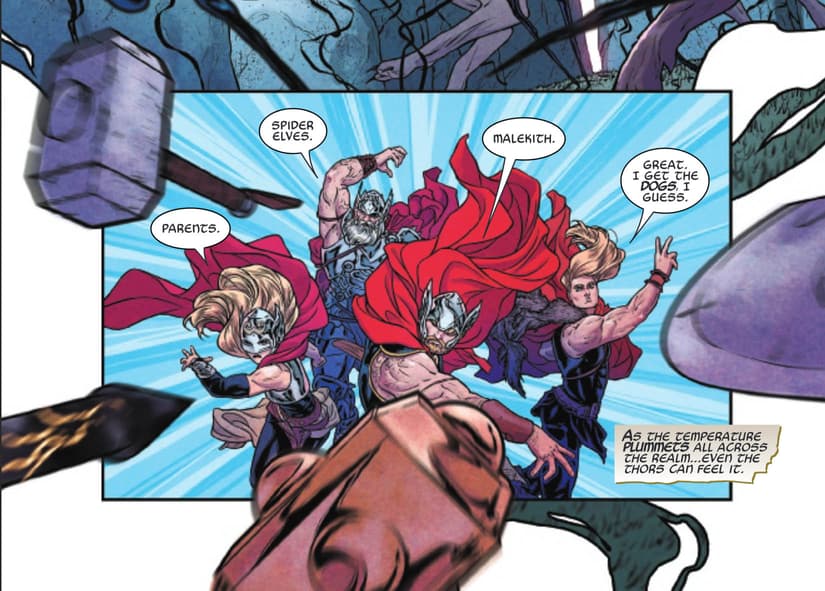 Jane's cancer eventually went into remission -- just in time for Malekith to bring the War of the Realms to Earth. She fought valiantly in her human form among a team of Earth's Super Heroes and was grief-stricken when the entire Valkyrior was slain in Manhattan. In WAR OF THE REALMS (2019) #6, Jane became Thor one last time alongside an army of Thors to finally defeat Malekith and end the war for good.
Jane Becomes Valkyrie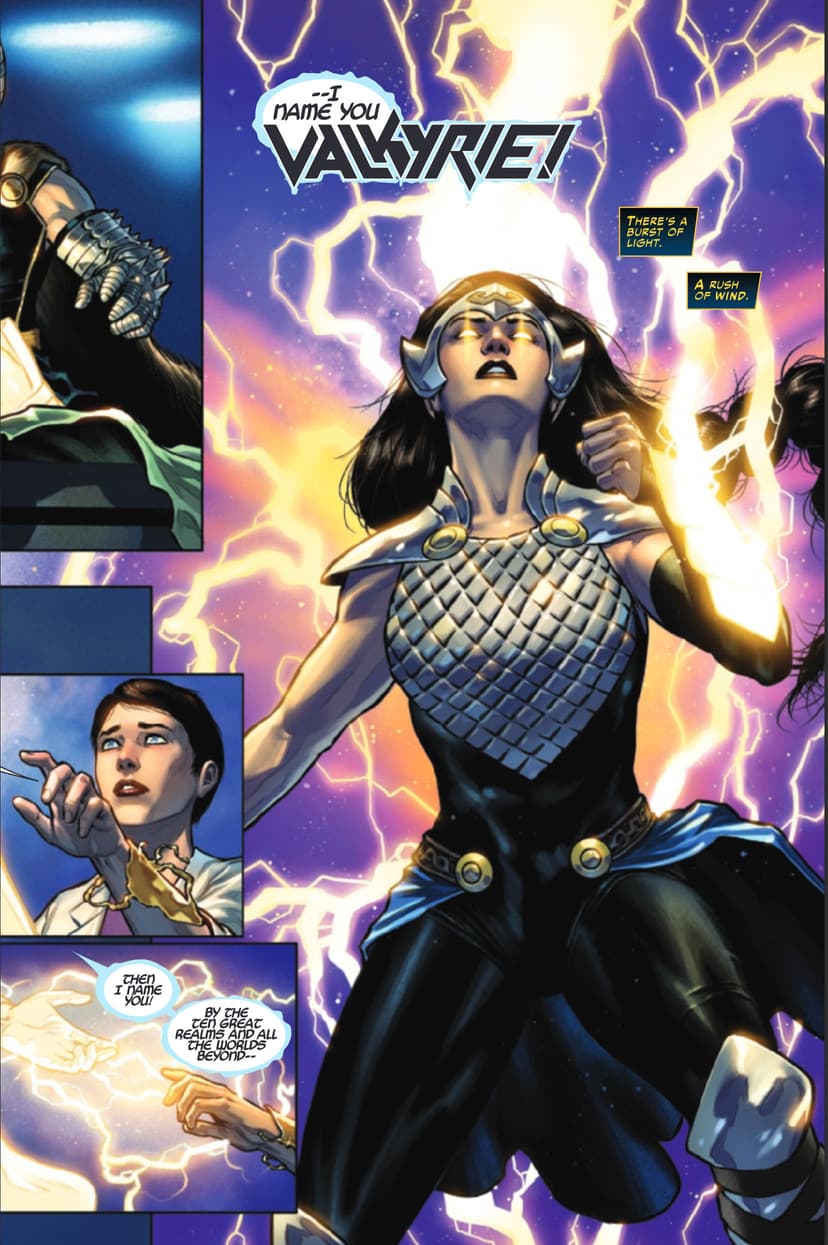 The experience of losing the Valkyries struck a nerve with Jane Foster, who tended to their remains in WAR OF THE REALMS OMEGA (2019) #1 in the battle's aftermath. No longer Thor, Jane was back at work as Dr. Jane Foster -- but even though she was no longer in possession of the weapon that made her Thor, she didn't leave empty-handed. Following her transformation, something remained on Jane's arm that she couldn't quite explain -- until the spirits of the Valkyries rose to inform her that she held Undrjarn the All-Weapon and that she could carry on their legacy as the Last Valkyrie.
As we've learned, Jane Foster never turns away from a challenge.
The Hype Box
Can't-miss news and updates from across the Marvel Universe!