Comics
Published April 18, 2018
Jason Aaron Assembles the Avengers
The writer details the new iteration of Earth's Mightiest Team!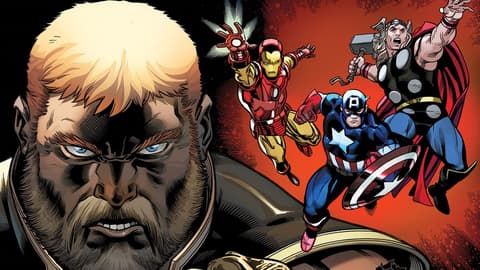 Written by Jess Harrold
The old order changeth once again—for a bold new era! And it doesn't come much bolder than the creative team of Jason Aaron and Ed McGuinness putting together one of the mightiest Avengers rosters ever seen! Here, Aaron talks about his plans for the book—including building on ideas he introduced in MARVEL LEGACY #1.
Marvel: So with you writing, the incredible Ed McGuinness on art and a spectacular lineup, there's no doubt about it: this is one blockbuster book! What can fans expect?
Jason Aaron: Coming into this, we wanted it to feel big and epic—like a huge Marvel event, every arc. So I wanted a lineup of all big, iconic characters. Some of them you've seen as Avengers—like Steve Rogers, Tony Stark, and Thor Odinson—but for the first time in years, the "big three" are back together. There's also some characters we're not used to seeing. Ghost Rider, I guess, is the big surprise, and it's cool for me getting back to writing Ghost Rider again.
Marvel: And Captain Marvel and Black Panther make for a big five! There's been a lot of conflict between these characters in recent years. How well are they all going to cope with working together again?
Jason Aaron: Well it's not necessarily a "snap your fingers, and it's done" kind of thing. The first arc is really about the hardships of putting that band back together. It's very much a team drawn together for very specific reasons, instead of just Steve Rogers calling people in his Rolodex. The circumstances of this threat are really what bring these characters together. They are drawn into this battle for very specific reasons, which only become evident as that arc rolls on—and then continue to play a part going forward. Some of that clearly links back to the prehistoric Avengers introduced in MARVEL LEGACY #1. You will see them again in this arc, and they will be a part of the series going forward.
Marvel: Will you be adopting a similar multi-timeline approach to the one we've seen in your THOR run?
Jason Aaron: Yep, absolutely. In this first arc, the roots of the Celestial threat the Avengers are facing go back to those prehistoric days with Odin. But we will come back between arcs and do issues focusing on that group and those prehistoric characters. We will learn more about them as we go forward, get to see them in action in the past and see the ways their adventures connect to the present day.
Marvel: Another stalwart Avenger on the roster is Jennifer Walters—but is she She-Hulk or Hulk? And what can fans expect from her on the team?
Jason Aaron: Yeah, I've just been calling her "Hulk" in the book. It is the same Jen Walters we've seen in recent issues of her own series so we definitely continue on from that. But this story also changes things for her and takes her in a bit of a different direction. We switch around her powers a little bit and try to differentiate her more from her cousin. What is exciting me is to see Ed McGuiness draw the Hulk again!
Marvel: As for the new guy you mentioned—we know you know a thing or two about Ghost Riders, but what do you like about Robbie Reyes?
Jason Aaron: He's a great entry-level character for the Avengers; he is still very much a new kid on the block. He doesn't really know these characters and has not been a part of something quite like this. You know his life has been pretty crazy in its own right since he became the Ghost Rider, but this really takes things up a notch. We get to see him level up in terms of his power. He is unlike any of the previous Ghost Riders so we will continue to explore what that means and exactly what he is capable of. Also, the more I write it, the more I love the idea of having a guy in the Avengers who drives a car. He just goes driving into battle in the Hell Charger. I love that, and I love the way Ed's drawing him.
Marvel: Another character you have history with is Doctor Strange, who is on the team at least to begin with, right?
Jason Aaron: He pops up initially in a different sort of team-up. He and Black Panther are investigating something that pulls him into this bigger mystery. Strange plays a big part of this first arc, but you kind of have to wait and see after that who sticks around. I don't want to specifically have a cast too large, but I think we will have at least one slot rotating—have a character join for a couple of arcs, and then somebody else takes the pledge. There'll be some old familiar faces and some we're not used to seeing in the pages of an Avengers comic.
Marvel: You mentioned the Celestial threat, the ominously named Final Host—they seem like a great fit for Ed's bombastic style.
Jason Aaron: Absolutely. We see a lot of different Celestials over the course of the story—some classic ones, some all-new designed by Ed, which look amazing. Ed is also so great at conveying the feel of something like this: our Avengers against giant space gods who are thousands of feet tall. How can the Avengers go toe-to-toe with characters who are that powerful? That's the challenge they face right there out of the gate.
Marvel: And it all begins with a Free Comic Book Day issue featuring another stellar artist, Sara Pichelli, correct?
Jason Aaron: Yes, it's sort of a direct lead in to AVENGERS #1. It's mostly a story about Black Panther and Odin—a meeting of the king of Wakanda and the All-Father of Asgard, which again kind of stretches back to those prehistoric Avengers and plants the seeds for the Celestial threats the Avengers will face. And it's free!
Marvel: And from there, the main series is set to really blow everyone's socks off.
Jason Aaron: Yeah, I want this to be a book that issue to issue gives you a look at the entire Marvel Universe. So we will travel the globe, we will cross the galaxies, we will go to all the different hot spots of the MU. If you are only reading one Marvel Comic—not that you should just read one Marvel Comic—this book will give you an idea of what the entire breadth of the Marvel Universe looks like right now at this moment in time.
AVENGERS #1 by Jason Aaron and Ed McGuinness is on sale May 2!
The Hype Box
Can't-miss news and updates from across the Marvel Universe!