Comics
Published July 27, 2017
John Tyler Christopher Unveils Trading Card Variant Covers
Marvel Legacy continues!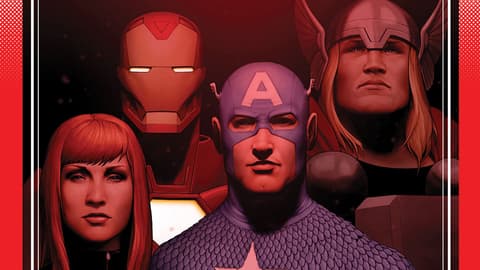 You know their powers. You know their origins. This fall, Marvel is proud to introduce Trading Card Variant Covers for select Legacy titles. These covers contain all the facts of your favorite Marvel characters, carefully catalogued in a way that's fun and informative – including a list of their key comic appearances throughout the years!
These variant covers feature a stunning and all-new design from the imagination of John Tyler Christopher, who created the successful line of action figure variant covers.
"There is kind of a funny story about my relationship to Marvel Trading Cards," explains the artist. To properly announce these variant covers, Marvel is proud to share this story below:
I've said this before, but all I ever wanted to do since I was a kid was draw. Growing up in a small town in Indiana, I was constantly met with people who told me I could never do it. Outside of my parents, virtually no adult figure in my life encouraged me to pursue my passion. It was a really crushing feeling at such a critical time in a kid's life. However, one of those critical moments in a person's life was about to happen. My buddy Mike and I were nerding out in eigth grade science class. We were looking at the Marvel Masterpiece series 1 by Joe Jusko.
They were our first encounter with the Marvel Universe in a more realistic, painterly stye. You have to keep in mind, we're '90s kids, so we were used to the more "hatchy" style of art, with all the glorious pouches and super crazy anatomy. So to see Mr. Jusko's work was just mind blowing to us! It was a crossing of my love for comics, with my love of art, and it had a huge impact on me. I don't want to say it validated comics as a legitimate art form, but rather it showed me the possibility of what this medium was capable of. It took these characters and in one iconic image made them feel alive and real.
So as Mike and I were having our minds blown by this book of nine-grid sheets of plastic–and not the atomic weight of Strontium–our teacher, Mr. Douglas came over to see what we were talking about. We were really terrified that we were going to get in trouble, but to our shock, he was super into the card's art. He asked us questions about the characters, and it was one of the first times an adult, authority figure (outside of art teachers) showed any interest in comics as a legit form of art. It had a huge impact on me, but it paled in comparison to what came next. He knew I liked to draw, so he asked if I would be interested in doing a piece of art for him based on the Psylocke card. He even offered to pay me! It was the first time anyone ever offered to pay me for art, and my jaw just hit the floor. Here was someone I respected, offering to give me money to do the one thing everyone told me I would never get paid to do. It was the opportunity of a lifetime!
Needless to say, I tried to knock that piece out of the park (in a middle school kind of way). I rarely ever used colored pencils, but I tried to create blending and gradients with them to best match Mr. Jusko's style. I tried to get the shadows and even the shine on her swords down perfectly.
It's surreal to think that my first piece of "professional" art was a Psylocke card; and George, not knowing this story, assigned the first card for this line as her as well. It's really come full circle.
I'll never forget that piece, or that card. It truly empowered me to continue trying to do art in my life. But more importantly, I'll never forget my eigth grade science teacher offering me my first gig. In a young boy's world of "you can't do this," it was the first "yes, you can." I wouldn't be were I am today without a 2.5" x 3.5" picture of a mutant ninja, and a teacher who believed in me. Thank you Mr. Douglas, I hope I've made you proud.
Don't miss your chance to collect your own Trading Card Variant Covers for these select Marvel Legacy titles:
Marvel Legacy #1
All-New Wolverine #25
Champions #13
Falcon #1
Invincible Iron Man #593
Jessica Jones #13
Luke Cage #166
Mighty Thor #700
Royals #9
Spider-Gwen #25
Spirits of Vengeance #1
Uncanny Avengers #28
Venom #155
X-Men Gold #13
Coming to your local comic shop this October!
The Hype Box
Can't-miss news and updates from across the Marvel Universe!