Comics
Published May 17, 2018
Kelly Thompson Announces the New West Coast Avengers
Hawkeye is getting the band back together -- but who's on the team this time?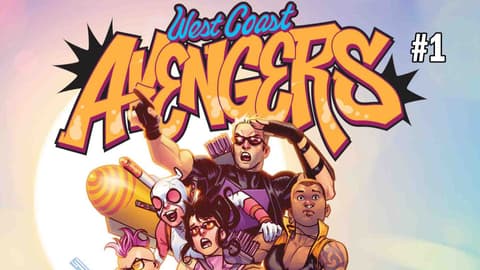 Kelly Thompson—writer of HAWKEYE, ROGUE & GAMBIT, CAPTAIN PHASMA, and more—is getting ready to reassemble a Marvel team from decades past! This week, we're excited to announce WEST COAST AVENGERS, written by Thompson with art by Stefano Caselli! The '80s book is back for an ongoing series run with another super group of Earth's Mightiest Heroes, and this time it has not one but two Hawkeyes!
The original West Coast Avengers was started by Clint Barton's Hawkeye. This time around, Clint is joined by the current Hawkeye Kate Bishop and a few of their super powered friends! We talked with Kelly Thompson about what we can expect from the new WEST COAST AVENGERS and she had a lot to say about this wacky, disparate group finding a common thread:
"They all need and want something from being on that team together. Kate needs to help save LA, and she needs help to do that because villains have taken notice that there are no Super Heroes out there. I think there's part of her that misses [being on a team] too. She's been doing her own thing, on her own, and that's cool. But she was the one, who, with no powers, was like 'I'm leading the Young Avengers, I'm the boss.'"
As far as the original Hawkeye goes, Thompson says Clint is "trying to help Kate" but "doesn't want to admit how much it's fun for him to mentor."
Other characters joining the West Coast fun are Gwenpool, whom Thompson describes as "a really weird X-factor" who will be going through some "really interesting" relationship developments; Quentin Quire, who is "always trouble," but "clearly wants a family"; and Kate's boyfriend Johnny, who is in "way over his head," a situation that Thompson is very eager to explore.
But with every super group is a wild card, and according to Thompson, that wild card is America Chavez:
"I think America is the biggest question mark, and I think that's something we're excited to explore: Why does she come back to LA? Why does she come back to be with Kate? Does she miss [the group dynamic] too? Because America, she likes to play things a little close to the vest."
Like the original West Coast Avengers, the team will be living together—but it's not quite the same Tony Stark-funded flat that we saw in the '80s. Instead, to get funding, the team will be part of a reality show while living together under the same roof.
Will things stop being polite and start getting real? The new, ongoing series starts when WEST COAST AVENGERS #1 hits stores on Wednesday, August 22 so you can find out then! Make sure to visit your local comic book store and pre-order today!
Check out the full description of the first issue:
HAWKEYE (KATE BISHOP). HAWKEYE (CLINT BARTON). A guy named FUSE. Never have they ever been called "the big three" of…anything. And now here they are, reunited for, okay, well, it's only the second time ever. Thank god they also brought AMERICA CHAVEZ, GWENPOOL and KID OMEGA. Wait. What? That's right, it's the new West Coast Avengers, son. And you better hope they can figure out how to save the world because BIG things are headed for the West Coast.
The Hype Box
Can't-miss news and updates from across the Marvel Universe!