Comics
Published September 22, 2017
Kirby 100: Ariel Olivetti
Find out how Kirby cartoons inspired this artist!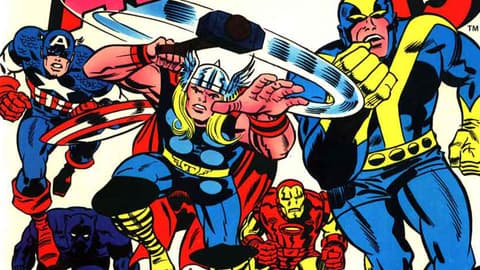 1917 to 2017: 100 years of Kirby.
Join us to celebrate Jack "King" Kirby's 100th birthday by learning about the characters and stories he created that changed comics forever. To commemorate Jack's centennial, we've sat down with the modern-day creators he influenced—and the decades of work he gifted us all.
These days, you can barely flip the channels without finding Marvel-inspired shows on the air, but not back in the early 1960s! Not until the syndicated "Marvel Super-Heroes" debuted in 1966. Focusing on five heroes—Captain America, Iron Man, Thor, Hulk, and Namor—the cartoon essentially took panels straight from the comics of the day and added animation embellishments.
In addition to getting Marvel's characters out into the world in front of even more eyes, the series also introduced people all over the world to artists like Jack Kirby! In fact, that's how Ariel Olivetti first discovered the King's work!
With credits that include THE LAST AVENGERS STORY and various Hulk and X-Men efforts, Olivetti's more than familiar with drawing on Jack for inspiration. We taledk with the artist about that, the cartoons, and more!
Marvel.com: Do you remember how you first encountered Jack Kirby's comics and what did you think of it then?
Ariel Olivetti: The first thing I saw about Kirby were the Hulk, Captain America, and Thor cartoons, and they were beautiful.
Marvel.com: Can you remember any lessons or tricks you've learned from Kirby's work over the years?
Ariel Olivetti: The simplification of line in function of the graphic dynamism.
Marvel.com: One of your first interior works for Marvel was THE LAST AVENGERS STORY. Did you feel any intimidation when taking on a comic that would tell the end of a tale Jack Kirby and Stan Lee started?
Ariel Olivetti: It was a great responsibility, but it was the project that I enjoyed the most.
Marvel.com: You have done a lot of work with various X-Men books. Did you ever look back to the Kirby-drawn issues from that franchise's earliest days for reference or inspiration?
Ariel Olivetti: I always try to look at Kirby's design for the original characters.
Stay tuned to Marvel.com for more throughout Kirby Month and beyond! And join the conversation on all of our social channels with the hashtag #Kirby100.
The Hype Box
Can't-miss news and updates from across the Marvel Universe!