Comics
Published August 8, 2017
Kirby 100: Brandon Montclare
Writer Brandon Montclare discusses introducing a Kirby Classic to a new generation.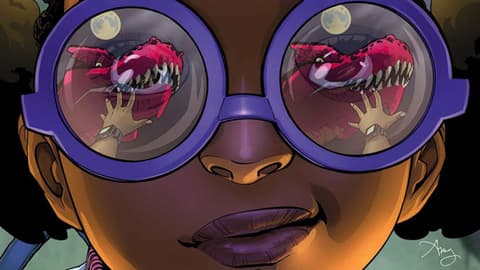 Join us this month to celebrate Jack "King" Kirby's 100th birthday by learning about the characters and stories he created to change comics forever. To commemorate Jack's centennial, we've sat down with the modern-day creators he influenced—and the decades of work he gifted us all.
There's just no denying the appeal of a giant Jack Kirby-created monster!
Cullen Bunn recently took time to discuss what made Jack Kirby's 1978 DEVIL DINOSAUR series such an important run to him as a kid. He and Brandon Montclare clearly agree on the finer points of Moon Boy's former pall as the latter currently writes MOON GIRL AND DEVIL DINOSAUR.
Montclare and Amy Reeder launched the book as co-writers with artist Natacha Bustos last year. Like Kirby's original, this series took a new approach to the odd couple idea by uniting the crimson carnivore with a young woman who not only happened to be a genius, but also of Inhuman decent who wanted nothing to do with the Mist-producing change.
Now, the series continues with Montclare and Bustos as Lunella Lafayette continues to learn more about herself, her unique partner and the wild world around him. We talk with Monctlare about digging up the dino, learning from the master and experiencing Kirby's work for the first time.
Marvel.com: Do you remember the first Jack Kirby book you were aware of? Did it take you a while to get into his style or did you take to it right away?
Brandon Montclare: Jack Kirby was, of course, before my time. But when I started reading comics in the mid-80s, and lucky enough to live in NYC, I had access to comics stores and back issues. Simultaneously, there was no trade paperback market. So like every little kid reader, you were aware of the King – but there were not too many opportunities to read him. The first work I would have been aware of would be up on a comics shop wall and in Mylar, beyond what I could afford. That being said: he was so stylized that Kirby was probably the first artist I could identify by eyeballing it. But it would be years later that I started to appreciate it.
Marvel.com: Devil Dino wasn't necessarily one of Kirby's more iconic creations. When you and Amy began working on MOON GIRL & DEVIL DINOSAUR, what made you want to look back and use this Kirby creation?
Brandon Montclare: We definitely wanted to work with an obscure Marvel character. What you lose in popularity and perceived marketability, you gain in creative control. Kirby casts a huge shadow over everything he does, but we thought Devil Dinosaur might be a little… less huge! Creatively, we wanted to really distance ourselves from the Dinosaur World adventures of a T-Rex. And we definitely did that, but it wasn't a rejection. I think we honor Kirby's pioneering originality by making Devil Dinosaur our own thing. And we love and use some of the core concepts of the 1970s book; moreover, putting Lunella Lafayette on the same (fictionalized) Yancy Street on the Lower East Side where Kirby grew up 100 years ago wasn't an accident.
Marvel.com: DEVIL DINOSAUR was part of Kirby's 70s Marvel work which has a very unique tone and outlook. Has that influenced your series?
Brandon Montclare: It's definitely an influence, although, maybe it's not always seen on the surface. Kirby's 70s work was pure adventure and surreptitiously sophisticated storytelling – that one obvious and not-so-obvious thing I try to emulate. It was a very unified, professional vision. The subject matter was delightfully bonkers, but it was finely executed. I think that's overlooked in a lot of Kirby stuff – just how consistent and considered he was at drawing as well as writing.
Marvel.com: Though he doesn't speak, Devil Dinosaur seems to have a very specific character. What were the key aspects you wanted to carry over into MOON GIRL & DEVIL DINOSAUR?
Brandon Montclare: It was probably an old trick when even Kirby was using it, but a lot of how you get Devil Dinosaur to communicate to the reader is having it bounce off of the human character. Moon Boy, I think it's safe to say, might have been included to help flesh out the big, red thunder lizard! We flip that in our book: we use Devil Dinosaur's basic, animal nature to help show the more complicated Moon Girl. But we still need to make a dinosaur tell a story! And that's down to the magical cartooning of Natacha Bustos. She makes a T-Rex have human qualities — happy or sad; subtle or demonstrative. It's an amazing book visually, which is the least we can do with a Kirby creation.
Marvel.com: The series also revolves around Lunella, of course. Would you say there's any thematic connections between her and Moon Boy?
Brandon Montclare: No. Not really! Lunella has a lot of influences, but Moon Boy simply wasn't very fruitful for our purposes. But they are both outcasts, although in different ways. They do present the same visual storytelling challenges of getting a 4-foot and 30-foot character to interact again and again and again! Lunella does take a ton from classic Marvel characters that Kirby co-created with Stan Lee. Again, it's not an accident she grew up on Yancy Street. Nor is it an accident that she was an awesome scientist before she becomes a super-hero.
Marvel.com: How has it been for you bringing him into a new era and giving him new life?
Brandon Montclare: It's been great! I'm very proud that we flipped the script. I think not only has Moon Girl stood on her own as a new character, she's actually raised awareness and appreciation for Devil Dinosaur. Of course, that's a very small claim compared to Kirby's original contribution to popular characters!
In the next Kirby 100 installment, Brandon Montclare will discuss the finer points of near annihilation as we focus on the very first Galactus story in FANTASTIC FOUR #48-50.
Stay tuned to Marvel.com for more throughout Kirby Month and beyond! And join the conversation on all of our social channels with the hashtag #Kirby100.
The Hype Box
Can't-miss news and updates from across the Marvel Universe!